Palladium touches 11-month high
Palladium prices climbed to an 11 month high of $274.50 an ounce on Tuesday, as dollar weakness and growing investor risk appetite boosted the precious metals complex.
By Leia Michele Toovey- Exclusive to Palladium Investing News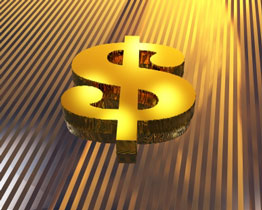 Palladium prices climbed to an 11 month high of $274.50 an ounce on Tuesday, as dollar weakness and growing investor risk appetite boosted the precious metals complex. Palladium, which is primarily used as a material in catalytic converters, had already posted hefty gains on Monday after data showed U.S. car sales rose to a 2009 high in July.
Increasing confidence in the markets is shifting capital out of the bond market and into equities. Renewed interest from investment funds buoyed commodities and equities alike, as the market focused on economic recovery rather than deflation, which had decreased inflation-hedge buying in gold earlier this year.
According to James Steel, chief commodities analyst at HSBC, increasing confidence is "undermining the dollar and allowing gold to rally," Dollar weakness tends to boost investor appetite for hard assets such as gold, as well as making the precious metal cheaper for holders of other currencies.
Monday's news that there would be and extra $2 billion poured into the US Government's cash for clunkers program sent palladium, and platinum on a swift rally. The program has already boosted sales for the ailing domestic industry. The United States is primarily a market for gasoline cars, which use a higher proportion of palladium than platinum in their catalytic converters.
Average platinum and palladium prices were expected to rise over the rest of this year and in 2010, on improved expectations for car demand and hope that the global downturn may have bottomed. According to the survey of 48 analysts and traders, platinum prices were expected to average $1,130 an ounce this year, up from a forecast of just $963 an ounce in January. Palladium was also seen higher, with the average 2010 forecast rising to $269 an ounce from $250 in January.
This week's optimism spread throughout the precious metals: among other precious metals, platinum was at $1,260 an ounce against $1,232.50, silver was at $14.59 an ounce against $14.21, and gold rose above $970 per ounce.
Company News
Norilsk Nickel, the world's largest nickel and palladium producer announced last Thursday that output off all of its metals declined in the first half of this year from the same period a year ago. It said nickel output rose in the second quarter of the year, while copper, palladium and platinum output declined. Palladium output declined to 1.354 million ounces from 1.438 million. Platinum output was 315,000 ounces, down from 338,000 ounces a year ago. In December, Norilsk said it would cut metals output in 2009 as demand fell amid the global economic crisis. In May, Norilsk trimmed its output forecasts for the full year of 2009, as it had to halt some of its foreign production units. It said it intended to keep output by its key units in Russia steady.
Stillwater Mining Co. is asking a federal bankruptcy judge to reverse a move by General Motors to cancel its precious metals contracts with the Montana company .GM is attempting to shed the Stillwater contract as a part of a government-backed restructuring plan meant to revive the ailing carmaker. Stillwater's two Montana mines supply GM with palladium and other metals used in vehicle catalytic converters to prevent air pollution. GM says it can get the metals cheaper overseas. Stillwater's attorneys argue the carmaker should be compelled to stick with its sole U.S. provider at a time when it is taking billions of dollars in government loans. A hearing on the issue is set for July 22 in the U.S. Bankruptcy Court in New York.
North American Palladium Ltd. announced on Monday the resignation of its chief financial, and named Jeff Swinoga to take over the vacant position. Fraser Sinclair, who held the position since April 2007, is stepping down as of Tuesday to pursue other opportunities. Swinoga, who was also given the title vice president, finance, previously worked as CFO for MagIndustries Corp. and HudBay Minerals Inc., and was a director of Barrick Gold Corp for seven years.