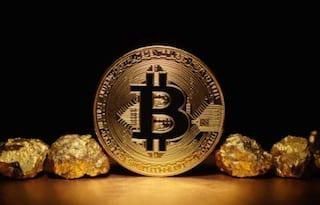 Rob McEwen of McEwen Mining shares his thoughts on the gold price outlook, the future of his company and the relationship between gold and bitcoin.
The Investing News Network (INN) caught up with Rob McEwen of McEwen Mining (TSX:MUX,NYSE:MUX) at this year's Silver & Gold Summit to get his thoughts on the gold market and what's ahead for his company.
McEwen also talked about the relationship between gold and cryptocurrencies like bitcoin, and about how a lack of regulations have favored the latter. "There's room in the marketplace for gold, and I really wouldn't put [cryptocurrencies] and gold together," he said.
Read the transcript of the conversation below to learn what McEwen had to say about the gold price outlook, the future of his company and the relationship between gold and bitcoin.

INN: Let's start by talking about McEwen Mining. Your Gold Bar project received a key permit recently. How quickly will you be able to advance to production?RM:
We expect to be in production in 2019.
INN: Which of your other properties are going to be a main focus for 2018?RM:
We just made a purchase in Timmins, the Black Fox Complex, which we bought from Primero Mining (TSX:
P
) in October. There will be a large exploration program there, and we will push for development. The previous owner bought it in 2014 for $300 million. They assumed $140 million in liabilities with it, and then they put in another $120 million, so their investment in that project was $560 million. We bought it for $35 million.
The project came with 50,000 ounces of production annually. It has a 1.2-million-ounce measured and indicated resource with satellite deposits that aren't in that number. It also came with $150 million in tax losses, so we can shelter a lot of income. In the spring, we also made purchases near Timmins over a brownfields site. We were looking for a place to process the ore, and it's in an easy tracking distance.
INN: Will McEwen Mining continue to acquire projects in 2018? If so, where are you looking geographically?RM:
We have a goal of getting into the S&P 500 (INDEXSP:
.INX
). In order to achieve that goal, we're going to have to continue to grow, and some of that growth will be through acquisitions. We're very opportunistic — I tend to favor distressed assets that need more work, but that I don't have to pay as much for. We're in acquisition mode, and we're also in a build mode right now; exploration to me is a big part of that story.
INN: Are you agnostic to the country?RM:
I wouldn't say that. Right now we are focused on the Americas. It's only three time zones, so it's easy to talk. There are probably some places in Europe I'd look at, and I know there is a lot of gold and
precious metals
in Africa, [but] I'm just not that comfortable with Africa. Other than that we look all over.
INN: How will you fund potential acquisitions?RM:
With the current treasury. We have no debt.
INN: Can you tell me about your recent financing? It was the first in quite awhile.RM:
Yes, it was the second financing McEwen Mining has ever done. The first one was done in 2012 — it was a rights issue, and I backstopped it for $60 million. We did [the latest financing] in September. The market seemed to overreact, at least I thought it did. The market has been nervous.
INN: Right — it seems to me that the market has been unfair to McEwen Mining over the last 12 months. Do you have any feeling as to why?RM:
We are very liquid traders with a very high beta. According to Bloomberg, we have one of the highest betas in the industry. In a strong bull market, a high beta is very good, but in a market where people are feeling they don't want to own any more gold, then you're going to fall further. There's a greater volatility in your share price. We also have a lot of volume — on average, we're trading 1.2 percent of our outstanding shares a day.
INN: What about the gold market as a whole? Did gold perform as you expected this year?RM:
I was expecting gold to move higher. I didn't anticipate how strongly the broad market would move based on expectations that US President Donald Trump's policies would be passed. Like a lower tax rate, less regulations or less time with regulators, which are all very positive.
Europe is sinking into the mire, so the US has looked like the best place to be this year. I'm surprised that they've been able to keep interest rates down where they have — they're forcing everybody into more risky investments. Anybody who's sitting on a fixed income, an insurance company, pension plans — they can't earn anything on their capital, so where do they go? The bond market is not going to give it to you. You have to go to the equity market, so that has jammed the equity markets much higher.
INN: Are there any specific catalysts you think we'll see in 2018 that will drive gold higher, or is it just going to be steady?RM:
I
'd expect to see some sort of lid on share prices for the balance of this year, barring any major discovery. I mean, you've seen something like Novo Resources (TSXV:
NVO
) — they've gone up 10 fold in a very short space of time on a metal detector. There are a couple of other stories that have performed quite well, Kirkland Lake Gold (TSX:
KL,NYSE:KL
) and its Fosterville mine and a number of others.
Some people will be taking the opportunity to take some tax-loss selling, so it might create a bit of a platform before January comes along. It's usually the time to be buying when people are selling, and you have a seasonal balance in January.
INN: How do you feel about the relationship between bitcoin and gold?RM:
I think they're quite separate. I mean one can buy bitcoin, Amazon (NASDAQ:
AMZN
) or Apple (NASDAQ:
AAPL
). These new economies, they don't have regulations and there is a free for all. I almost think the unregulated nature is not that transparent, and makes for a ground where there's a lot of manipulation of value.
I guess you hope that there's not a power failure, because you need a lot of power to create a bitcoin, and to power the exchange and the blockchain that you use to record owners. I think it's one of the areas that's free of all regulations. When I look at the whole high-tech space, they don't have any of the legacies that the old industries have. There's not the rules, the regulations, the oversight. Here it's all brand new and created instantly.
Some of the attraction is that you can transport money from one country to another. There is a fair amount of, let's say money, that has question marks around it that wasn't able to go into a bank because it wasn't acceptable. But now you can put it up on the web and move it from one location to another without anyone knowing it's moving.
INN: Do you think the lack of regulation is part of the excitement? If there was less regulation in gold mining, would it be easier for you to grow your company?RM:
Absolutely. [In terms of regulations,] it's more about the time it takes to get a permit, because you look at it and say, "alright, they've got a great project. Now they're applying for a permit. How many years is it? Three years?" They're
going to wait one year, two years, three years before they can start spending money to build the mine, and then it's going to take a year or two to build the mine, and then when they get their money back there's another three years.
What's the government in that country going to do in that period of 10 years? Will it change? Will they put taxes on? Bigger royalties? In the digital world, they don't have to concern themselves with any of that.
INN: What are your thoughts on the gold ETFs? RM:
ETFs have introduced a whole new group of people to gold mining and precious metals who wouldn't have been there before. In ETFs, what I do find strange is that when they decide to rebalance the ETF they give advance notice to the market — it seems that it's been a signal, if you're coming out of an index in this type of market, to short a stock. It's like advance knowledge. I think the ETF should just go, "okay, we're selling, bang," with no advance notice.
The market is moving, it has been moving for more than 10 years now, to greater and greater concentrations of passive investors. [We are even starting to see] robot advisors, ETFs and index funds. Eighty percent of the market cap of the public companies in the US is contained in S&P 500 stocks.
With these there are companies that will find it increasingly difficult to attract the attention of the market. One, because large brokerage firms and banks want you to buy their research and only the stocks that they cover in their research. If you're not above a certain size, you're unlikely to be there.
But it's also showing some big swings in the market. I think it's setting up for a very dramatic move. We've seen … the debt in the US, national debt, now over $20 trillion, and it doubled during the time of Obama. And it's not just the US, this is a global phenomenon that is without precedent. There's instantaneous communication, people are reacting so quickly to it.
Right now, there's a stampede into cryptocurrencies. Someone sent me a copy of an interview I did with Forbes back four years ago on bitcoin. They said, "well, is this something — how is it going to work?" And I said, "if you have confidence in the currency, well yes."
So who has confidence? Will we lose confidence in paper currencies? Will we lose confidence in the dollar? If we do, where will you put your money? If the power goes out, you probably don't want it in cryptocurrencies, but you might want it in gold. There's room there in the marketplace for gold and I really wouldn't put cryptocurrencies and gold together.
INN: Is there anything else that you want to mention?RM:
Here at McEwen Mining, I want to be close to my fellow shareholders. I've invested about $133 million here, I own 24 percent of the company. I don't get a bonus, I don't get options, and the only way I can make money is exactly the same way as my shareholders — that's through a higher share price.
[I also want to note that] back in 2006, my wife and I set up a medical research center to do research on regenerative medicine and stem cells. In 2009, we gave out a prize, which we give out every year, for $100,000 for research innovation. The first winner was Shinya Yamanaka, who two years after won a Nobel Prize. I thought, "how do we finance more Nobel Prize winners?" And so the money that I make here is going into regenerative medicine and also into education.
Don't forget to follow us @INN_Resource for real-time news updates!
Securities Disclosure: I, Priscila Barrera, hold no direct investment interest in any company mentioned in this article.Editorial Disclosure: The Investing News Network does not guarantee the accuracy or thoroughness of the information reported in the interviews it conducts. The opinions expressed in these interviews do not reflect the opinions of the Investing News Network and do not constitute investment advice. All readers are encouraged to perform their own due diligence.