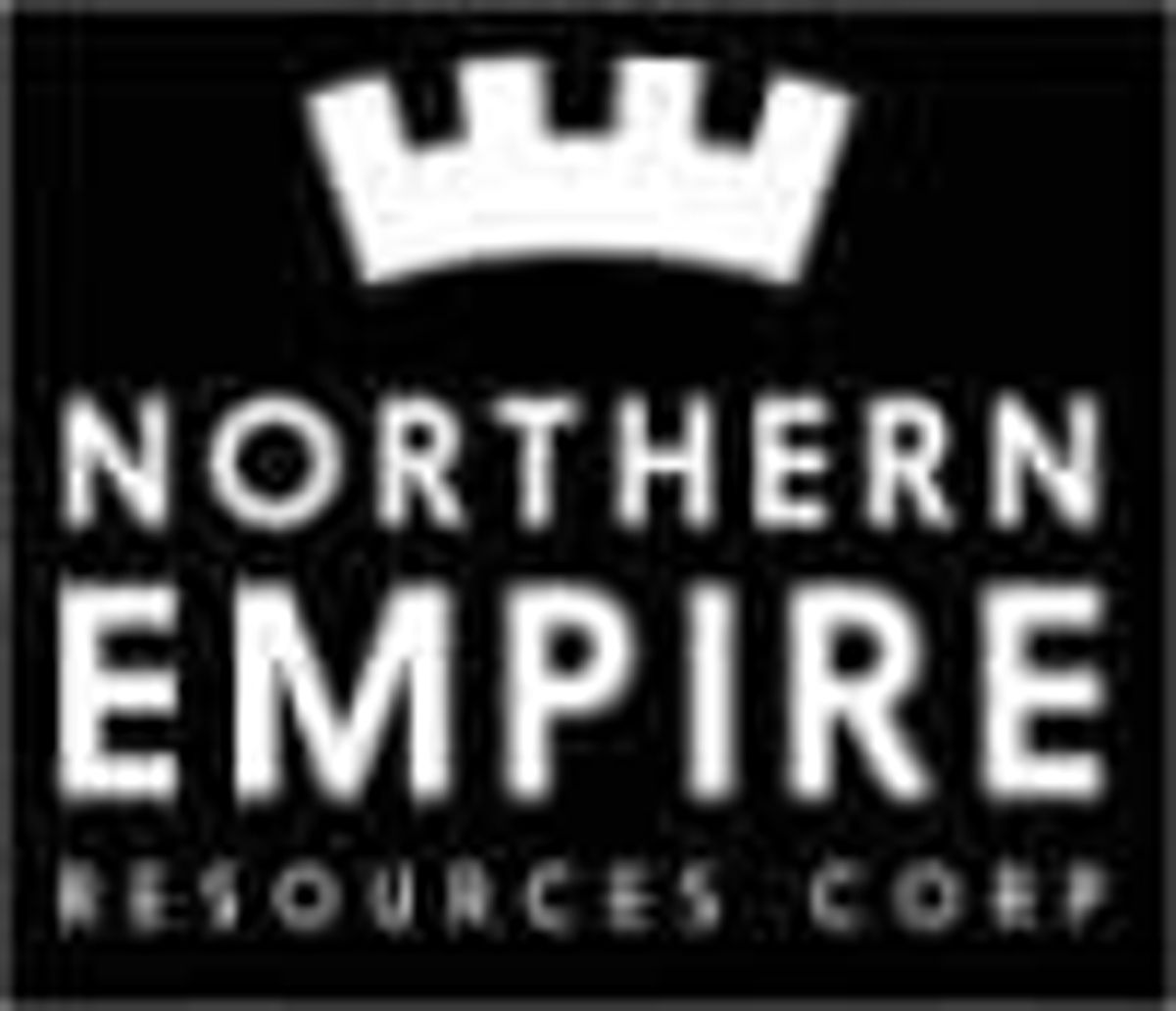 Northern Empire Resources Corp. (TSXV:NM)  (the "Company" or "Northern Empire") announces that the Company intends to complete a brokered private placement (the "Private Placement") of subscription receipts at a price of C$0.25 per subscription receipt to raise gross proceeds of up to C$20,000,000. The Private Placement is being conducted by a syndicate of agents led …
Northern Empire Resources Corp. (TSXV:NM)
 (the "Company" or "Northern Empire") announces that the Company intends to complete a brokered private placement (the "Private Placement") of subscription receipts at a price of C$0.25 per subscription receipt to raise gross proceeds of up to C$20,000,000. The Private Placement is being conducted by a syndicate of agents led by Cormark Securities Inc. ("Cormark") and will include GMP Securities L.P., Haywood Securities Inc., and PI Financial Corp.
The proceeds of the Private Placement will be used in part by the Company to acquire the Sterling Property from Imperial Metals Corp. ("Imperial"). As previously announced in the Company's February 15 and April 3, 2017 news releases, total cash compensation payable to Imperial for the acquisition is US$10,100,000 of which US$1,500,000 has been paid.
Proceeds of the Private Placement will be placed in escrow pending completion of the Sterling Gold Project acquisition. Each subscription receipt will entitle the holder thereof to receive, without any further action and without payment of additional consideration, one common share of the Company upon the occurrence of certain conditions. As soon as practicable following the closing of the Private Placement, the Company will use its commercially reasonable best efforts to obtain a receipt for a (final) short-form prospectus qualifying the common shares underlying the subscription receipts from the applicable principal regulator. In the event the Company does not receive a receipt for the final prospectus within 60 days of the closing of the Private Placement, each subscription receipt will entitle the holder thereof to receive 1.1 common shares in lieu of one common share.
Prior to completing the acquisition of the Sterling Property, the Company anticipates completing a consolidation of its outstanding common shares on a 3(old) for 1(new) basis. The Private Placement is subject to TSXV approval and is expected to close on or before May 30, 2017.
Sterling Property Highlights
High Grade Gold in Nevada. Northern Empire filed an NI 43-101 compliant resource estimate on the Sterling Property on May 2, 2017. Total inferred resources on the Sterling Property were estimated at 709,000 oz Au (In Place) with an average grade of 2.23 g/t Au. Included in this estimate is the Sterling Deposit where a pit constrained resource of 231,000 oz Au (In Place) in 1,958,000 tonnes with an average grade of 3.67 g/t Au was determined. Further information on the Sterling Project Resources, please refer to the Company's news releases dated April 3 and May 2, 2017, and the and the Technical Report titled "Sterling Property, Nye County, Nevada, USA: A Property Under Option to Purchase by Northern Empire" that was posted May 2 on SEDAR.
Permitted to begin operations. The Bureau of Land Management has issued a Finding of No Significant Impact ("FONSI") and approved the next phase of mining at Sterling. This permit was issued on May 12, 2016 and has an indefinite term. Northern Empire will immediately undertake a resource estimate, on all deposits on the properties;
Location. The Sterling Property is located approximately 100 miles NW of Las Vegas on the eastern flank of the Bare Mountains. The property is accessed via highway I-95 and gravel roads;
Significant Engineering Completed by Imperial Metals. To achieve the FONSI, Imperial Metals created designs for the new pits and heap leach facilities that Northern Empire will be able to use as a basis for developement going forward;
Significant infrastructure in place. Imperial Metals ceased underground mining in 2015. Processing facilities, mine offices and generators are on site and are currently being used to rinse heaps from prior operations.
About Northern Empire
Northern Empire is an aggressive, Vancouver based, gold explorer working to take advantage of the current improving market conditions by assembling a value driven portfolio of properties.
Qualified Persons
The 2017 resource estimate was prepared by Norwest Corporation in accordance with requirements of National Instrument 43-101 Standards of Disclosure for Mineral Projects (NI 43-101). Technical work, analysis and findings were completed by Derek Loveday, P.Geo., Allan Turner, P.Geol., and Sean Ennis, P.Eng. Each person is an independent "Qualified Person" as defined by NI 43-101 and has reviewed and approved the information in this news release.
Michael G. Allen, P. Geo., President of Northern Empire, and a Qualified Person as defined by NI 43-101, has reviewed the technical information contained in this news release. He is the non-independent qualified person for this new release and has verified the data.
ON BEHALF OF THE BOARD OF NORTHERN EMPIRE RESOURCES CORP.
Michael G. Allen, President, CEO and Director
NEITHER THE TSX VENTURE EXCHANGE NOR ITS REGULATION SERVICES PROVIDER (AS THAT TERM IS DEFINED IN THE POLICIES OF THE TSX VENTURE EXCHANGE) ACCEPTS RESPONSIBILITY FOR THE ADEQUACY OR ACCURACY OF THIS NEWS RELEASE.
Certain information set forth in this news release contains "forward-looking statement", and "forward-looking information" under applicable securities laws. Except for statements of historical fact, certain information contained herein constitutes forward-looking statements, which include the Company's expectations about the completion of the proposed private placement future performance based on current results and expected cash costs and are based on the Company's current internal expectations, estimates, projections, assumptions and beliefs, which may prove to be incorrect. Some of the forward-looking statements may be identified by words such as "will", "expects", "anticipates", "believes", "projects", "plans", and similar expressions. These statements are not guarantees of future performance and undue reliance should not be placed on them. Such forward-looking statements necessarily involve known and unknown risks and uncertainties, which, may cause the Company's actual performance and financial results in future periods to differ materially from any projects of future performance or results expressed or implied by such forward-looking statement. These risks and uncertainties include, but are not limited to: ability to raise sufficient funds for the acquisition; liabilities inherent in mine development and production; geological risks, the financial markets generally, the results of the due diligence investigations to be conducted by the Company, the ability of the Company to complete the Private Placement or obtain requisite TSX Venture Exchange acceptance. There can be no assurance that forward-looking statement will prove to be accurate, and actual results and future events could differ materially from those anticipate in such statements. The Company undertakes no obligation to update forward-looking statements if circumstances or management's estimates or opinions should change except as required by applicable securities laws. The reader is cautioned not to place undue reliance on forward-looking statements.
Source: www.marketwired.com
Investing News Network websites or approved third-party tools use cookies. Please refer to the  cookie policy for collected data, privacy and GDPR compliance. By continuing to browse the site, you agree to our use of cookies.