Great Bear Resources (the "Company" or "Great Bear") (TSXV:GBR) today reported results from summer geological mapping, including a new geological discovery at its flagship Dixie project in the Red Lake district of Ontario. These new findings have provided additional high-priority drill targets.
Great Bear Resources (the "Company" or "Great Bear") (TSXV:GBR) today reported results from summer geological mapping, including a new geological discovery at its flagship Dixie project in the Red Lake district of Ontario. These new findings have provided additional high-priority drill targets. A fully-funded 30,000 metre, approximately 150 drill hole program is now underway that will continue through the remainder of 2018 and 2019, with results to be released on a regular basis.
The Company has identified a critical ultramafic rock unit in outcrop with an interpreted strike length of at least 2 kilometres. The unit is folded into the D2 fold axis that is associated with gold in the primary drill areas at Dixie. Ultramafic rocks, together with D2 folding, are considered to be primary controls on high–grade gold mineralization across the Red Lake district.
Chris Taylor, President and CEO of Great Bear said, "With generally a few metres of overburden covering most of the project, bedrock is mostly concealed at Dixie and the extensive gold system was completely missed during the historical Red Lake gold rush. This also means our drill area was not geologically mapped. Great Bear's geological interpretation suggests we are drilling a dominantly mafic greenstone belt with comparable geological, structural, alteration and gold mineralization characteristics to the main Red Lake greenstone belt, where over 30,000,000 ounces of gold has been produced from 28 gold mines."
In addition to the discovery of the key ultramafic units, results of the summer field mapping program are shown on Figure 1 and also include:
Confirmation of the location of historical surface trench results (Table 1) including high-grade gold located approximately 200 metres to the northwest of the Company's recent South Limb Zone ("SLZ") discovery, comprising a new drill target
Identification of several additional D2-related fold hinges with potential for "Hinge Zone" style mineralization, comprising new drill targets
Discovery of a significant geological contact between the western and eastern halves of the Dixie project. This may represent a major contact separating felsic and intermediate rocks more closely related to the Confederation Greenstone Belt to the east, and mafic to ultramafic units
to the west (where Great Bear is drilling), which are more consistent with the main Red Lake Greenstone Belt to the north
Collectively, several kilometres of additional strike length of highly prospective geology have now been defined for drill testing, as shown on Figure 1. These targets are in addition to the original Dixie Limb Zone ("DLZ") target which has a geophysically defined strike length of approximately 10 kilometres and has seen most of the project's drilling. All of the more than 100 drill holes which have intersected the DLZ have encountered gold mineralization.
Great Bear will continue to explore and define its high-grade gold discoveries at the DLZ, Hinge and SLZ zones, however, the new discovery of spatially extensive ultramafic units adds an additional number of high priority drill targets that will also be tested during the current drill program.
Figure 1: Additional drill targets defined by summer 2018 geological mapping work are shown in the context of Great Bear's recent drill results and existing targets.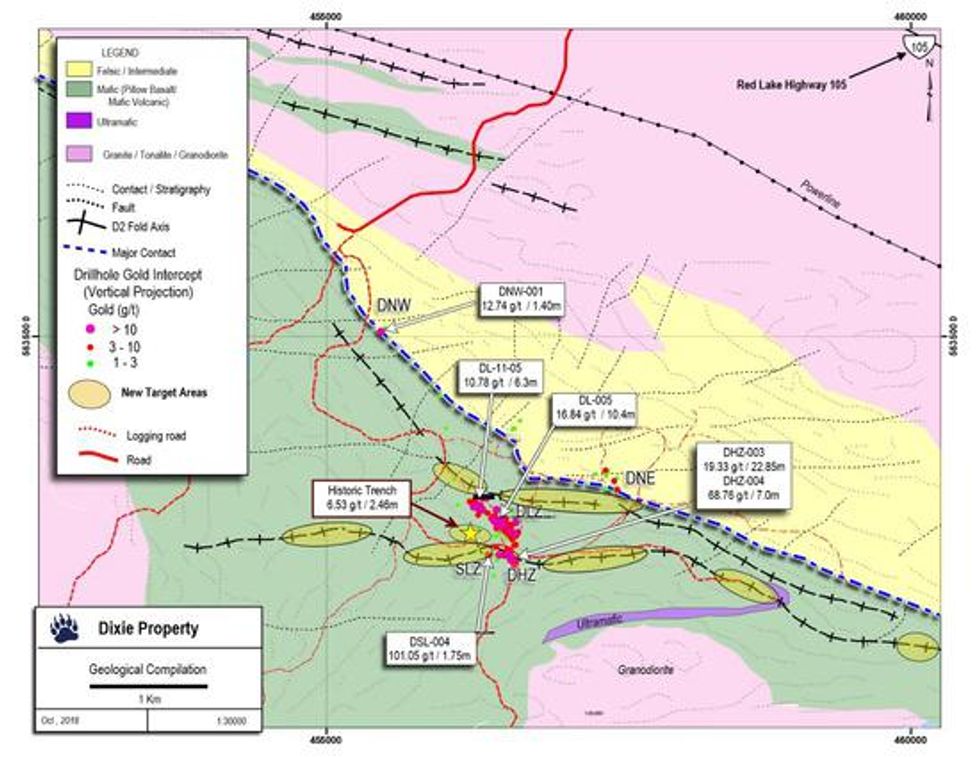 To view an enhanced version of Figure 1, please visit: http://orders.newsfilecorp.com/files/5331/40365_a1539564611798_75.jpg

New Ultramafic Discovery Provides Additional Drill Targets
The Company has identified talc-serpentine-chlorite altered ultramafic rocks in outcrop on the property approximately 1.1 kilometres southeast of its main drill area.
The outcrop is approximately 500 metres south of the main D2 fold axis which is considered a primary structure related to gold mineralization.  Ultramafic rocks were exposed through recent logging-related trail construction and mapped by Great Bear. While the area surrounding the discovery outcrop is largely covered by shallow overburden, the ultramafic has a distinctly high magnetic signature which can be traced on the Company's 2017 high-resolution airborne magnetic survey along strike into an interpreted fold hinge located on the D2 fold axis.
In the DLZ and Hinge Zone, high grade gold occurs at or near a competency contrast between two distinct basalt rock units and between volcanic units and sediments. The newly discovered ultramafic/basalt contact should have a more pronounced competency contrast and equal or superior potential to host gold mineralization. This would present a similar gold mineralization control to the high–grade zone at the Red Lake Mine, operated by Goldcorp Inc., and presents a suite of clear drill targets for the current drill program.
Historical Trench Results Provide New Drill Target
Historical trenching by Teck Resources identified silica/sulphide alteration associated with high-grade gold at what they referred to as the "Main Zone".   This area has not been drilled by Great Bear and is located approximately 200 metres to the northwest of the recent discovery of high-grade near-surface gold mineralization in the SLZ, which included 1.75 metres of 101.05 g/t gold. The Main Zone was originally drilled with two holes in 1988, neither of which tested below the high-grade trench intercepts, and has not seen any drilling since that time.  Re-evaluation of the outcrop and nearby drilling suggested that the zone remains open for drill testing.  Table 1 shows highlights of "Main Zone" trench results.
Table 1: Highlighted results from historical trenching 200 metres to the northwest of the SLZ.
Trench
Sample Width (m)
Gold (g/t)
A
0.11
0.14
0.94
0.10
0.30
4.46
0.84
0.41
B
0.76
1.75
0.53
1.68
0.68
1.34
0.64
5.93
0.20
24.69
C
0.44
0.31
0.48
1.34
0.44
8.33
0.35
8.23
0.84
1.44
0.83
10.01
D
0.46
0.41
0.32
4.05
0.49
3.50
0.34
1.68
Results presented in Table 1 have been obtained from historical assessment reports and original assay records. Great Bear has not collected assay samples from the trenches to verify the historical results. Great Bear's geologists completed geological mapping of the trenches and collected rock descriptions of the channel cut samples to verify the geology.
Two Styles of High-Grade Gold Mineralization
To-date, two main styles of gold mineralization have been identified at the Dixie Project:
| | |
| --- | --- |
| 1. | Gold within silica / sulphide replacement zones along a calc-alkaline / tholeiitic basalt contact, hosted within basalt, sediments and rhyolite stratigraphy (the DLZ) |
| | |
| --- | --- |
| 2. | Gold in quartz veins within basaltic rocks associated with red-brown hydrothermal biotite alteration and widespread iron-carbonate veining (the Hinge Zone and SLZ) |
In both cases, the gold mineralization is often located proximal to one of the mapped D2 fold axes, and also occurs at or near a major lithological contact.
About Great Bear
Great Bear is earning a 100% royalty-free interest in the Dixie property for remaining payments totaling $110,000 over three years. The property consists of 9,140 hectares located approximately 15 minutes' drive along Highway 105 from downtown Red Lake, Ontario. The Red Lake mining district has produced over 30,000,000 ounces of gold and is one of the premier mining districts in Canada, benefitting from major active mining operations including the Red Lake Gold Mine of Goldcorp Inc., plus modern infrastructure and a skilled workforce. The Dixie property covers a drill and geophysically defined multi-kilometre gold mineralized structure similar to that hosting other producing gold mines in the district. The project has seen over 200 drill holes to-date and has yielded high grade near-surface gold results from several gold zones hosted at an extensive mineralized geological contact — the Dixie Limb Zone. In addition, Great Bear is also earning a 100% royalty-free interest in its West Madsen properties which total 3,860 hectares and are contiguous with Pure Gold Mining Inc.'s Madsen property. All of Great Bear's Red Lake projects are accessible year-round through existing roads.
Mr. R. Bob Singh, P.Geo, Director and VP Exploration for Great Bear, is the Qualified Person as defined by National Instrument 43-101 responsible for the accuracy of technical information contained in this news release.
For further information please contact Mr. Chris Taylor, P.Geo, President and CEO at 604-646-8354, or Mr. Knox Henderson, Investor Relations, at 604-551-2360.
ON BEHALF OF THE BOARD
"Chris Taylor"                                                 
Chris Taylor, President and CEO
Inquiries:
Tel: 604-646-8354
Fax: 604-646-4526
info@greatbearresources.ca
www.greatbearresources.ca
Neither TSX Venture Exchange nor its Regulation Services Provider (as that term is defined in the policies of the TSX Venture Exchange) accepts responsibility for the adequacy or accuracy of this release.

This new release may contain forward-looking statements. These statements are based on current expectations and assumptions that are subject to risks and uncertainties. Actual results could differ materially because of factors discussed in the management discussion and analysis section of our interim and most recent annual financial statement or other reports and filings with the TSX Venture Exchange and applicable Canadian securities regulations. We do not assume any obligation to update any forward-looking statements.
We seek safe harbor
Click here to connect with Great Bear Resources (TSXV:GBR) for an Investor Presentation
Source: www.newsfilecorp.com
Featured
Investing News Network websites or approved third-party tools use cookies. Please refer to the  cookie policy for collected data, privacy and GDPR compliance. By continuing to browse the site, you agree to our use of cookies.