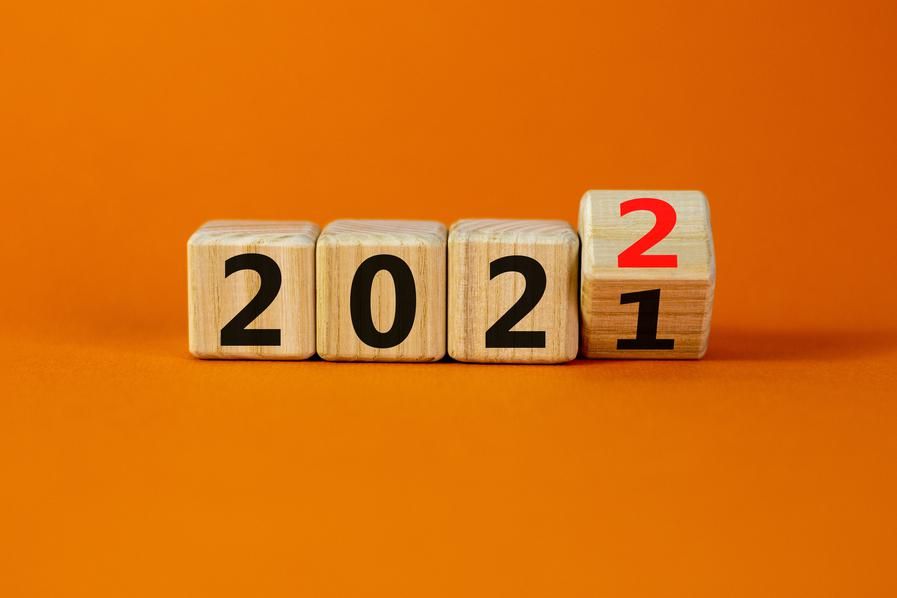 2021 couldn't match 2020's highs as various factors weighed on the gold price. Here's a recap of the major gold trends of the year quarter by quarter.
Click here to read the previous gold trends article.
After soaring to an all-time high of US$2,058.40 per ounce during 2020, gold has faced headwinds in 2021.
Values for the yellow metal started the year at US$1,898, but the level proved unsustainable and gold had sunk to US$1,700 — still its year-to-date low — by the end of the first quarter.
Positivity in the second quarter pushed the precious metal to its annual high in May, when the price touched US$1,903; however, it soon retreated to the US$1,760 range a few weeks later.
---
Since then, the currency metal has struggled to breach US$1,800, and many experts are pinning its price volatility on broader monetary issues. Read on for a look at trends that impacted gold in 2021.
Gold trends 2021: Key headwinds keeping the metal down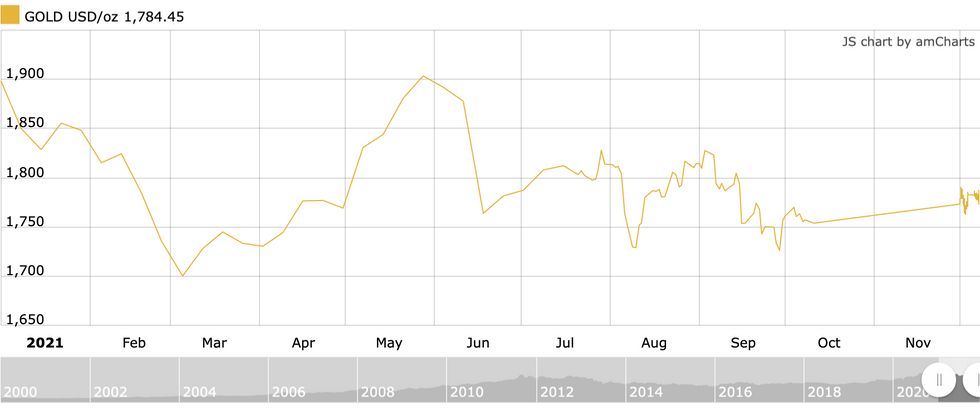 Gold price chart, January 1, 2021, to December 7, 2021.
Speaking to the Investing News Network, Brian Leni, editor of Junior Stock Review, explained that 2020's pandemic response led to a massive expansion of global debt and was accompanied by low interest rates, "which the market knows is a recipe for disaster, but it keeps the 'party' going, so to speak."
This environment facilitated gold's 32 percent price increase between January and August of last year, and ultimately allowed the yellow metal to end 2020 up 21.18 percent from its January start of US$1,552.30.
"Over the last year, however, the gold price has drifted mostly downward," Leni said.
"In my view, this isn't because of any fundamental gold market reason. I think that negative price action is the market predicting or expecting the US Federal Reserve to raise interest rates to quell the rampant inflation that we have endured over the last 12 to 16 months."
With economic stimulus winding down and growing uncertainty emerging around new COVID-19 variants, the Fed is in a precarious position.
"The problem for the Fed is twofold," Leni said. "First, debt levels are so high that any significant interest rate hikes at this point could easily destabilize the market, causing a cascade effect around the world."
He continued, "Second, the broader stock market is at all-time highs. Easy money, low interest and lockdowns have given the public more access or interest in the stock market than ever."
The result is a delicate situation the Fed will have trouble balancing.
"If the Fed raises rates and begins its tightening process, I have no doubt that this will be negative for the broader stock market," Leni noted. "It's a big risk to many people's savings, and the Fed knows it."
Because of this, he thinks it will be challenging for the Fed to raise rates to the projected 0.25 or 0.5 percent amount in 2022 without causing a widespread ripple effect.
"Ultimately, an investment in gold is an investment in real money," added Leni. "Real money that can't be debased and is not simultaneously someone else's liability."
Gold trends 2021: ETF outflows preventing ​price growth
After dropping to a year-to-date low of US$1,700 in Q1 and rallying to this year's high point of US$1,903 in Q2, gold remained rangebound between US$1,700 and US$1,800 for most of Q3.
In addition to the factors mentioned by Leni, gold's flat price performance in the third quarter has been attributed to a 7 percent decline in investment demand from the exchange-traded fund (ETF) segment. This trend continued in October, when gold ETF holdings shed 25.5 tonnes.
"Global gold ETF holdings fell to 3,567 tonnes (US$203 billion) during the month — notching year-to-date low levels — as investor appetite for gold diminished in the ETF space following price declines in August and September," an October World Gold Council gold ETF report states.
In comparison to 2020's record-setting 877 tonnes of inflows, so far 2021 has seen outflows of 269.1 tonnes and modest inflows of 87.6 tonnes. What's more, six of the last 10 months have registered net outflows in the gold-backed ETF segment. The ETF exodus has been attributed to investors adding more risk to their portfolios.
That said, Juan-Carlos Artigas, head of research at the World Gold Council, noted that 2021's outflows seem disproportionate because 2020, especially Q3, was such a record-setting period for the gold ETF space.
However, he did point out that significant moves in the gold price tend to be influenced by the investment demand segment on a short- to mid-term basis. Looking longer term, overall demand from all segments — including jewelry, technology and bars and coins — is the price driver.
As investment demand shed 7 percent, or 831 tonnes, the gold price was further impacted by total mine production, which ballooned to 959.46 tonnes, up almost 90 tonnes from Q2's 876.77 tonnes and significantly higher than the 842.72 tonnes mined in the first quarter.
All of gold's headwinds combined in late September, forcing the metal to a six month low of US$1,726.10.
Gold trends 2021: Inflation threat gaining traction 
As new lockdowns began to emerge toward the end of the year, and stronger variants of COVID-19 started to be detected, some positivity in the broader markets began to erode.
This uncertainty benefited the yellow metal, which edged higher throughout October, starting the session at US$1,761 and ending the 31 day period at US$1,775.
"Gold price strength happened amid higher nominal yields: gold had been generally inversely correlated with nominal bond yields this year," a November WGC report notes. "However, a rise in inflation expectations outweighed the move in nominal rates and resulted in lower real rates."
As inflation began to exhibit signs of being more structural and less transitory in the fourth quarter, gold appeared to benefit from the looming uncertainty.
"If you look at the performance of interest rates versus gold over the last 20 years, as interest rates go up, gold sells off," said Gareth Soloway, chief market strategist at InTheMoneyStocks.com, in early November.
"We haven't seen gold sell off, we've seen gold more chop sideways over the last couple of months as interest rates have gone up. And what that again tells us is that the market is starting to realize inflation is here, and big money is buying every single dip on gold. So I continue to be very, very bullish on gold over the longer term."
Watch Soloway discuss where gold may go in the months ahead.
These factors are anticipated to be further heightened by changes in asset allocation, which have been fueled by historically low interest rates, pushing investors to add risk to their portfolios earlier in the year. "Because of that, investors are looking for ways to hedge some of that exposure, and that can be supportive of gold," Artigas said.
By the end of November, gold had rallied to a 60 day high of US$1,803.20 ahead of December volatility courtesy of the Omicron variant, which hampered air travel and forced countries to reimplement quarantine-style protocols.

The spreading variant pushed markets lower during the first week of trading in December. However, gold also faced headwinds, retracting to the US$1,762 level before rebounding to the US$1,780 range.
Gold trends 2021: Industry waiting for a market correction
Despite gold's lackluster 2021 performance, those in the industry have a positive outlook for next year, with many suggesting that the Fed won't be able to stay in control for much longer.
Barisheff explains why gold is the best investment right now.
"The market is due for a major correction. What will cause it and when it will happen is anybody's guess — it could be tomorrow, it could be six months from now," said Nick Barisheff, CEO of BMG Group, who advises investors shed some of their risk when initial losses start to mount.

Rather than rushing to cash, a popular move amid market turmoil, he has other ideas. "Instead of taking your money off the table and going into cash … you go to gold (because cash is devaluing daily)," Barisheff said.
"Gold will at least hold its own and probably appreciate ... so by sitting it out in gold you can wait until the market finishes correcting and then buy back in."
Don't forget to follow us @INN_Resource for real-time updates!
Securities Disclosure: I, Georgia Williams, hold no direct investment interest in any company mentioned in this article.
Editorial Disclosure: The Investing News Network does not guarantee the accuracy or thoroughness of the information reported in the interviews it conducts. The opinions expressed in these interviews do not reflect the opinions of the Investing News Network and do not constitute investment advice. All readers are encouraged to perform their own due diligence.
Investing News Network websites or approved third-party tools use cookies. Please refer to the  cookie policy for collected data, privacy and GDPR compliance. By continuing to browse the site, you agree to our use of cookies.