Gold Steady Ahead of Bernanke Speech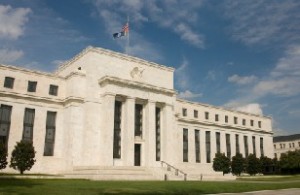 There was little movement in the gold price this week as bullion and gold company investors anxiously awaited the results of Friday's US Federal Reserve meeting in Jackson Hole, Wyoming. 
After hitting a four-and-a-half-month high on Monday at $1,676 an ounce, gold slipped back Thursday on weakness in other markets as investors took profits ahead of Friday's hotly-anticipated speech by Fed Chairman Ben Bernanke. In the speech, Bernanke is expected to signal whether the United States will undertake a third round of quantitative easing, known as QE3, whereby the Federal Reserve will buy bonds to keep interest rates low and stimulate economic growth. QE is considered bullish for gold because it stokes fears of inflation — bullion is a hedge against inflation and falling currency values.
Investors will remember that it was two years ago in Jackson Hole that Bernanke announced the last round of quantitative easing. However, it is by no means certain that the Fed will go ahead with another round of stimulus. Gold investors are also preparing for disappointment should the institution, which governs monetary policy in the United States, decide to forego easing as it did last year; that is likely to happen if the economy fared better than expected in the second quarter and is continuing to grow.
Reuters reported that gold traded in a tight range Thursday morning, adding just a quarter of a percentage point, before closing the day at $1,657/oz. The December COMEX gold contract was at $1,658.50 an ounce, down by $4.50.
Analysts are divided as to how much the anticipation of QE3 is being factored into the gold price. Mineweb quoted Standard Bank as saying, "[a]t this time, we do not believe that gold is pricing fully further monetary stimulus from the Fed. Therefore, we expect more upside from gold depending on (a) further QE or some other type of stimulus and (b) the magnitude of any such QE or stimulus. A $500bn expansion of the Fed's balance sheet would increase our fair-value estimate for gold by $80."
Turkey boosts gold holdings
There was more central bank gold buying last week as Turkey boosted bullion reserves by 18 percent in July. Data from the International Monetary Fund shows that Turkey upped its gold holdings by 1.4 million ounces, while Russia increased its reserves by 0.6 million ounces. Several former Russian republics also bought bullion. Kazakhstan led the push with 45,000 ounces.
Canadian political insider embarrassed over Barrick lobbying claims
Nigel Wright, Canadian Prime Minister Stephen Harper's chief of staff, was in hot water this week after it was announced that he was lobbied three times by Barrick Gold (TSX:ABX) despite his close personal ties to the company. Under Canadian lobbying rules the meetings should have been reported to the federal lobbying commissioner. However, CBC reported that Foreign Affairs Minister John Baird said that Wright was not in a conflict of interest because he "has no personal or financial interest in Barrick Gold," the world's largest gold producer. Wright has known Barrick founder Peter Munk and his son Anthony for years — both of them have seats on the board of directors. Wright also worked with Anthony Munk at private equity investment firm Onex, according to CBC.
Company news
The fifth-largest gold producer, Harmony Gold (NYSE:HMY,TSXV:H), will aim to boost production by some 45 percent in the next four years, the company announced Tuesday. That would see production go from a target of 1.3 million ounces next year to 1.7 million by 2016. In a conference call with analysts, CEO Graham Briggs said Harmony will be able to fund its expansion through cash flows owing mostly to growth in its South African operations, and may only need to raise more funds in 2017. Harmony also announced that a study of its Papua New Guinea-based Golpu joint venture with Newcrest Mining (ASX:NCM,TSX:NM) shows a significant increase in gold reserves. Harmony said the study reveals that gold equivalent reserves increased 31 percent to 52.9 million ounces.
Meanwhile, Newcrest on Wednesday resumed operations at its Lihir gold mine in PNG after losing a day's production due to protests from local landowners. Newcrest is Australia's largest gold company by market cap. Coeur d'Alene Mines (NYSE:CDE,TSX:CDM) also stopped work for a day at its Palmarejo silver and gold mine in Mexico after a worker fell to his death in the underground part of the operation.
DRDGold (NYSE:DRD) more than trebled its full-year earnings, the South African company said this week. Headline earnings increased by 259 percent to 61 South African cents per share, depsite a 6 percent drop in production to 135,708 ounces. DRDGold's business is focused on extracting gold contained in mine dumps around Johannesburg.
Junior company news 
Orezone Gold (TSX:ORE) said it has substantially increased the gold resource tally for its Bomboré gold deposit in Burkina Faso. The West Africa-focused Canadian explorer said the deposit now hosts 4.13 million measured and indicated ounces graded 1.03 grams per tonne, and 1.03 million ounces inferred at 1 g/t. Measured and indicated resources went up by 2.54 million ounces and grades increased 27 percent. Orezone said Bomboré is the largest undeveloped gold deposit in Burkina Faso.
Vancouver-based Balmoral Resources (TSXV:BAR) announced that drilling at its Martiniere property in Quebec has intersected three new areas of gold mineralization. The discoveries returned gold anomalies outside the previous area of known mineralization, thus expanding the system. A wide interval of anomalous zinc mineralization was also identified while testing a new volcanogenic massive sulphide target, Balmoral said.
Condor Gold (LSE:CNR) climbed 11 percent Wednesday after the company announced positive drill results from its La India project in Nicaragua. According to CEO Mark Child, the 59-hole, 7,096 meter drill program revealed: "a high grade gold mineralised deposit," "significant gold mineralisation remains in the historic mine," "wide mineralised zones" and gold mineralization that remains open at depth and along strike.
Securities Disclosure: I, Andrew Topf, do not own any equities mentioned in this article.