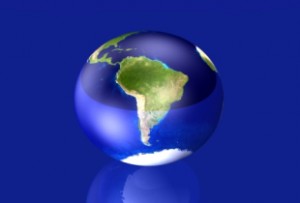 By Dave Brown – Exclusive to Gold Investing News
Recent headline news features a bidding war between several producers for a lucrative gold venture in Argentina; however, this may only represent the tip of the iceberg for potential gains to investors in one of the richest metalliferous mineral areas in South America.
Historically, Argentina was one of the world's wealthiest countries 100 years ago; however, it suffered during most of the 20th century from recurring high inflation, mounting external debt, economic crises, persistent fiscal and current account deficits, and capital flight. The country is now classified as upper-middle income or a secondary emerging market by the World Bank.  Argentina benefits from rich natural resources, a highly literate population, a diversified industrial base, and an export-oriented agricultural sector.  Arguably more renowned by investors for its oil and gas exports, the country also possesses vast mineral wealth in gold, copper, silver, zinc, magnesium, lithium, sulfur, tungsten and uranium.
Regional Context
The development of investor friendly mining laws since 1993 has resulted in a growth of Argentina's mining exports from seventy million in the early 1970′s to over six billion dollars in 2009.  Last year, the total number of companies with exploration or mining interests in Argentina exceeded 130, and from those, over 40 percent are headquartered in Canada. In terms of mining stages, 14 percent are currently producing, while over 81 percent are devoted to exploration.  The most popular exploration target for these enterprises is gold with over 35 percent of projects linked to the precious metal.
Argentina's gold deposits remain relatively underdeveloped compared with its prolific continental peers, as marginal productivity in the only two larger South American gold-producing nations gives some indication operations are approaching peak production. This under-development in Argentina combined with the investment activity in exploration may translate into a domestic gold sector with strong potential for a pronounced growth curve.
Investment Considerations
As well as the most recent gold target in Argentina, there are a range of projects featuring a variety of scopes in the advanced stages of development.
Cerro Negro Project
On September 2, Goldcorp Inc. (TSX:G), the world's second largest gold producer, issued a press release announcing a $3.6-billion cash and share agreement with Australian-based Andean Resources Ltd. (TSX:AND) eclipsing a $3.4-billion all share offer from smaller rival Eldorado Gold Corp. (TSX:ELD).  Eldorado provided a conference call for investors to discuss its potential offer following the news release.
The project, which is located in the southern Argentinean province of Santa Cruz at an elevation of approx 800m above sea level, contains a gold resource of about 3.1 million ounces and 25 million ounces of silver. Among the highlights of a Feasibility Study released in July, Andean announced for the first five years, Cerro Negro was expected to produce up to a rate of 285,000 ounces of gold per year at an average cash cost of $60 per ounce (inclusive of silver by-product credits), making Cerro Negro one of the lowest-cost undeveloped gold projects in the world.  The company believes the province of Santa Cruz is under-explored for precious metals and the region provides significant exploration potential within a favorable mining jurisdiction.
Pascua- Lama Project
In last month's interview with the Financial Post, the founder of Barrick Gold Corp. (TSX: ABX) underscored the importance of poly-metallic properties, which is particularly relevant to its own expansive Pascua-Lama Project.
The gold and silver development is a cross-border property located in the highly prospective Frontera District, which straddles Argentina's San Juan Province and Chile's 3rd Region. It lies within the area subject to the Mining Treaty signed into law in 2004 between Argentina-Chile. As of July 2010, detailed engineering and procurement is nearing completion and the Pascua-Lama Project is on track to enter production in the first quarter of 2013.
With proven reserves of 17.8 million ounces of gold, 671 million ounces of silver, the project is being designed as an open-pit operation, centered at an elevation of 4,600 meters. The gold, silver and copper mineralization is part of a mineralised acid sulphate system that was structurally controlled within intrusive and volcanic rock sequences of Upper Paleozoic and Middle Tertiary age. Mining life span is estimated at over 25 years, with an investment in line with projected budget of over $2.8 billion.  Barrick anticipates average annual production to be 750,000-800,000 ounces of gold in the first full five years of operation at total cash costs of $20-$50 per ounce (assuming a silver price of $12 per ounce).
Agua Rica Project
Yamana Gold (TSX:YRI) is currently developing the Agua Rica deposit located about 34 km from the Alumbrera mine in northwest Argentina, where the climate is generally mild and dry. Agua Rica is a large scale copper, gold, silver and molybdenum porphyry deposit located in the mining-friendly province of Catamarca.  The project has been advanced to the point where the company now believes it could bring Agua Rica into production within four years at a relatively lower cost than comparable developments. The project's large metal inventory sits on the surface and is close to required infrastructure at Alumbrera, which has the potential to dramatically reduce development costs.  Based on the new mine plan completed in May 2010, the company has reported an update of proven and probable reserves of 6.5 million ounces of gold  and 9.5 billion pounds of copper, which demonstrates approximately 12 percent more gold and 10 percent more copper than previously reported.
Casposo Project
Troy Resources NL (TSX:TRY) is an Australian based junior gold producer with existing operations in Australia and Brazil and in the very near future in Argentina.  The company is involved with exploration and project evaluation for gold, iron ore and base metals in Australia and South America. Last year, the Australian operations produced a total of 32,930 ounces of gold and the Brazilian mine produced 28,856 ounces of gold.
Casposo is a high-grade gold and silver project in San Juan Province that is expected to realize 320,800 ounces of gold and 9,000,000 ounces of silver produced over a six year mine life.   With Casposo, an objective for Troy is to similarly fast track development to bring it into production as quickly as possible. The company expects to use some or all of the gold plant they have in storage in Cobar, New South Wales, to lower the capital cost and time of the mine development.  In a September 2 presentation, the company announced the project is currently on schedule and within budget as production is expected to commence this month.
San Jorge Project
Coro Mining Corp. (TSX:COP) is a Canadian based exploration and development company focused on becoming a mid-tier copper producer.  The company has an option to purchase 100 percent of San Jorge from Lumina Copper (TSXV:LCC) by making further staged payments of $15.15 millon on or before May 2013.  Coro is developing the relatively large (115,000 ha) San Jorge property located in west-central Argentina in the Province of Mendoza, approximately 45 km north of the town of Uspallata and 250 km northeast of Santiago, Chile.
San Jorge hosts a medium size copper gold porphyry deposit. The company has completed a Pre-Feasibility Study (PFS) on the leachable copper resources and a Preliminary Economic Assessment (PEA) on the floatable copper resources. In October, the company expects to hold an official Public Hearing as the final step in the process prior to the Environmental Impact Study (EIS) receiving approval conditional on the completion of certain re-confirmatory hydrological studies as determined by the provincial General Department of Irrigation within 45 days.
Coro has completed an engineering study to NI 43-101 technical standards reporting the potential of an average yield of 39,500 million tones per year of copper and 39,000 ounces per year of gold contained in concentrates for 16 years.
Cerro Moro Project
Extorre Gold Mines Limited (TSXV:XG) is developing the Cerro Morro gold deposit located in the Santa Cruz Province in close proximity to the recently publicized Cerro Negro project and situated only 130 kilometers from the Cerro Vanguardia gold-silver mine. Cerro Negro benefits from a similar geological environment.  Initial mine designs indicated that production at Cerro Moro could be derived from a combination of open pit and underground mining with production anticipated for the second half of 2012. Mining and milling rates currently envisaged for Cerro Moro could allow for a production rate of around 100,000 ounces of gold per year.  The company believes Cerro Morro exhibits some geological potential to become a multi-million ounce gold discovery.  Extorre has other exploration properties in Argentina with the most advanced being the Don Sixto in Mendoza Province, with a NI 43-101 resource of 925,000 ounces gold and 334,000 ounces gold inferred. This project is on hold pending the resolution of permitting issues by the Mendoza Government.
September 7th's Gainers: Top 5 Best Performing Gold Stocks of the Day
| | | | | |
| --- | --- | --- | --- | --- |
| Company | Symbol | Price | Currency | Growth |
| Great Basin Gold Ltd. | TSE:GBG | 2.50 | CAD | 10.62% |
| Colossus Minerals Inc. | TSE:CSI | 8.68 | CAD | 6.63% |
| Nevsun Resources Ltd. | TSE:NSU | 5.43 | CAD | 6.05% |
| European Goldfields Ltd. | TSE:EGU | 10.51 | CAD | 5.42% |
| Guyana Goldfields | TSE:GUY | 10.29 | CAD | 4.79% |