PDAC 2009 – In the Midst of Crisis
By Dave Brown – Exclusive to ResourceInvestingNews.com As the doors closed at the Metro Toronto Convention Center for the last time on the PDAC 2009 International Convention, Trade Show and Investors Exchange, the satisfied sense of completion was apparent in the emptied halls. It was almost as if another year's worth of accomplishments and hard … Continued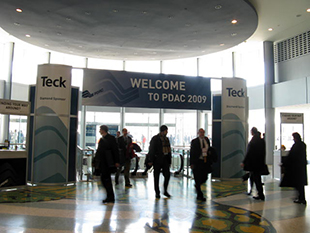 By Dave Brown – Exclusive to ResourceInvestingNews.com
As the doors closed at the Metro Toronto Convention Center for the last time on the PDAC 2009 International Convention, Trade Show and Investors Exchange, the satisfied sense of completion was apparent in the emptied halls. It was almost as if another year's worth of accomplishments and hard work had been showcased and vetted and could now be neatly tucked away in the annals of time.
Over the last 77 years, the PDAC convention has become the world's leading exploration and mining industry conference. This year attendants numbered around 18,000, down slightly from the 20, 000 attendees that were attracted in 2008. This group comprised a diversified sample of individuals including prospectors, developers, mining executives, geoscientists, consultants, students, as well as individuals occupied in drilling, financial, legal, investment, media and supporting fields.
Jon Baird, the current PDAC President opened the convention by saying that 2009 is the start of a new mining cycle explaining that the convention program was designed to help delegates develop skills and knowledge that will be needed as growth picks up.
This year the PDAC convention was focused on four key components:
1. Technical program – The program consisted of presentations of academic and financial papers of scientific or practical significance. Although marketing and promotional presentations were excluded from this aspect of the convention, many found interest in multiple topics that were featured, including:
diamonds
geophysics
new ideas
new discoveries & developments
mining & society
commodities and market outlook
financing outlook
Flin Flon: new developments in an old camp
iron-ore copper-gold deposits
aboriginal participation in mineral industry: Canada & internationally
ore deposits of Latin America
Prolific West Africa
Keynote: new global challenges and Canada's leadership in responsible exploration
2. Core shack – This area of the exhibit was an extension of the technical program. Companies with advanced projects could display core, maps, and other materials from projects. The display area included input from 60 companies. Geographically the projects were often based overseas, including regions in Ghana, Columbia, Albania, Argentina, Mexico, Panama, Turkey, USA, Thailand, Tanzania, Saudi Arabia, and Peru; however in most cases ownership of the properties was largely skewed to Canada.
3. Trade show – The trade show component hosted approximately 350 exhibits, including governments, service providers, and equipment manufacturers marketing to the mineral industry. This year was very similar in the total number of exhibits relative to PDAC 2008.
4. Investors exchange – The number of companies offering investors and prospective investors a chance to discuss the outlook and opportunity for their properties was approximately 650, which was flat compared with the previous years' conference.
Crisis leads to caution
The general mood of the convention was a range of sentiments bordering on cautious optimism to a slight sense of apprehension and trepidation. Richard Hughes, a Minerals Developmental Specialist exhibiting on behalf of the Office of Economic Development for the State of Alaska, was very pleased with the connections he had been able to make and was very happy despite observing the drop in attendance. Ian Gordon, author of the Long Wave Analyst, provided a strong "buy" endorsement for gold at a session of the Investors Forum on March 1 noting that the precious metal and cash are the best refuges in today's volatile financial climate, which he believes has many comparable characteristics to the deflationary depression of the 1930s. Analysts had conflicting outlooks about the magnitude and forecasts for the current economic crisis, with a few predicting a relatively fast recovery and others predicting a prolonged recession.
A common theme of the conference was that the ongoing financial crisis has made investors extremely cautious of risk. As a result, most of the venture capital is flowing to senior profitable gold producers, leaving many junior gold companies competing for increasingly scarce investment capital. A bullish case for opportunities for mining companies was scheduled to be presented by Don Coxe, as he titled his presentation, "When you come to a fork in the road, take it." Although he was unable to travel because of illness, Mr. Coxe suggested that near-term investors, or short-term traders, should be focused in the precious metals. Long time followers of Don Coxe would never consider him a supporter of the new US administration, although the concluding remarks from his transcript offered a similar call to action with one caveat, "I am not saying it's a time for rejoicing-I am saying it's a time to roll up your sleeves, get to work." Mr. Coxe added "and get ready for the next big mining boom."