The stocks of major Canadian lumber producers are riding high on strengthening US housing starts. Investors may want to get in while the good times roll.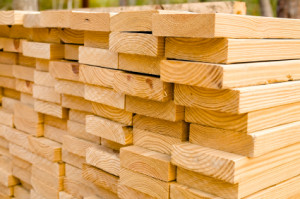 Resource investors who have seen their junior mining stocks beaten down over the past few months shouldn't have tunnel vision and might consider looking at other aspects of the resource economy while they wait out a market upturn in metals commodities.
One sector that is looking positively bullish is the Canadian forestry industry and associated forest products companies, which are capitalizing on an uptrend in US housing starts commensurate with an improving economy in Canada's largest trading partner.
Canada is the second-largest exporter of primary forest products behind the United States, and the US is Canada's largest market for softwood lumber, used in home building. It is for that reason that the Canadian lumber industry closely tracks the trends in US housing starts, as well as the exchange rate between the Canadian and US dollar, since lumber is sold in US dollars.
The Canadian dollar has been at near parity with the US greenback for the past two years, and that has made it more difficult for Canadian producers to compete against US forest companies. But what has changed in recent weeks is the surge in US housing starts, which has rekindled investor interest in the sector. A report quoted by the Financial Post shows new home sales during the first two months of the year at their highest level in more than four years.
It's a trend not seen since 2006, when the US housing bubble burst, followed by foreclosures, plummeting housing starts and demand destruction resulting in several years of low prices for Canadian softwood.
Other factors working in lumber's favor right now include brisk demand for Canadian lumber in China and a rebuilding effort in Japan following the 2011 tsunami. On the supply side, log supply is tightening due to mill closures that followed the 2006 housing market collapse, harvesting cutbacks in Quebec and the decimation of trees in British Columbia by the mountain pine beetle.
Add it all up, and you have demand from Asia and the United States outpacing supply, which has led to a doubling of lumber prices compared to a year ago. The price of Western Spruce Pine Fir (SPF) 2x4s has shot up from $220 per thousand board feet in April 2012 to $440 in April of this year, according to Madison's Lumber Reporter. OSB, or particle board, an important building material, has also enjoyed a significant price run, selling at US$357 per thousand board feet last week compared to $227 a year ago, reported Random Lengths.
As producers ramp up production to take advantage of higher prices, lumber futures have retreated, around 20 percent since early March, but 2013 is still predicted to be a good year for lumber companies as US housing starts continue to rise.
Unsurprisingly, the rise in lumber prices has translated to good profits and higher stock prices in the major producers. The S&P/TSX Forest Products subindex has gained nearly 108 percent over the past 12 months (from third week of April), and analysts are bullish.
"At these prices, forest products companies are highly profitable," The Globe and Mail quoted Patricia Mohr, an economist and commodity specialist at Scotiabank, as saying.
"We are in a supercycle for lumber," Raymond James forestry analyst Daryl Swetlishoff told the Globe, adding, "[w]e are in the third inning, and we see a lot of upside."
For investors looking at the forest for the trees as they weigh their resource investing options, here are a few companies to consider. While the 12-month targets listed below point to modest gains, Swetlishoff is more bullish, and predicts between 8 and 16 percent upsides for Canfor, West Fraser and Western Forest Products, and 35 percent or more for Interfor and Conifex Timber, according to the Financial Post.
Canfor (TSX:CFP): Canfor has sawmills in British Columbia, Alberta, Quebec and the Carolinas in the United States, producing dimensional lumber, structural panels and value-added finishing products. Canfor's stock has gained 100 percent, from $10.67 one year ago to its Monday close of $20.52. Scotiabank has a one-year target of $24.25.
International Forest Products (Interfor) (TSX:IFP.A): Diversified lumber producer Interfor churns out over 2 million board feet a year from operations in British Columbia, the US Pacific Northwest and Southern United States. Interfor stock has more than doubled from $4.55 a year ago to finish at $10.36 yesterday. Scotiabank has a one-year target of $11.50.
Western Forest Products (TSX:WEF): Western Forest Products mills 800,000 board feet a year from eight operations on the British Columbia coast. A year ago, Western was trading at just under a buck, 91 cents, and it closed on Monday at $1.30, a 44-percent gain. Scotiabank has a one-year target of $1.65.
Conifex Timber (TSXV:CFF): Conifex Timber manufactures SPF dimension lumber from Northern BC and also produces renewable energy. Conifex stock, which trades on the TSX Venture Exchange, was scraping a 52-week low at the end of December at $6.82, but has since risen 33 percent to finish at $9.10 on Monday. Thomson Reuters has a 12-month mean target price of $10.30.
West Fraser Timber (TSX:WFT): West Fraser Timber produces SPF and SYP (southern yellow pine), as well as panels, pulp, newsprint and wood chips, from operations in Western Canada and the Southern United States. West Fraser's stock has risen 101 percent, from $43.27 this time last year to a close of $86.62 on Monday. Scotiabank has a one-year target of $97, which would be a 12-percent gain from Monday's price.
Ainsworth Lumber (TSX:ANS): Ainsworth Lumber produces engineered wood products from four manufacturing facilities in BC, Alberta and Ontario. A year ago, Ainsworth was trading at $1.28; it closed on Monday at $3.84 for a 214-percent gain. Scotiabank has a one-year target of $5.
Securities Disclosure: I, Andrew Topf, do not hold equity interests in any of the companies mentioned in this article.