What to Look for in the New Kazakhstan Mining Sector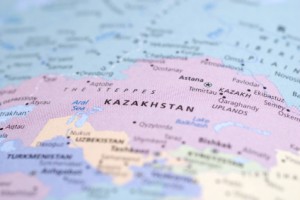 There are changes afoot in Kazakhstan's mining sector, which could be key to the future of uranium, copper and chromite.

London-based risk-assessment specialist Exclusive Analysis sees recent events as signaling a shift in government mining policies, MINING.com recently reported.
Kazakh President Nursultan Nazarbaev created the new Ministry of Regional Development on January 16. The Ministry has reportedly been charged with managing projects that contribute to the economy and social infrastructure of specific areas within the nation.
That means the new Ministry was created to deal — indirectly — with issues in Kazakhstan's natural resources industry.
Such issues have arisen in places like the western city of Zhanaozen, which is home to 90,000 people. Development there was driven almost entirely by oil and gas, so the town's fate is directly linked to the extractive industry.
In May 2011, workers from a local oil field went on strike, demanding higher pay. The strike was declared illegal and up to 1,000 employees of a state oil company were laid off.
The layoffs sparked protests, which in December 2011 boiled over into a confrontation with riot police in the town square. At least 15 workers and police officers were killed, according to EurasiaNet.
The new Ministry of Regional Development was created to avoid a repeat of such problems, Exclusive Analysis said.
The Ministry will likely seek development projects that offer substantial benefits to local communities and regions; that (in the eyes of government) improve overall quality of life in Kazakhstan's far-flung provinces; and that will help head off social unrest.
Giving at the local level
What exactly does this development mean for mining and petroleum projects in Kazakhstan? Reading between the lines of recent events, Exclusive Analysis notes that "all investment projects under the government's consideration are likely to undergo more scrutiny to verify their contribution in terms of local job creation as well as sustainability and competitive export capacity."
It's not just about building a money-making mine or oil field; such new developments must also create jobs and come with new roads, schools and clinics for local people.
Most resource companies recognize the need to integrate social development into their business. But some firms worry that Kazakhstan's new development-driven policy will select the wrong hands to build the nation.
"The decision on awarding tenders is driven solely on the signing bonus and the social contribution," Chris Welton, Rio Tinto's (ASX:RIO,LSE:RIO,NYSE:RIO) general manager for exploration in Central Asia, was quoted as saying by Reuters. "With no consideration of the technical competence of the winner or the winner's ability to develop that project."
As such, the focus on regional development could be bad news for western firms, which have typically used their know-how as a selling point for projects in developing nations.
That's especially true given the growing influence of government-backed resource firms from places like China and Japan. Such companies have shown a much greater capacity for building infrastructure around their projects. Mongolia announced last month that it will look at increased cooperation with China's National Development and Reform Commission regarding large mining projects and associated transportation infrastructure.
Tightening up on the environment
Kazakhstan's environmental regulations are also undergoing government restructuring.
Monitoring of natural resources, water and fisheries has been transferred to the Ministry of Environmental Protection, further strengthening that office. The portfolio was previously held by the Ministry of Agriculture.
This beefing up likely means that resource companies will face stricter enforcement of environmental rules and regulations for working conditions, according to Exclusive Analysis.
The analysts also see the Minister of Industry and New Technologies gaining power. This office, they said, will likely keep close tabs on the local benefits generated by projects approved by the Ministry of Regional Development.
"It is very likely that with this purpose the Ministry of Regional Development will cajole both domestic and foreign mining companies into supporting educational, health and infrastructure upgrade projects," noted Exclusive Analysis.
Effects on investors
This is mixed news for investors in Kazakhstan's high-potential mineral and petroleum sectors.
Several companies have been vying for projects in the country, braving the political risks because of the grand-slam geologic opportunities there.
The Kazakh uranium sector is a prime example. Uranium production in country has jumped 145 percent since 2008, to 20,900 tonnes of uranium last year, according to World Nuclear News. Kazakhstan is now the world's top uranium producer, accounting for approximately 37 percent of global output.
Other metals have similar potential. Kazakhstan holds the world's largest reserves of shipping-grade chromite, according to the US Geological Survey. The nation, however, languishes in third place amongst global producers, requiring investment to ramp up.
Numerous miners have also eyed Kazakh copper reserves. In 2010, Rio Tinto formed a joint venture with state-owned Tau-Ken Samruk to explore for copper in the Kostanai region of Northern Kazakhstan.
Central Asia Metals (LSE:CAML) has also developed the Kounrad project to produce copper cathode from waste dumps near the central city of Balkhash.
But despite this potential — and its own decision to invest in the country — Rio Tinto feels there are risks.
"Investors are reticent to present their ideas as the chance of them winning the subsequent tender are slim," Rio's Welton told Reuters.
Incoming companies may indeed find it daunting to obtain new licenses, especially with the revamped ministries looking for proposals on local development. Tacking on large social spending isn't an option for many exploration-stage companies.
This barrier to entry may mean companies already holding exploration licenses will have a significant head start on Kazakhstan's rich geology. Such companies include iron ore developer KazaX Minerals (TSX:KZX) and Orsu Metals (TSX:OSU,LSE:OSU), which last November signed up another copper-prospective license through an agreement with a private Kazakh company. Slater Mining (TSXV:SLM) holds the West Khazret gold exploration project, while gold miner Alhambra Resources (TSXV:ALH) may get some "grandfather" treatment as it has a mining history that dates back to 2004 at its Uzboy project.
On the other hand, if the new ministries ask these companies to do more with regard to social and environmental development, the new rules may end up bringing more uncertainty for established miners and later-stage developers. The new rules may also be less kind to projects currently being forged, such as Turquoise Hill Resources' (TSX:TRQ,NYSE:TRQ) Kyzyl gold project in Northeastern Kazakhstan.
Securities Disclosure: I, Dave Forest, do not hold equity interest in any companies mentioned in this article.
Related reading: