Junior Washout Hasn't Materialized: PwC
Most of the top 100 junior mining companies listed last year on the TSX Venture have survived a delisting, according to the findings of a report released today by PwC.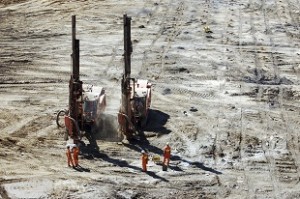 Consulting firm PwC has a message for junior mining companies: be patient.
In a report entitled "Survival mode continued", PwC reviewed and analyzed the top 100 mining companies on the TSX Venture in order to come to some conclusions about the industry.
John Gravelle, PwC's Global Mining Leader, described the mining industry as locked in a "crisis of confidence" that has hit juniors hardest due to the difficulties raising money in this bear market:
He warned that when the recovery comes, investors are most likely to put their money into senior producers first given their stronger balance sheets and profit-making capabilities.
"That means many juniors will need to be even more patient with their plans, and have as much cash on hand as possible to wait out the uncertainty. For many, it won't be easy." No kidding.
The report acknowledged the tough times junior miners are having, with the market caps of the top 100 falling some 44 percent compared to the year earlier. Between June 2011 and June 2013, the market value of the top 100 mining companies on the TSXV has fallen from $20.6 billion to $6.5 billion, a drop of 68 percent.
The cash positions of junior miners has been steadily decreasing, while financings are down 41 percent compared to 2012.
But while the figures "spell trouble for a number of juniors in the months ahead," the news isn't as bad as some have anticipated. According to PwC, "the washout of juniors predicted at this time last year hasn't materialized. Many are still surviving." While around 20 percent of the top 100 juniors are no longer on the TSXV, 82 of last year's 100 remain, 7 graduated to the TSX main board, 10 were acquired or merged by another company and one was delisted according to PwC.
The TSX has come under criticism for its onerous regulations and high listing fees for juniors, but according to the report, the exchange its taking some measures to address the problems. These include: granting relief from existing pricing requirements related to private placement financings; reducing the minimum price for warrants options, convertible securities and initial public offerings; changing shareholder approval requirements for share consolidations; and revoking guidance notice on share structure, which was no longer needed.
The report also quotes TSXV president John McCoach as saying that the TSXV is in advanced talks with regulators in Chile to potentially set up a junior exchange in that country.
MINING.com went a step further from the PwC report to analyze delistings on the TSXV over the past three months. It found that from August to October, most delistings occurred due to M&A or graduations to the TSX; of the 16 delistings, three did so due to a failure to maintain exchange requirements, said MINING.com.