Major North Sea Discovery by Statoil Renews Interest in Norway
A significant find by home-grown Statoil could provide a spark for the flagging Norwegian oil industry.
By Robert Sullivan – Exclusive to Oil Investing News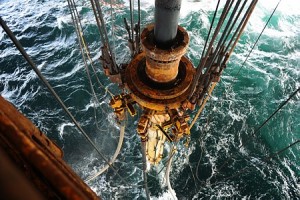 A huge discovery by Statoil ASA (NYSE:STO) in the North Sea last week has been confirmed by the Norwegian company as one of the largest ever on the Norwegian continental shelf (NCS).
Statoil had initially announced a "high-impact" discovery (holding 250 million barrels of oil equivalent or more) on August 8 at their Aldous Major South prospect.
Further testing has since revealed that in addition to the 200-400 million barrels of oil equivalent (BOE) found there are strong indications of another 200-400 million BOE in the same structure.
Statoil also confirmed communication (common oil/water contact) between the structures of its Aldous Major South find and Swedish independent Lundin Petroleum AB's (TSX:LUP) nearby Avaldsnes. Together with the estimated 100-400 million BOE, the combined formation may hold anywhere from 500 million boe to 1.2 billion BOE.
"Aldous/Avaldsnes is a giant oil discovery," noted Statoil's executive vice president for exploration Tim Dodson, "and according to our estimates the combined discovery may make the top 10 list of NCS oil discoveries. Norway has not seen a similar oil discovery since the mid-eighties."
Statoil owns a 40 percent share in each of the prospects and is the operator at Aldous Major South. Other partners at Aldous Major South include Norwegian state-owned Petoro (30 percent), DNO International ASA (OSL:DNO) (20 percent), and Lundin (10 percent). Avaldsnes, meanwhile, is operated by Lundin (40 percent), with A.P. Moller-Maersk Group (PINK:AMKAF) of Denmark holding the remaining 20 percent stake.
Much-needed turnaround for Norwegian oil industry
Aldous/Avaldsnes is the latest in a series of major discoveries for Statoil, who have now turned up their third high-impact discovery of 2011. In April, the company made a 250 million BOE find in the Barents Sea, as well as a 100-300 million BOE discovery at the Peregrino South oil field off the coast of Brazil.
Statoil's find is also a much needed boost for the Norwegian oil industry, which had witnessed a number of failed endeavours recently in both the North and Barents seas. A total of 6 wells turned up empty to begin the year, the highest number of failures to open a year since drilling began in 1966. Production in Norway was roughly 2.1 million barrels per day (bpd) in 2010, but the Norwegian Petroleum Directorate has indicated that there could be a drop of as much as 6 percent in 2011.
Being responsible for 80 percent of this production, the fortunes of the oil industry in Norway are intricately tied to the fortunes of Statoil, so having its star player make a significant discovery close to home is about as good as the Norwegian government could have asked for.
"These are enormous areas, with enormous potential, where we can witness incredible things and we already are," commented Petroleum and Energy Minister Ola Borten Moe after the initial announcement on August 8. "The activity level in general is high and the discoveries that are being made are raising the level of interest, creating a virtuous circle."
This interest, which had been waning after a series of disappointments and flagging production rates from mature fields may now have been reinvigorated by the Statoil find. According to the Ministry of Petroleum and Energy, an estimated 60 percent of Norway's petroleum resources are still underground, which leaves a lot of oil in play for prospectors.
Statoil may in fact see a further 300 million BOE added to its North Sea reserves in the near future. Drilling is scheduled to begin this week at the neighbouring Aldous Major North prospect, and Dodson believes they have a 50 percent chance of striking oil there.
"[Aldous/Avaldsnes] shows Norway still has the capacity to deliver world-class discoveries," noted Dodson. "It's probably the largest offshore oil discovery anywhere in the world this year. It has given the entire oil industry renewed optimism."
Disclosure: I, Robert Sullivan, hold no direct investment interest in any company mentioned in this article.