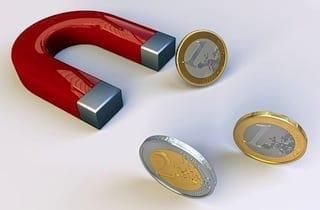 The magnet uses up to 50 percent less neodymium than a traditional neodymium magnet, replacing the material with cheaper rare earths.
Toyota (NYSE:TM) has created the world's first neodymium-reduced, heat-resistant magnet, and says it could be used in electric vehicles in the future.
Neodymium magnets are used in various types of motors, including the high-output motors found in electric vehicles. The metal is key to maintaining high coercivity and heat resistance, says Toyota.
The magnet, announced by the company on Tuesday (February 20), is unique in that it uses no terbium or dysprosium, rare earths typically deemed critical for highly heat-resistant neodymium magnets.
In addition, a portion of the neodymium that would normally be included has been replaced by lanthanum and cerium, two lower-cost rare earths. In all, Toyota has reduced the amount of neodymium used by up to 50 percent.
Toyota's new magnet formula comes on the back of increasing electric car demand, and could help lower costs for these vehicles in the future. The company also hopes that it will help maintain a balance in supply and demand of valuable rare earths.
"This new magnet is expected to have a wide range of applications in motors that require relatively high output such as those required for electrified vehicle drive motors and generators, electric power steering, robots, and various household appliances," said the company.
Key points in the development in the neodymium-reduced, heat-resistant magnet are as follows:
Grain refinement of magnet — With the new magnet it is possible to retain

high coercivity at high temperatures through the reduction of the size of the magnet grains to one-tenth or less of those found in conventional neodymium magnets and the enlargement of the grain boundary area.
Two-layered high-performance grain surface —

Through efficiently using neodymium by increasing the neodymium concentration on the surface of the magnet grains and decreasing the concentration in the grain core, Toyota was able to reduce the overall amount of neodymium used in the new magnet.
Specific alloying ratio of lanthanum and cerium — If neodymium is simply alloyed with lanthanum and cerium, its performance properties decline substantially, complicating the use of light rare earths. As a result of the evaluation of various alloys, Toyota discovered a specific ratio at which lanthanum and cerium can be alloyed so that the deterioration of properties is suppressed.
Looking forward, Toyota expects that the magnets will be used in the motors of electric power steering for automobiles and other applications in the first half of the 2020s. The company is also looking to see practical application in high-performance electric vehicle drive motors within the next 10 years.
Don't forget to follow us @INN_Resource for real-time news updates!
Securities Disclosure: I, Nicole Rashotte, hold no direct investment interest in any company mentioned in this article.