While still in its infancy, the recycling of rare earths in electronics could help to mitigate the supply-demand imbalance.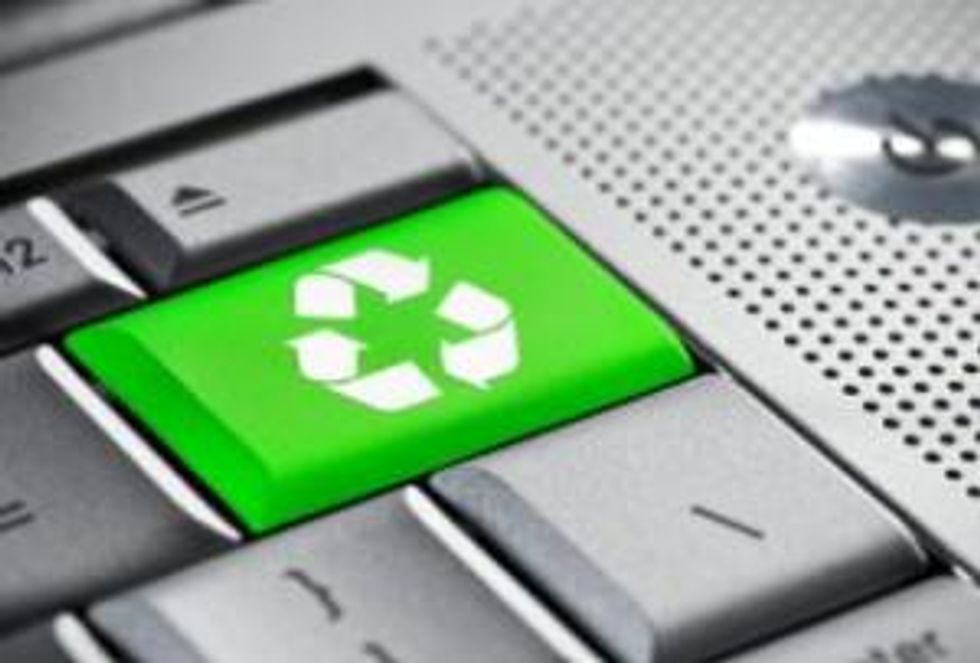 The use of rare earths in electronics devices such as smart phones, batteries and hard drives is well-known, but a lesser-explored area is how the rare metals might be recycled. Doing so would not only cut down on e-waste, but could go some way towards mitigating the supply risk of these metals, as end-users fret about running out or paying too much for them. 
Last week a company specializing in hazardous waste disposal opened a new facility in Massachusetts, which according to an article in Waste Management World (WMW), is working with partners to recover rare earth elements from phosphor powder. Phosphors are rare earth compounds most commonly used in CRT display monitors and fluorescent lights.
The facility operated by Veolia ES Technical Solutions features recycling equipment for fluorescent lamps, ballast, batteries, computers, electronics and mercury-bearing waste. According to WMW, the plant is able to recover close to 100 percent of a fluorescent lamp and prevent mercury, a substance harmful to the environment and human health, from entering the waste stream.
Veolia's efforts follow a 2012 announcement by Solvay Group (ERB:SOLB), a Brussels-based chemical group, that it has opened two rare earth metals recycling plants in France after it successfully developed a process to recover the metals from light bulbs, batteries and magnets.
Meanwhile the recycling of permanent magnets that contain neodymium and samarium is being investigated by researchers at the University of Belgium using a liquid extraction method.
"The process involves the liquid extraction of rare-earth metals from the other elements present in neodymium-iron-boron and samarium-cobalt magnets," lead researcher Koen Binnemans told Chemistry World. "These other elements – including iron, cobalt, manganese, copper and zinc – are extracted into the ionic-liquid phase, while the rare-earth metals are left behind in the aqueous phase." The ionic liquid can also be recycled.
Another method, known as the Ames process, isolates the rare earths in magnets using molten magnesium. The magnets are broken into tiny pieces which are diffused into the liquid metal, then the magnesium is boiled off so that only REEs remain.
However, skeptics say that it takes a lot of electronic waste to make a profitable recycling venture. A 2010 New York Times article describes a recycling plant in Japan built by Dowa Holdings (TYO:5714), that hacks computer chips into 2-centimeter squares and smelts them at 1,400 degrees Celsius in order to extract the rare earths. The factory, says NYT, processes 300 tons a day but only yields about 150 grams of rare metals.
Chemistry World quotes Binnemans saying that while less than one percent of rare earth elements are currently recycled, 20 percent of global demand could be met this way.
"Recycling is only a partial solution to the supply-risk problem; it cannot replace primary mining, though it can complement it," he remarked. "By combining mining and recycling the western world could become largely independent of China in the future."
While that seems overly optimistic, considering that around 95 percent of rare earths are currently sourced from China, some rare earth consumers have already taken strides towards reducing their dependence on foreign sources, and also their cost of materials, through recycling. Several large auto manufacturers have announced programs to re-use or reduce rare earths used in auto manufacturing, as Rare Earth Investing News reported back in March.
Honda (NYSE:HMC) said it has developed the first process to recycle rare earths extracted from nickel-hydrid batteries for use in new hybrid vehicles. According to Honda, the process is able to extract 80 percent of the rare metals from used batteries at over 99 percent purity, the same level achieved from mine processing. The auto giant said its goal is to extract metals not only from batteries, but all other components in its vehicle lines too.
Other car makers are aiming to reduce their use of rare earths. In 2012, Toyota (NYSE:TM) announced that it had developed a method to manufacture hybrid and electric vehicles without the use of rare earth metals, while General Motors (NYSE:GM) confirmed it was "close to a breakthrough" that would reduce its need for dysprosium, used in drive motors for hybrids. Ford announced that its nickel-metal-hydride batteries will be replaced with lithium-ion alternatives in a move that could see the company cut 500,000 pounds of REEs from its manufacturing process annually.
While the move towards rare earth recycling and reductions by end-users seems like a troubling trend for rare earth demand, the reality is that rare earth recycling, especially for electronics, is in its infancy and is unlikely to cut into demand for the foreseeable future. Investors would be wise however to keep up with developments in REE recycling, in order to spot investment opportunities with end-users that are employing new technologies to drive down their input costs and increase profit margins.
Securities Disclosure: I, Andrew Topf, hold no direct investment interest in any company mentioned in this article. 
Related reading: 
Rare Earth Recycling: Risk to Sector or Investment Opportunity
Department of Energy Backing Rare Earth Recycling
Investing News Network websites or approved third-party tools use cookies. Please refer to the  cookie policy for collected data, privacy and GDPR compliance. By continuing to browse the site, you agree to our use of cookies.