Rare Earth Stock Index: New Tool of Investors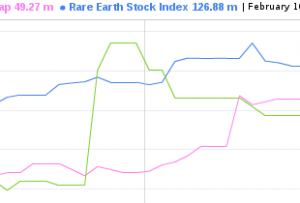 Dig Media's Resource Investing News Network is pleased to announce the introduction of an exciting new tool for our Resource Investing News readers: The Rare Earth Stock Index on Rare Earth Investing News.
Our main goal is to educate investors about the latest trends and news impacting the market and the Rare Earth Stock Index supports that goal. It features a compilation of news-making small cap rare earth companies, and allows users to track how specific companies are performing in comparison to the Index. The Rare Earth Stock Index is a market capitalization weighted index of companies that are exploring for, or producing rare earth elements as their primary business focus. The companies featured are frequently reported on by Rare Earth Investing News, and are publicly traded on the Toronto Stock Exchange, TSX Venture exchange, and Australian Stock Exchange. The Rare Earth Stock Index is designed to display market trends, as well as offer users the ability to compare selected market leaders against the market and each other.
We'll be adding rare earth companies to the Index based on how often they are covered on Rare Earth Investing News. Each month, the list will be readjusted to ensure that the relevant rare earth companies are included. We work closely with leading rare earth companies to detail their key projects and personnel in educational profiles that are linked to the company names listed in the Index.
We will continue to refine the Index into a clear and concise system that allows investors to educate themselves on the small cap rare earth market. The Index will collect data and show market trends giving users a more comprehensive view of what is happening in the market.
Try out the Rare Earth Index here »
Also new to the network: the Gold Stock Index on Gold Investing News; the Silver Stock Index on Silver Investing News; and the Uranium Stock Index on Uranium Investing News.
Please feel free to share your comments about the new commodity stock indices with us as over the coming months we will be launching more indices on other Resource Investing News Network sites. Please send your feedback to: index@resourceinvestingnews.com