Companies looking to break China's hold on the sector ride out a rollercoaster year for rare earth prices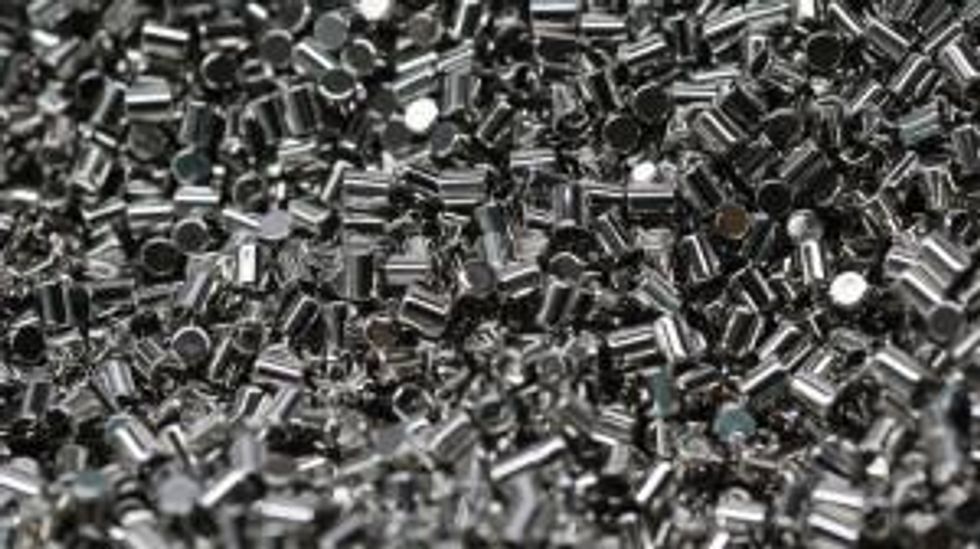 2011 was a tale of two halves for the rare earth sector. Stocks soared early in the year on the back of record prices for rare earths, but were then brought back down to earth over the last six months as slumping demand for the expensive metals drove prices lower.
The rise in the price of rare earths to their peak in July had been an ongoing trend for the past two years, after China cut its export quotas for 2010 by 40 percent to 30,258 tonnes.
This year's quota was only marginally trimmed to 30,184 tonnes, but fears over supply of the critical metals, which are refined into magnets, lasers, and key components for defence systems, pushed prices to record highs midway through the year.
According to pricing data from Metal Pages, FOB China prices for light rare earths elements (LREEs) such as cerium oxide averaged $138.29 per kg during Q2 and $118.65 per kg in Q3, but by December 28 cerium had dropped to $45 per kg, while lanthanum oxide was down close to $52 per kg to end the year after having averaged $135.02 per kg in Q2 and $117.68 per kg in Q3.
Heavy rare earth elements (HREEs), on the other hand, witnessed a slightly different trend in pricing over the second half of the year.
Dysprosium oxide averaged $921.20 per kg in Q2, and despite rising to $2,262.31 per kg in Q3, was still fetching $1,420 per kg by the end of December.
And terbium oxide, which had jumped to $3,761.54 per kg in Q3 from $1,659.20 per kg in Q2, managed to hold some of its ground to finish the year at nearly $2,820 per kg.
The climb-down in prices for LREEs, while HREEs managed to hold some of their ground from the first half of the year, was due in part to producers in China favouring exports of pricier HREEs.
Despite ample supply, the reduced availability of LREEs from China sent prices up sharply. Demand was subsequently curbed as consumers' appetite for LREEs weakened, and with plenty of product still held by producers in China, LREE prices dropped almost as steeply as they had risen.
In fact, a statement from the Chinese Ministry of Commerce on December 26 indicated that only 49 percent of the year's quota had been exported by the end of November, and with domestic prices for LREEs in China significantly steadier than those in the international market over the year, the issue appears to have been one of access for consumers outside of China, rather than inadequate physical supply.
Company developments
Chinese companies continued to enjoy a near complete dominance in the rare earths sector, but a number of competitors outside of China began to make inroads into this stranglehold in 2011.
Of these, Molycop Inc. (NYSE:MCP) and Lynas Corp. (ASX:LYC) made some of the most significant strides over the course of the year.
Molycorp, the only significant supplier of rare earths outside of China, restarted operations at its Mountain Pass mine in late October, and have been wrapping up the development of a new processing plant in California slated to come online in early 2012 that will bump its annual output of REO up to 8,000-10,000 tonnes.
Lynas, meanwhile, is sitting on one of the world's most promising sites for rare earths at their Mount Weld site, but have been waiting on approval from the Malaysian government for an advanced materials processing plant in Kuantan.
The company has managed to stockpile 700 tonnes of rare earth oxide concentrate at its Mount Weld concentration plant, but the delayed licensing of its Malaysian refinery has clouded the short term outlook for the company heading into 2012 after a promising start to 2011.
Disclosure: I, Robert Sullivan, hold no direct investment interest in any company mentioned in this article.
Investing News Network websites or approved third-party tools use cookies. Please refer to the  cookie policy for collected data, privacy and GDPR compliance. By continuing to browse the site, you agree to our use of cookies.