Africa: The Next Rare Earth Frontier?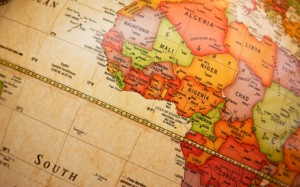 While positive headlines out of Africa are often few and far between, an increasing number of exploration companies are reporting positive progress with regard to rare earth element (REE) projects across the continent.
Most of the traction is occurring in Southern Africa, and South Africa in particular has been a hotbed of activity over the past quarter.
Many view the country — and the continent as a whole — as key to the geopolitical battle being fought to end China's stranglehold on the rare earth market. Reuters reported last year that Africa has significant potential in that it contains "more than half the world's deposits of carbonatites, a type of rock formation seen as prime hunting ground for rare earths," as well as vast amounts of monazite sands, which contain REEs.
New leadership; boost in resource
Great Western Minerals Group (TSXV:GWG), an integrated REE processor that owns an equity interest in the past-producing Steenkampskraal mine, has recorded a number of milestones over the past quarter.
Last month, the company confirmed the appointment of Marc LeVier as its president and CEO. LeVier boasts an impressive work history, including senior management roles with Newmont Mining (NYSE:NEM); his experience is bound to be a boon to the company, especially given the current bear market.
From a resource perspective, what is perhaps more important is that the company also recently confirmed that an updated NI 43-101 resource estimate shows a "significant increase" in the mineral resource at Steenkampskraal. Highlights include an estimated 32,000 metric tons (MT) of total rare earth oxides (TREOs), plus yttrium oxide, under the indicated category and 42,100 MT of TREO under the inferred category, with a TREO cut-off grade of 1 percent for both.
The results are significant in that compared to a previous estimate, they indicate a 114-percent increase in the mine's indicated resource as well as a 218-percent increase in its inferred resource. The announcement also follows the company's release of high-grade rare earth assays from the site, including samples with higher distributions of neodymium, dysprosium and terbium compared to historical data.
Commenting on the updated data, LeVier said, "[t]he substantial increase in TREO tonnage from this resource estimate update significantly improves the economic potential of the Steenkampskraal Monazite Project.
The company noted that it is aiming to release a preliminary economic assessment before the end of the first quarter of 2013 and expects that analysis will be bolstered further with the upcoming addition of a minimum of 55 drill holes, for which assay work is currently in progress.
High potential resource; strategic partnership
Another junior gaining traction is Frontier Rare Earths (TSX:FRO), an exploration and development company focused on its flagship asset: the Zandkopsdrift deposit in South Africa's Northern Cape province. The deposit is one of the largest code-compliant, undeveloped REE deposits in the world, according to the company.
Over the past few months, Frontier has made significant progress in its aim to become an active producer by 2015. A preliminary economic study on the project, released last February, shows that Zandkopsdrift is estimated to contain roughly 950,000 MT of TREO, applying a 1-percent TREO cut-off, and gives it a net present value of $3.65 billion at an 11-percent discount rate after tax and royalties.
In December, Frontier announced that Korea Resources (KORES), a Korean government-owned mining and natural resource investment company, had acquired a 10-percent interest in Zandkopsdrift, along with an offtake rights and obligations for 10 percent of REE production, by payment of a cash consideration of C$23.8 million.
This partnership is a massive vote of confidence, especially in a bear market. James Kenny, Frontier's president and CEO commented, "[w]ith our partnership with Kores and a significantly strengthened balance sheet, we believe that Frontier is very well positioned to meet its objective of becoming the next major producer of separated rare earths outside of China."
Under the terms of an earlier strategic partnership agreement, KORES also has an option to increase its participation in Zandkopsdrift from its current interest up to a 50-percent or equal interest, together with pro rata offtake rights and obligations for up to 50 percent of production.
Insiders are also confident of the project's potential, which was highlighted by Frontier buying up its own stock in recent weeks. The company has acquired 15,000 shares since the beginning of the month, and management and insiders believe that the stock is "severely undervalued," according to a report by Proactive Investors.
The buybacks are part of a normal course issuer bid highlighted last year. It allows the company to acquire up to 1 million shares over the course of 12 months. To date, it has acquired more than 700,000 shares.
"While the total of 1 million shares may seem modest at a little over 1% of the shares in issue, it represents approximately 5.5% of the free float (which is c.21% of the shares in issue)," said CFO Paul McGuinness to Proactive Investors. "It should also be noted that no insider to the company has sold a single share in the company since the IPO."
World-class heavy rare earth deposit
Namibia Rare Earths (TSX:NRE), a firm focused on the development of its Lofdal project in Namibia, is another high-potential candidate that is exploring in the region and showing increasingly impressive long-term potential. Lofdal is an early stage, district-scale exploration project with a focus on heavy rare earth-enriched carbonatite deposits.
The company's project has moved forward at a rapid pace and seems to be gaining increased momentum. In 2011, Namibia Rare Earths completed diamond drilling to test a number of targets on the property and found significant rare earth mineralization, some of which is believed contain high levels of the more valuable heavy REEs, in all 16 of its drill targets.
After deciding to shift focus to a single target (Area 4), it drilled even further before completing a resource estimate in September 2012.
Earlier this month, the company confirmed even more discoveries, with two new zones discovered at Area 6 and one new zone in Area 5. That brings the total number of discoveries at Lofdal to 17 over a two-year period. Rare earth mineralization occurs in these new zones over very broad widths grading 0.2 to 0.7 percent TREO with moderate levels of heavy REE enrichment (10 to 25 percent).
Namibia Rare Earths' president, Don Burton, confirmed that Area 6 continues to provide encouraging results over a very large area, noting that while its mineralized zones have lower rare earth enrichment than those seen in Area 4, Area 6 is still a heavily enriched zone with the potential for much higher tonnage.
The project's potential has also not been lost to investors. Beacon Rock Research founder Mike Niehuser told The Gold Report — prior to the company's most recent announcement — that the resource at Area 4 has the highest basket price of any compliant resource of any REE deposit in the world due to its high concentration of more valuable heavy rare earths.
"The completion of a highly credible initial resource program atArea Four in 2012 with a successful metallurgical report may be sufficient tosecure an agreement with a qualified joint-venture partner," The Northern Miner also quoted him as saying.
Securities Disclosure: I, Adam Currie, hold no direct investment interest in any company mentioned in this article.
Related reading:
Building a "Mines to Markets Company": Q&A with Great Western Minerals