General Motors Takes Magnesium Love One Step Further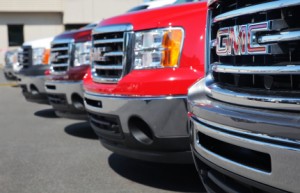 General Motors (NYSE:GM) wants to increase the use of magnesium sheets in cars as an alternative to heavier steel and aluminum in another step towards making more fuel-efficient cars, and it is testing ways to make the metal as strong and as resistant to corrosion as its rivals.

In a new process, GM is heating magnesium up to 450 degrees Celsius, a temperature that allows the metal to be molded into precise shapes; so far, the company has produced a trunk lid inner panel that withstood 77,000 robotic slams and 250-kilogram impact drops "without any issues." The panel also resisted 10 weeks of 24-hour environmental tests involving salt spray, 100-percent humidity and extreme temperatures.
"We subjected the magnesium trunk lid to the most severe strength and corrosion tests we know of, and it passed with flying colors," said Jon Carter, a metals researcher at GM. "We expect it to perform extremely well even in the harshest environments."
GM's press release about the new process notes that magnesium weighs 33 percent less than aluminum, 60 percent less than titanium and 75 percent less than steel; as such, if it can be used as a replacement for these materials, vehicle weight and fuel costs will be significantly decreased.
The process is the latest in GM's efforts to reduce car weight without compromising safety and durability. Earlier this year, the group's China Advanced Technical Center developed a prototype magnesium-alloy control arm, used in vehicle chassis systems. The control arm is 30 percent lighter than a similar part made of aluminum. Also, this summer, GM, with partners Meridian Lightweight Technologies and Ohio State University, received $2.7 million from the US Department of Energy to develop a die-casting process to produce thin-walled magnesium-alloy vehicle doors that will weigh 60 percent less than steel inner panels and reduce energy usage by 50 percent.
"Every gram of weight reduction matters when it comes to improving fuel economy," said Greg Warden, GM's executive director for global vehicle body engineering, in the press release about the new technology.
The United States Automotive Materials Partnership, a collaboration between car makers GM, Ford (NYSE:F) and Chrysler, estimates that by 2020, 350 pounds of magnesium will replace 500 pounds of steel and 130 pounds of aluminum per vehicle, resulting in an overall weight reduction of 15 percent and fuel savings of up to 12 percent. Meanwhile, a study by Process Research ORTECH of Ontario suggests that by using Gossan Resources' (TSXV:GSS) magnesium production process, greenhouse gas emissions from mid-size cars could be reduced by almost 7 percent over the car's life expectancy.
Using magnesium sheets to make auto parts could be a significant breakthrough for GM and may eventually lead to much more magnesium in vehicles, Dick Schultz, managing director of Ducker Worldwide and an expert on metals used in manufacturing, told Reuters.
While magnesium is lighter, it also costs three to four times as much as aluminum, GM engineer Paul Krajewski noted. Still, he said that wider use will encourage magnesium sheet metal producers to increase its production, effectively bringing down costs.
Carter meanwhile told Reuters that the Detroit-based car maker plans to make 50 vehicles, all of which will be sold to consumers, using the magnesium sheet process in the fourth quarter. He didn't say which car models will get the magnesium sheet.
As far back as the 1920s, magnesium has been recognized as an important ingredient for making both racing and mass market cars lighter, and the metal's importance is only expected to increase. Volkswagen already uses magnesium transmissions casings to reduce weight in its VW Passat and Audi A4 and A6 vehicles by up to 25 percent compared to aluminum. But, while the metal is used in engine cradles and steering wheels, it has been very difficult to process it into sheet metal that can be bent into a defined form.
GM has patented the process for heating magnesium sheets and making the metal more resistant to corrosion and plans to license the technology to auto-parts suppliers, spokesman Kristopher Spencer said.
Securities Disclosure: I, Ragnhild Kjetland, hold no investment interest in any company mentioned in this article.