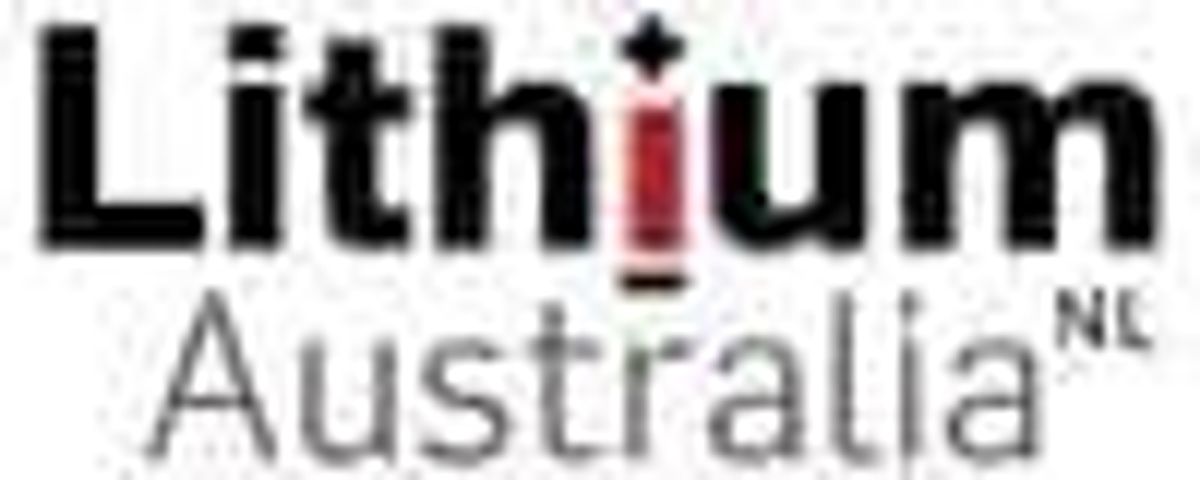 A maiden lithium Mineral Resource estimate has been completed for the Sadisdorf tin-tungsten project, located in Saxony, Germany. There, Perth-based lithium explorer and processing technology developer Lithium Australia NL (ASX:LIT) is farming into a joint venture (JV) with Tin International AG (refer ASX announcement dated 25 March 2017).
MAIDEN LITHIUM RESOURCE ESTIMATE
A maiden lithium Mineral Resource estimate has been completed for the Sadisdorf tin-tungsten project, located in Saxony, Germany. There, Perth-based lithium explorer and processing technology developer Lithium Australia NL (ASX:LIT) is farming into a joint venture (JV) with Tin International AG (refer ASX announcement dated 25 March 2017).
Consultant CSA Global has estimated an Inferred Mineral Resource of 25 million tonnes grading 0.45% Li2O (refer to Table 1 below), based on re-analysis and re-interpretation of historical drilling and underground sampling at Sadisdorf. Reporting in accordance with JORC 2012 and ASX listing rule 5.8.1 is included in Appendix A of this announcement.
HIGHLIGHTS
Maiden lithium Inferred Mineral Resource estimate of 25 Mt @ 0.45 % Li2O announced for the Sadisdorf tin-lithium project in Saxony, Germany.
LIT's wholly owned SiLeach® hydrometallurgical process suited to unlocking the lithium value of historical tin deposits such as those at Sadisdorf.
Sadisdorf ideally located to supply the European battery and electric vehicle market.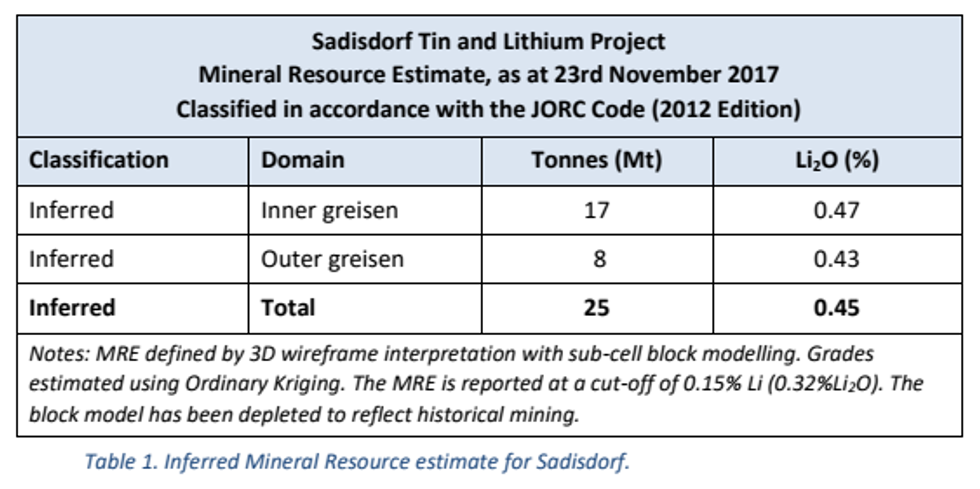 This result substantially enhances the potential for progressing the historical Sadisdorf tin-tungsten mine to a polymetallic deposit with value contributions from lithium, tin and tungsten, as well as potentially from a range of by-products (e.g. potassium sulphate fertiliser, sodium silicate) made available by virtue of LIT's novel SiLeach® hydrometallurgical technology. The lithium Mineral Resource grade estimate is higher than that for the Cinovec project located nearby in the Czech Republic.
BACKGROUND
Lithium is an important commodity, especially in the manufacture of batteries. According to most analysts, demand for lithium will increase significantly in line with the growing market for electric vehicles (EVs) powered by lithium-ion batteries. German auto-manufacturers are already gearing up to produce large numbers of EVs, as are many other manufacturers globally.
The historic Sadisdorf tin mine is characterised by greisens (altered granites) known to contain abundant lithium mineralisation in the form of zinnwaldite, a lithium mica ideally suited to processing with LIT's 100%-owned SiLeach® process.
Sadisdorf JV partner Tin International AG, previously defined a JORC (2012) tin Mineral Resource (3.36 Mt Inferred Mineral Resource grading 0.44% Sn at a cutoff of 0.25% Sn).
Quantitative X-ray diffraction (QXRD) analysis has shown quantities of lithium-bearing zinnwaldite mica ranging from 9% (average of outer greisen zone) to 12.5% (average of inner greisen zone) with local values in the inner greisen zone of up to 38% zinnwaldite. Zinnwaldite, a lithium mica, can be very easily processed using SiLeach®, making this a prime target for the supply of lithium into the European battery industry.
Preliminary SiLeach® testwork on the Sadisdorf outer greisen material returned encouraging results, with lithium leach extractions of zinnwaldite concentrates from Sadisdorf greisen mineralisation averaging 95%.


Lithium Australia's Managing Director Adrian Griffin commented:
"Our previous testing demonstrates that SiLeach® can unlock the potential of Sadisdorf as a true polymetallic operation, recovering lithium from the residues of conventional tin concentration processes. The size of the Sadisdorf resource is already significant, with the potential to feed a 25,000 tonnes per annum lithium carbonate plant for 10 years. Further exploration is likely to expand the resource significantly. It is noteworthy that Sadisdorf has higher grades than the nearby Cinovec deposit (Czech Republic) and is not far from the Zinnwald deposit of Deutsche Lithium GmbH. All of these deposits have similar characteristics, making them difficult, if not impossible, to commercialise using conventional lithium processing technology – SiLeach® provides the solution"."We are in the backyard of the most rapidly expanding consumption of lithium outside China, with most European vehicle manufacturers announcing their plans to go electric. The synergies are obvious, and at Lithium Australia we are well placed to take advantage of that expanding market."
Adrian Griffin
Managing Director
Mobile 
+61 (0) 418 927 658
Adrian.Griffin@lithium-au.com
About Lithium Australia NL
LIT is a dedicated developer of disruptive lithium extraction technologies and 100% owner of the SiLeach® process for the recovery of lithium from all silicates. LIT has strategic alliances with, and investments in, a number of companies, potentially providing it with access to a diversified lithium mineral inventory. LIT aspires to create a union between resources and the best available technology, and in so doing establish a global lithium processing business.
MEDIA CONTACT
Adrian Griffin, Lithium Australia NL 08 6145 0288 | 0418 927 658
Kevin Skinner, Field Public Relations 08 8234 9555 | 0414 822 631
Competent Persons' Statement – Lithium Mineral Resources
The information in this announcement that relates to in situ lithium Mineral Resources for Sadisdorf is based on and fairly represents information compiled by Mr Thomas Branch under the direction and supervision of Dr Andrew Scogings who are both full-time employees of CSA Global Pty Ltd, in accordance with the requirements of the JORC Code 2012. Dr Scogings takes overall responsibility for the report. Dr Scogings is a Member of both the Australian Institute of Geoscientists and Australasian Institute of Mining and Metallurgy and has sufficient experience, which is relevant to the style of mineralisation and type of deposit under consideration, and to the activity he is undertaking, to qualify as a Competent Person in terms of the 'Australasian Code for Reporting of Exploration Results, Mineral Resources and Ore Reserves' (JORC Code 2012). Dr Scogings consents to the inclusion of such information in this announcement in the form and context in which it appears.
ASX Listing Rule 5.8.1 summary
The following summary presents a fair and balanced representation of the information contained within the Mineral Resource estimate technical report (refer Appendix A):
Lithium mineralisation occurs within two mineralised units described as the Inner Greisen and the Outer Greisen.
Lithium assay data was compiled manually from historical hard-copy sources with additional verification analyses of historical pulps using accepted methods at the ISO accredited ALS Loughrea laboratory in Ireland. QXRD and Petrography analysis was also undertaken by ALS on samples from underground workings and historical diamond drill core (DD) pulps and quarter core. The quality of sampling and analysis, as assessed by the Competent Person, is of an acceptable standard for use in a Mineral Resource estimate publicly reported in accordance with the JORC Code.
 Grade estimation was completed using Ordinary Kriging (OK).
 Mineral Resources were estimated within constraining wireframe solids using a nominal 0.15 % wt Lithium cut-off within geological boundaries. The Mineral Resource is quoted from all classified blocks within these wireframe solids.
 The estimate was classified as an Inferred Mineral Resource based on an assessment of the quality and continuity confidence of data from underground mapping and sampling, drill hole sample analytical results, drill hole logging, and measured density values.
The likelihood of eventual economic extraction is considered in terms of possible open pit or underground mining, favourable metallurgy and potentially favourable logistics to European markets. It is the opinion of the CP that the Sadisdorf tin-lithium deposit could be eventually extracted economically.
This release may include forward-looking statements. These forward-looking statements are not historical facts but rather are based on Lithium Australia NL's current expectations, estimates and assumptions about the industry in which Lithium Australia NL operates, and beliefs and assumptions regarding Lithium Australia NL's future performance. Words such as "anticipates", "expects", "intends", "plans", "believes", "seeks", "estimates", "potential" and similar expressions are intended to identify forward-looking statements. Forward looking statements are only predictions and not guaranteed, and they are subject to known and unknown risks, uncertainties and assumptions, some of which are outside the control of Lithium Australia NL. Actual values, results or events may be materially different to those expressed or implied in this release. Past performance is not necessarily a guide to future performance and no representation or warranty is made as to the likelihood of achievement or reasonableness of any forward-looking statements or other forecast. Given these uncertainties, recipients are cautioned not to place reliance on forward looking statements. Any forward-looking statements in this release speak only at the date of issue of this release. Subject to any continuing obligations under applicable law and the ASX Listing Rules, Lithium Australia NL does not undertake any obligation to update or revise any information or any of the forward-looking statements in this release or any changes in events, conditions or circumstances on which any such forward looking statement is based.
Click here to connect with Lithium Australia NL (ASX:LIT) for an Investor Presentation.
Source: lithium-au.com
Investing News Network websites or approved third-party tools use cookies. Please refer to the  cookie policy for collected data, privacy and GDPR compliance. By continuing to browse the site, you agree to our use of cookies.