Advantage Lithium Corp (TSXV:AAL; OTCQX:AVLIF) (the "Company" or "Advantage Lithium") is pleased to provide this update on the brine sampling results from diamond core hole CAU22 in the SE Sector of the Cauchari JV property located in Jujuy Province, Argentina.
Advantage Lithium Corp (TSXV:AAL; OTCQX:AVLIF) (the "Company" or "Advantage Lithium") is pleased to provide this update on the brine sampling results from diamond core hole CAU22 in the SE Sector of the Cauchari JV property located in Jujuy Province, Argentina.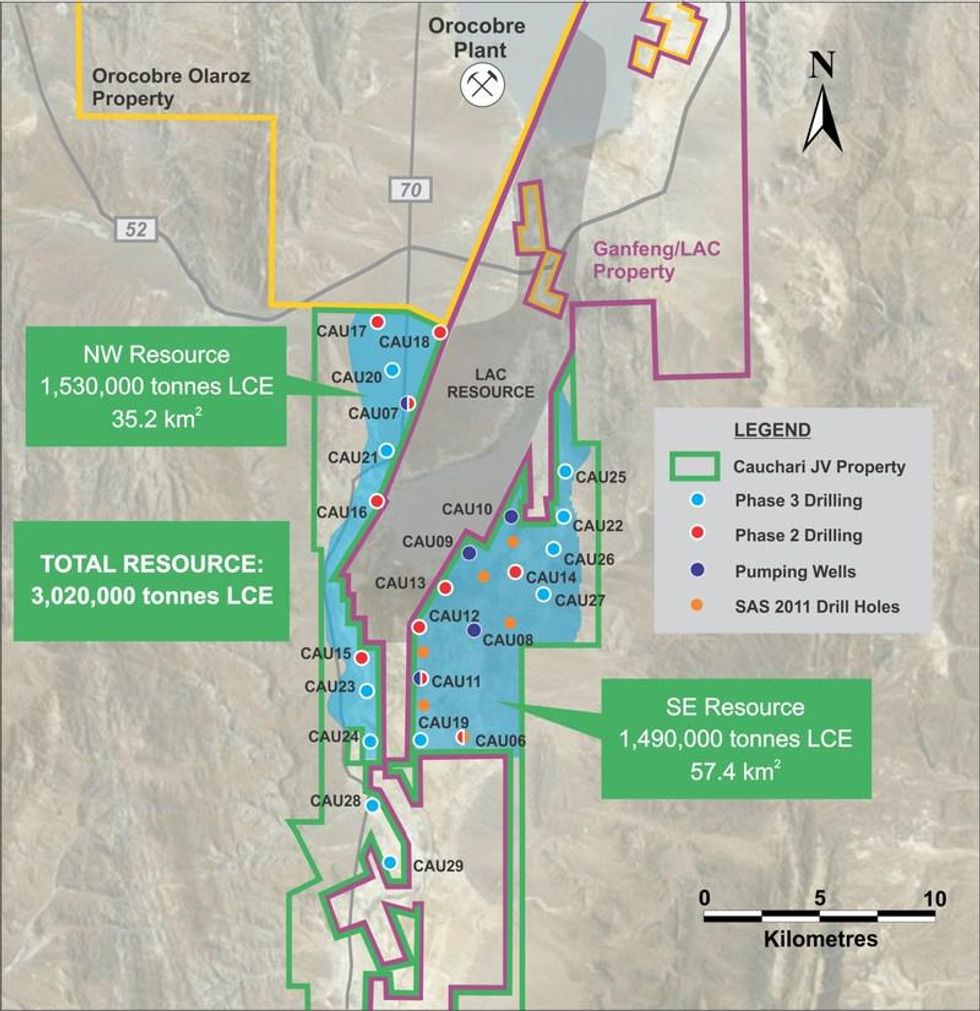 Figure 1: Location of CAU22 and other drill holes (CNW Group/Advantage Lithium Corp)
Highlights:
Systematic brine sampling completed in CAU22 averaged 549 mg/l lithium and 3,630 mg/l potassium from 146.5-290.5 m depth, with samples not yet received below this depth. The brine shows a similar grade and very low average Mg/Li ratio of 2.4:1, similar to that demonstrated during pumping of CAU11 – excellent for conventional brine processing.
These results from CAU22, together with recently acquired TEM electrical geophysics in this area, confirm the extension of brine mineralisation in the SE sector to the fault forming the eastern boundary of the Cauchari basin.
The Phase III infill drilling is the resource conversion program that aims to convert Inferred to Measured and Indicated resources by early 2019, with drilling on track for this timing.
Drilling of holes CAU25 and CAU26 will further define the eastern extent of the SE sector, with the aim of adding to the existing resource there.
Drilling encountered interbedded units of clay, halite and sand in this area, a combination of lithologies which are known to be productive in other parts of the Cauchari-Olaroz basin.
Pumping test equipment has been installed for the 30-day pump tests in CAU11 and CAU07, with pumping underway in CAU11.
President & CEO Mr. David Sidoo commented: "Continuing excellent results from CAU22 highlight again our Resource Development Teams' understanding of the Cauchari basin and the likelihood we can grow our resource base to support our DFS and reserve estimate.  The Phase III systematic drilling and sampling program has confirmed the extension of mineralized brine below the 300 m depth of the existing resource in the east of the SE Sector, with geophysics suggesting the brine mineralization extends further east than in the current resource.  The Mg/Li continues to be low in this area, with positive brine chemistry. With 4 drilling rigs operating we are on schedule with the resource conversion program that aims to upgrade the resource to Measured and Indicated status. Additionally, we are beginning extended pumping tests in test wells CAU07 and CAU11 which will give us important hydraulic characteristics to complete the dynamic model for reserves "
CAU22 SE Sector Drilling Results
CAU22 is the first resource hole drilled along the eastern side of the SE Sector. The brine analyses confirm the high quality of the brine in this area averaging 549mg/l lithium and 3,630 mg/l potassium from 146.5-290.5m depth, with consistent results throughout the hole and a maximum value of 647 mg/l Li.  A total of 8 primary brine samples were taken with a bailer device and the results of one duplicate sample confirms the value of the primary sample. Samples were taken at nominal systematic 12 m intervals, considered an appropriate sampling interval, given the relatively thick and consistent lithologies encountered. QA/QC results are awaited from the secondary laboratory.
The brine samples have a very low average Mg/Li ratio of 2.4:1, similar to Advantage test production well CAU11. Results are similar to those of the adjacent Olaroz project of Orocobre and Lithium Americas Corp and Ganfeng in Cauchari. Similarity of brine characteristics across these properties confirms the Cauchari-Olaroz brine is very extensive and relatively homogeneous and very suitable for conventional processing.
NW Sector Drilling Update
Drilling is continuing in the NW Sector, with drilling of hole CAU28 underway. This hole is located 2.5 km south of CAU24, which is the southern-most hole drilled in the NW Sector. The results of CAU24 are awaited from the laboratory.  Holes CAU28 and CAU29 are planned with the aim of extending the brine resource further south, where high permeability sands and gravels are likely to exist relatively close to surface. Results will be released as they become available.
SE Sector Drilling Update
Further drilling is underway in the SE Sector in Hole CAU19, which aims to define the continuation of the deep sand unit from previously drilled holes CAU11, CAU12 and CAU13.
Pumping Tests
Preparations have been completed to carry out 30-day pumping tests on test production well CAU11 in the SE Sector and CAU07 in the NW Sector. All monitoring wells and equipment are installed.  The first pumping test on CAU11 commenced on October 14 and will be followed immediately by CAU07.
The tests will provide additional information on aquifer characteristics as an input to the three-dimensional groundwater model that is being developed to estimate lithium reserves and to develop a production schedule for the project.
The technical information in this news release has been reviewed and approved on behalf of the company by Mr Frits Reidel a Certified Professional Geologist and member of the American Institute of Professional Geologists, a "Qualified Person" as defined in NI 43-101.
ADVANTAGE LITHIUM CORP.
Per: "David Sidoo"
David Sidoo, President
Tel:  604.343.3760 | Fax: 604.683.1585
Email: info@advantagelithium.com
About Advantage Lithium Corp.
Advantage Lithium Corp. is a lithium brine development company specializing in the strategic acquisition and development of properties in Argentina and is headquartered in Vancouver, British Columbia. The common shares of the company are listed on the TSX Venture Exchange (TSX-V:AAL), and the Company is also traded on the OTCQX Best Market in the U.S. (OTCQX: AVLIF). The Company has acquired a 100% interest in three brine projects and a 75% interest in its fourth and flagship asset, Cauchari with partner Orocobre (25%) with Advantage Lithium as the operator. On June 29, 2018, Advantage Lithium filed its NI43-101 resource estimate followed by a positive preliminary economic assessment filed on September 25th.
Further information about the Company can be found at www.advantagelithium.com.
Cautionary Statement:
Certain information contained in this press release constitutes "forward-looking information", within the meaning of Canadian legislation. Generally, these forward-looking statements can be identified by the use of forward-looking terminology such as "is expected","intends", or "has the potential to".  Forward looking statements contained in this press release may include statements regarding the future operating or financial performance of Advantage that involve known and unknown risks and uncertainties which may not prove to be accurate. Actual results and outcomes may differ materially from what is expressed or forecasted in these forward-looking statements. Such statements are qualified in their entirety by the inherent risks and uncertainties surrounding future expectations. The forward-looking statements included in this press release are made as of the date of this press release and the Company disclaims any intention or obligation to update or revise any forward-looking statements, whether as a result of new information, future events or otherwise, except as expressly required by applicable securities legislation.
Neither TSX Venture Exchange nor its Regulation Services Provider (as that term is defined in the policies of the TSX Venture Exchange) accepts responsibility for the adequacy or accuracy of this release.
Click here to connect with Advantage Lithium Corp (TSXV:AAL; OTCQX:AVLIF) for an Investor Presentation.
Source: www.newswire.ca
Investing News Network websites or approved third-party tools use cookies. Please refer to the  cookie policy for collected data, privacy and GDPR compliance. By continuing to browse the site, you agree to our use of cookies.