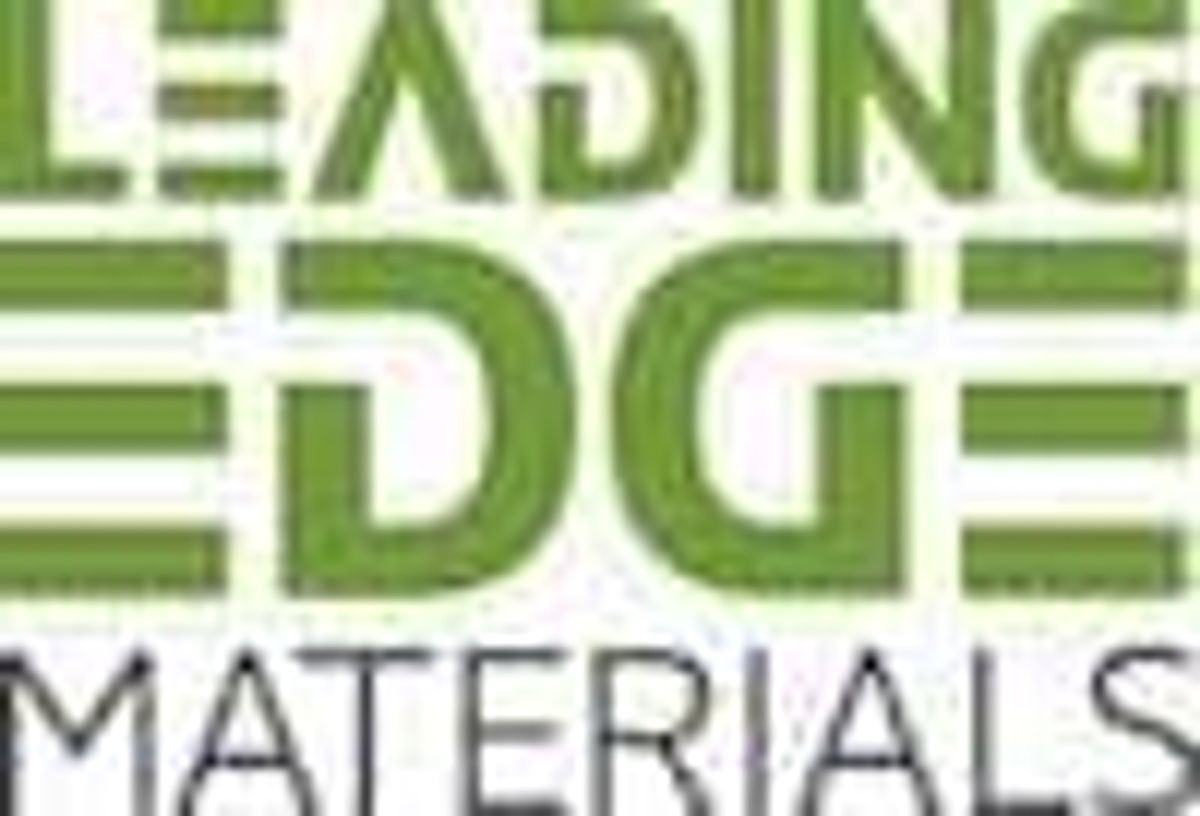 Leading Edge Materials Corp. (TSXV:LEM) is pleased to provide an update on the Company's 100% owned Norra Kärr heavy rare earth element ("REE") project in Sweden.  Norra Kärr is a globally significant heavy REE deposit, with a particular enrichment of the magnetic metals dysprosium (Dy) and neodymium (Nd). Process development research on Norra Kärr completed under …
Leading Edge Materials Corp. (TSXV:LEM) is pleased to provide an update on the Company's 100% owned Norra Kärr heavy rare earth element ("REE") project in Sweden.  Norra Kärr is a globally significant heavy REE deposit, with a particular enrichment of the magnetic metals dysprosium (Dy) and neodymium (Nd).
Process development research on Norra Kärr completed under the European Commission funded EURARE project has achieved significant technical milestones.  Research culminated with the production of approximately 25 kg of mixed REE carbonate produced from a eudialyte concentrate, using a new and optimized hydrometallurgical flowsheet.
EURARE is a 5-year research project co-funded by the European Commission under the Seventh Framework Programme of the European Community for Research, Technological Development and Demonstration Activities (Grant Agreement NMP2-LA-2012-309373).  The project has completed research on Norra Kärr and other European REE deposits and will conclude with a final technical meeting in November 2017.
Key Points
Norra Kärr, with a proven mineral reserve of 23.6 million tonnes at 0.59% total rare earth oxide ("TREO") (see Tasman Metals Ltd press release 21st January 2015 and Tables 1 and 2 for TREO distribution) was the subject of a pre-feasibility study in 2015 which estimated an after tax NPV (10%) of US$313 million and defined opportunities for project optimization (see Tasman Metals Ltd press release 21st January 2015);
Hydrometallurgical research completed under EURARE targeted optimized REE extraction from eudialyte, and successfully developed a new process delivering high REE recovery with a substantial reduction in process water consumed. In addition, this new process provided the opportunity for the efficient recovery of the additional high value metals hafnium and zirconium;
Independent analyst and media reports have described a significant recent rise in REE prices, with the magnetic metals increasing by more than 50% in the year to August 2017.  REE supply is heavily dependent on Chinese production and processing, contributing to an extended period of supply uncertainty for Western customers;
Norra Kärr is a zirconium (Zr) and heavy REE enriched nepheline syenite intrusion which covers 450m x 1,500m in area.  The deepest extent of the mineralized intrusion has not been delineated, but exceeds 350m.  Mineralogical studies show almost all REE is hosted within the zirconosilicate mineral eudialyte.  Norra Kärr is one of only two advanced stage REE projects on the European mainland, with a capacity to supply Europe's needs for decades.
Norra Kärr was the subject of a pre-feasibility study in 2015 (see Tasman Metals Ltd press release 21st January 2015 for further information) which estimated an after tax NPV (10%) of US$313 million and defined a range of opportunities for project optimization.  The PFS was based on a proven mineral reserve of 23.6 million tonnes at 0.59% TREO with a mine life of 20 years (Tables 1 and 2 for TREO distribution).
Part of the optimization of the Norra Kärr flowsheet has been undertaken within the EURARE project.  Magnetic separation was chosen as the preferred beneficiation pathway, in line with the processing research previously completed by Leading Edge Materials that indicated REE recovery of 86%.  A total of approximately 500 kg of eudialyte mineral concentrate was produced from beneficiation of more than 5 tonnes of representative mineralized drill core.
In addition, more than 1 tonne of non-magnetic nepheline/feldspar by-product was produced, which has been delivered to Leading Edge Materials in Sweden.  High purity nepheline and feldspar are highly sought for use in ceramic, paint, glass, cement and building products, and Leading Edge Materials shall seek to further optimize material for these markets.
Nepheline/feldspar material was not assessed as a saleable material within the 2015 PFS as product development was not adequately progressed at the time of publication.  Optimization of a nepheline/feldspar product for sale would significantly reduce the material directed to tailings storage, substantially reduce land use requirements, and is a clear area for on-going research.
Following beneficiation, the eudialyte mineral concentrate was used in an extensive program of hydrometallurgical research, trading off a range of process options.  An innovative dry digestion process in the presence of concentrated hydrochloric acid was identified as achieving high extraction of REEs without the formation of silica gel and with the benefit of a very low water requirement.  Following bench top testing, the dry digestion process was operated on a mini-pilot plant scale, which extracted and precipitated approximately 25 kg of high purity mixed REE carbonate from two eudialyte sources.  A recovery of 91% was calculated for the hydrometallurgical stage.
In addition, this dry digestion technique was successful in the extraction and recovery of zirconium, hafnium (Hf) and niobium (Nb) to a secondary product.  Zirconium, hafnium and niobium are high value metals that were not considered as saleable products under the 2015 PFS.  Optimization of the extraction and purification of these metals will be the subject of further research.
Blair Way, President and CEO, stated "the research of the EURARE team has delivered a range of opportunities for optimization of the Norra Kärr project at just the right time.  The dry digestion hydrometallurgical process is a potential game changer, with the opportunity for efficient recovery of additional high value metals, and a process that may substantially reduce the environmental footprint.  While Norra Kärr has long been known as potential source of nepheline, with a large sample now available for additional test work we are in a strong position to identify market opportunities."   
Preparation of additional supporting documentation regarding the Norra Kärr Mining Lease, which was granted in 2013, is underway and is anticipated to be ready for submission to the Swedish Mining Inspectorate during December 2017.
Independent reporting has identified a significant recent rise in REE prices, with the magnetic metals increasing by more than 50% in the year to August 2017.  REE supply remains highly concentrated, with China the dominant source, contributing to an extended period of supply uncertainty for Western customers.
The accelerating demand for electric vehicles and the progressive shift to renewable energy is forecast to place increasing demands on REE supply.
On behalf of the Board,
"Blair Way"
Blair Way
President & CEO
The qualified person for the Company's exploration projects, Mark Saxon, Director of Leading Edge Materials and a Fellow of the Australasian Institute of Mining and Metallurgy, has reviewed and verified the contents of this release.
About Leading Edge Materials:
Leading Edge Materials is a Canadian public company with principal assets in Scandinavia, a region well recognised for its promotion and investment in innovation.  LEM's flagship asset is the Woxna Graphite production facility located in central Sweden targeting the supply of specialty materials for lithium ion battery production. LEM's core investments are matched to high growth markets, linked to the global shift to low-carbon energy generation and energy storage.
Click here for the full table. 
Table 1: Probable Mineral Reserves for Norra Karr Project, Effective Date 13th January 2015.

Tonnes
(M)

TREO
(%)

HREO
%

% HREO in
TREO

Dy2O3
(%)

Y2O3
(%)

Eu2O3
(%)

La2O3
(%)

Nd2O3
(%)

Ce2O3
(%)

Gd2O3
(%)

Tb2O3
(%)

Pr2O3
(%)

Sm2O3
(%)

Lu2O3
(%)

23.6

0.592

0.314

53.1

0.0269

0.215

0.0022

0.0551

0.0648

0.124

0.0196

0.004

0.0161

0.0178

0.0023
Notes:

1)

Mineral Reserves are reported based on material contained within the Final Mine Design.

2)

Mineral Reserves are constrained to a designed 20yr mine life.

3)

Mineral Reserves are reported for combined Migmatitic Grennaite and Pegmatitic Grennaite only,

4)

Mineral Reserves reported have been adjusted for mining factors, at 3.5 % dilution and 5.0 % loss.

5)

Mineral Reserves are reported to 3 significant figures.

6)

Total Rare Earth Oxides (TREO) includes: La2O3, Ce2O3, Pr2O3, Nd2O3, Sm2O3, Eu2O3, Gd2O3, Tb2O3, Dy2O3, Ho2O3, Er2O3, Tm2O3, Yb2O3, Lu2O3, Y2O3.

7)

Heavy Rare Earth Oxides (HREO) includes: Eu2O3, Gd2O3, Tb2O3, Dy2O3, Ho2O3, Er2O3, Tm2O3, Yb2O3, Lu2O3, Y2O3.

8)

Metal prices used for 20yr pit constraint comprise:
| | | | | | | | | | | |
| --- | --- | --- | --- | --- | --- | --- | --- | --- | --- | --- |
| | | | | | Cerium Oxide | US$/g | 0.005 |  Neodymium Oxide | US$/g | 0.105 |
| | | | | | Dysprosium Oxide |  US$/g | 0.470 |  Praseodymium Oxide |  US$/g | 0.075 |
| | | | | | Erbium Oxide |  US$/g | 0.000 |  Samarium Oxide |  US$/g | 0.007 |
| | | | | | Europium Oxide |  US$/g | 0.700 | Terbium Oxide |  US$/g | 0.725 |
| | | | | | Gadolinium Oxide | US$/g | 0.020 |  Thulium Oxide |  US$/g | 0.000 |
| | | | | | Holmium Oxide |  US$/g | 0.000 | Yttrium Oxide |  US$/g | 0.015 |
| | | | | | Lanthanum Oxide |  US$/g | 0.007 |  Ytterbium Oxide |  US$/g | 0.000 |
| | | | | | Lutetium Oxide | US$/g | 1.300 | | | |
| | |
| --- | --- |
| 9) | Indicated Mineral Resources are inclusive of Mineral Reserves.  |
| 10) | Mineral Resources that are not Mineral Reserves do not have demonstrated economic viability.   |
| 11) | The potential development of Mineral Resources may be materially affected by legal, political, environmental or other risks. |
Table 2: Composition of TREO in 20-Year Mineral Reserve, Norra Karr

RARE EARTH    OXIDE

GRADE (%)

RELATIVE
DISTRIBUTION

Lanthanum (La)

0.0551

9.3%

LIGHT REE

Cerium (Ce)

0.1240

20.9%

Praseodymium (Pr)

0.0161

2.7%

Neodymium (Nd)

0.0648

10.9%

Samarium (Sm)

0.0178

3.0%

Total Light REO

0.2778

46.9%

Europium (Eu)

0.0022

0.37%

HEAVY REE

Gadolinium (Gd)

0.0196

3.3%

Terbium (Tb)

0.0040

0.7%

Dysprosium (Dy)

0.0269

4.5%

Holmium (Ho)

0.0059

1.0%

Erbium (Er)

0.0184

3.1%

Thulium (Tm)

0.0028

0.5%

Ytterbium (Yb)

0.0172

2.9%

Lutetium (Lu)

0.0023

0.4%

Yttrium (Y)

0.2150

36.3%

Total Heavy REO

0.3143

53.1%

   TREO

0.5920

100%

Other Metals

ZrO2

1.84

Hf

0.0286

U

0.0013

Th

0.0006
 
The TSX Venture Exchange nor its Regulation Services Provider (as that term is defined in the policies of the TSX Venture Exchange), accept responsibility for the adequacy or accuracy of this news release.
Forward-Looking Information. Certain information in this news release may constitute forward-looking statements or forward-looking information within the meaning of applicable securities laws (collectively, "Forward-Looking Statements"). All statements, other than statements of historical fact that address activities, events or developments that the Company believes, expects or anticipates will or may occur in the future are Forward-Looking Statements. Forward-Looking Statements are often, but not always, identified by the use of words such as "seek," "anticipate," "believe," "plan," "estimate," "expect," and "intend" and statements that an event or result "may," "will," "can," "should," "could," or "might" occur or be achieved and other similar expressions. Forward-Looking Statements are based upon the opinions and expectations of the Company based on information currently available to the Company. Forward-Looking Statements are subject to a number of factors, risks and uncertainties that may cause the actual results of the Company to differ materially from those discussed in the Forward-Looking Statements including, among other things, timing of the ground magnetic survey and shallow soil sampling program, the Company's expectations regarding the Norra Karr project, the Company has yet to generate a profit from its activities; there can be no guarantee that the estimates of quantities or qualities of minerals disclosed in the Company's public record will be economically recoverable; uncertainties relating to the availability and costs of financing needed in the future; competition with other companies within the mining industry; the success of the Company is largely dependent upon the performance of its directors and officers and the Company's ability to attract and train key personnel; changes in world metal markets and equity markets beyond the Company's control; mineral resources are, in the large part, estimates and no assurance can be given that the anticipated tonnages and grades will be achieved or that the indicated level of recovery will be realized; production rates and capital and other costs may vary significantly from estimates; changes in corporate goals and strategies, unexpected geological conditions;  and delays in obtaining or failure to obtain necessary permits and approvals from government authorities. Although the Company believes that the expectations reflected in the Forward-Looking Statements, and the assumptions on which such Forward-Looking Statements are made, are reasonable, there can be no assurance that such expectations will prove to be correct. Readers are cautioned not to place undue reliance on Forward-Looking Statements, as there can be no assurance that the plans, intentions or expectations upon which the Forward-Looking Statements are based will occur. Forward-Looking Statements herein are made as at the date hereof, and unless otherwise required by law, the Company does not intend, or assume any obligation, to update these Forward-Looking Statements.
Source: leadingedgematerials.com
Investing News Network websites or approved third-party tools use cookies. Please refer to the  cookie policy for collected data, privacy and GDPR compliance. By continuing to browse the site, you agree to our use of cookies.