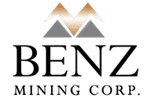 Benz Mining Corp. (TSXV: BZ) (the "Company" or "Benz"), is pleased to announce the completion of its 2017 diamond drilling program.
Benz Mining Corp. (TSXV:BZ) (the "Company" or "Benz"), is pleased to announce the completion of its 2017 diamond drilling program. A total of nine (9) planned drill holes totaling 2,114.22 m were completed at the Mel Zinc-Lead-Barite project in south-east Yukon. Assay results from this year's program are expected by the end of November and will be released as they become available. Sample material from these holes will allow the Company to undertake metallurgical testing once all assay results have been received and reviewed.
Drilling focused on the Mel Main Zone, which hosts an Inferred Mineral Resource of 5.28 million tonnes averaging 6.51 % zinc, 1.86% lead and 45.05% barite reported in a National Instrument 43-101 Technical Report prepared for Benz, by H. Leo King, P.Geo. and G.H. Giroux, P.Eng., which can be found on SEDAR under the company's profile.
The completed program provides new drill data to confirm the existing deposit model generated by previous operators. Diamond drilling targeted gaps within the deposit model, where previous drill spacing was too wide-spaced, and will provide data on metal grade continuity in these areas. Information collected from this year's program will be used to increase the confidence level of the current Inferred Mineral Resource and upgrade its category. All the diamond drill holes completed in 2017 intersected mineralized intervals comprising sphalerite, galena, and barite, where predicted by the model.
Core samples from the drill holes have been shipped to ALS Minerals in Whitehorse, YT, where they will be prepared and then shipped to ALS's laboratory in North Vancouver, BC for analysis.
Surface mapping and trenching demonstrate that mineralization along the favourable stratigraphic contact can be traced at surface for at least 125 m and possibly up to 150 m north on strike from the Mel Main Zone resource model. Visible sphalerite, galena and barite mineralization were observed in two trenches along this strike extension. Only one drill hole has been drilled along this extension; historical hole 75-13 intersected 13.5% zinc and 1.15% lead over a 0.76 m intercept from 198.12 to 198.88 m depth down-hole; barite was not analyzed. Hole 75-13 confirms that mineralization observed in the trenches extends to a significant depth over this northern strike extension. This northern extension of the Mel Zone mineralization provides the Company with good potential for a significant expansion of its current resource. This area will be included for testing in future drill programs.
Two additional trenches further north exposed the contacts of the favourable stratigraphy, and although no visible mineralization was encountered, this work confirms a new 2017 interpretation that the prospective stratigraphy continues further north than previous operators had projected. This opens an additional area not previously considered for exploration.
Field investigation traced the southern projection of the Mel Main Zone resource model under low swampy ground, an area without bedrock exposures and where trenching could not be undertaken. Further drilling will be required to test the open southern projection of the Mel Main Zone resource model; which also provides good potential for expansion of its current resource during the next exploration season.
Technical information in this press release has been reviewed and approved by Michael Gareau, P.Geo., Vice President of Geology for Benz and a qualified person for the purposes of National Instrument 43-101. M. Gareau completed a field visit to the Mel Project from Oct. 19 to 21, 2017 during which he reviewed 2017 drill core, the Mel trenching and other aspects of the exploration program.
Shareholders can view pictures from the 2017 drilling program at Mel property, by visiting the Company's website. www.benzmining.com
Miloje Vicentijevic, President and CEO states, "I am pleased to provide confirmation that we have intersected mineralization in all of the nine holes in our first diamond drill program. Further analysis to identify mineralized targets for large drilling program will be completed by Michael Gareau (Benz VP Exploration and Qualified Persons under the definition of Canadian National Instrument 43-101), Mathew Dumala (Archer Cathro) and Mr. Leo King (Benz Advisor to the Board). I would like to thank to all of them for thorough analytical process and field performances to confirm the existing mineral resource, define next drilling targets, to continue to develop it into a large Zinc/Lead asset."
About Benz Mining Corp.
Benz is focused on acquiring and developing mining assets in safe jurisdictions and is led by a team of experienced mine developers. In March 2017, the Company entered into a purchase agreement to acquire the Mel zinc-lead-barite project located in southeast Yukon (Company news release dated March 13, 2017).
On behalf of the Board of Directors of Benz Mining Corp.
Miloje Vicentijevic, President and Chief Executive Officer
For more information please contact
Benz Mining Corp.
Telephone: 604.617.1239
Email: info@benzmining.com
Neither the TSX Venture Exchange nor its Regulation Services Provider (as that term is defined in the policies of the TSX Venture Exchange) accepts responsibility for the accuracy or adequacy of this release.
Source: www.newsfilecorp.com