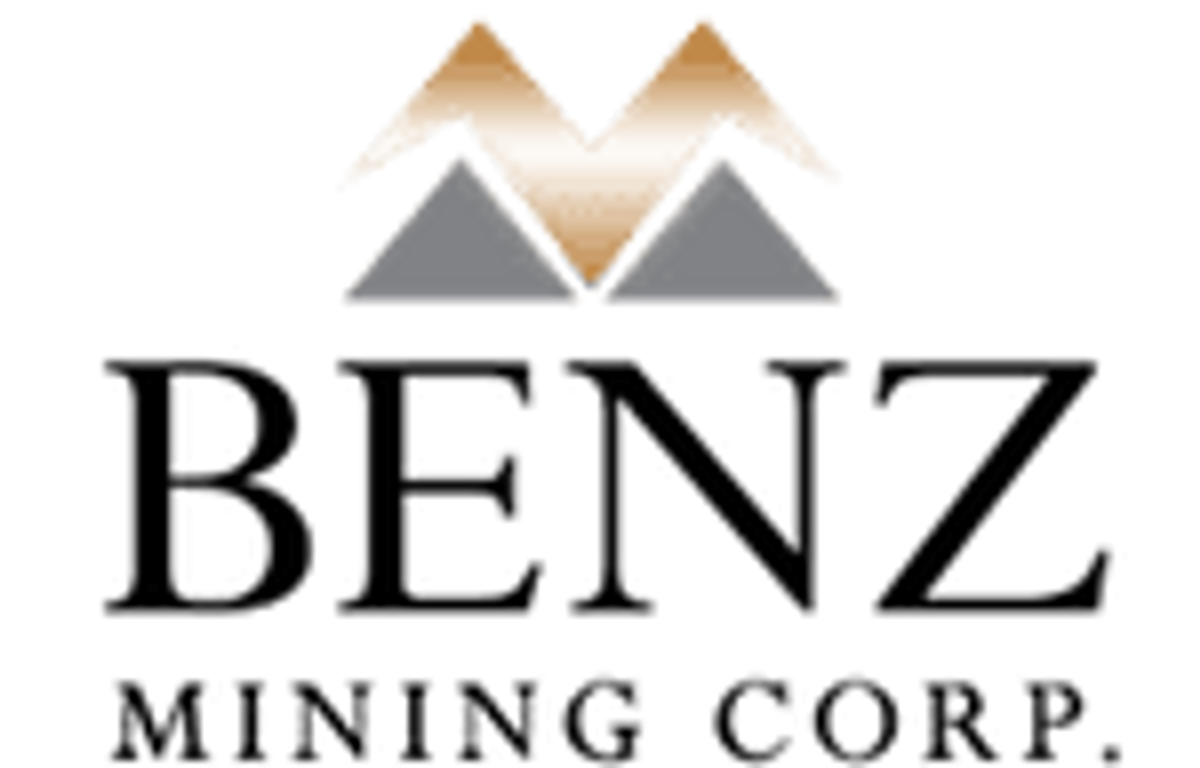 Benz Mining Corp. (TSXV:BZ,FSE:1VU) is pleased to announce the completion of barite assays for its 2017 drill hole campaign on the Mel Main Zone zinc-lead and barite deposit.
Benz Mining Corp. (TSXV:BZ,FSE:1VU) is pleased to announce the completion of barite assays for its 2017 drill hole campaign on the Mel Main Zone zinc-lead and barite deposit.  Seven of the nine 2017 drill holes intersected significant barite values as predicted by the model. Seven high-grade barite intersections are reported from the barite-rich portion of the resource model. Those holes with low barite values occur primarily in the southern portion of the resource model predicted to have low barite values.
Barite (Barium sulphate – BaSO4) is a major component and the weighting agent used in drilling mud for the oil and gas industry's exploration and developmental drilling programs.  It suppresses high formation pressures and prevents blowouts; the deeper the hole, the more barite is needed as a percentage of the total mud mix.
"The latest barite marketing study confirms initial barite sales in the 50,000 t/year range.  When oil and gas drilling activity, in the eastern British Columbia and north-central Alberta regions, increase again, the Mel project is uniquely positioned to tap into this growing market by selling its valuable byproduct." stated Miloje Vicentijevic, Benz President & CEO.
As previously announced, all nine 2017 drill holes also encountered base metal mineralization where predicted by the resource model. Both the base metal and barite drill-hole results support the current resource model and provide a high degree of confidence in both the model and continuity of the Mel deposit mineralization for zinc, lead and barite.
The 2017 drilling combined with additional drilling planned for 2018 are expected to provide the database required to expand Resource and upgrade the Current Inferred Resource to the Measured and Indicated categories.  Analytical results are also providing information on the tenor and distribution of silver in the Mel deposit.
The new barite results along with the previously released 2017 base metal results from the Mel Main Zone are summarized in the following table.
MEL MAIN ZONE 2017 DRILL RESULTS SUMMARY
Hole No.
From
To
Interval
Est. True
Width
Zinc
Lead
Barite
(BaSO4)
Silver
(m)
(m)
(m)
(m)
(%)
(%)
(%)
(ppm)
MEL-17-050
34.97
40.92
5.95
4.87
5.22
1.23
16.18
8.23
234.22
239.04
4.82
3.69
2.11
1.09
0.53
2.80
MEL-17-051
295.50
296.84
1.34
0.86
14.15
4.17
0.27
8.12
MEL-17-052
48.83
56.20
7.37
5.65
6.02
0.07
56.73
0.62
includes
52.00
54.09
2.09
1.60
16.50
<0.01
57.94
1.08
253.36
256.89
3.53
2.70
10.34
4.33
31.67
2.18
MEL-17-053
66.64
72.00
5.36
4.39
5.10
2.14
61.76
1.91
239.52
256.95
17.43
13.35
6.41
0.97
49.70
1.33
includes
245.97
250.58
4.61
3.53
11.15
0.33
49.84
0.98
MEL-17-054
250.63
257.59
6.96
4.47
2.44
1.10
10.03
0.58
MEL-17-055
214.71
225.00
10.29
6.61
4.50
1.73
55.35
0.60
MEL-17-056
224.38
229.00
4.62
4.00
16.65
0.66
10.58
1.10
includes
226.25
229.00
2.75
2.38
27.78
0.66
4.95
1.46
MEL-17-057
141.72
146.45
4.73
4.44
5.11
0.35
40.65
1.88
MEL-17-058
119.63
142.12
22.49
12.90
8.45
0.26
65.99
0.42
includes
128.44
137.06
8.62
4.94
10.93
<0.01
62.79
0.48
includes
140.76
142.12
1.36
0.78
16.65
<0.01
37.89
0.76
Assays and Quality Assurance/Quality Control (QA/QC)
The Company had an industry standard QA/QC program in place for its 2017 drill campaign that included insertion of blanks, duplicates and certified reference standards. Results of the control samples indicate reliable analytical results.
Sawn half core from the 2017 drill program were submitted to ALS Minerals Laboratories in Whitehorse, YT, for sample preparation with pulps forwarded to their analytical laboratory in North Vancouver, BC, Canada. ALS Laboratories for multi-element analysis. Description of the analytical procedures for base metals were given in the prior news release of Nov. 25, 2017. To obtain accurate barite content in the core samples, the Company submitted all mineralized samples for barium analysis using a Fusion digestion and XRF finish. Over limit barium assays (e.g. >45% Ba) were re-assayed using a Carbonate Fusion digestion and a gravimetric finish a methodology specifically for high-grade barite samples.
FOR THE 2017 EXPLORATION DRILL HOLE LOCATION PLAN & SECTIONS CLICK HERE
Michael Gareau, P.Geo., Vice President of Geology for Benz and a qualified person for the purposes of National Instrument 43-101, has reviewed the results of the 2017 Mel Main Zone drilling; and approved the technical information contained in this release.  Mr. Gareau visited the Mel project in late October to review the 2017 drill core.
Benz is pleased to also announce the appointment of Mr. Gary Lindsey of StrataStar LLC to provide corporate communications and management consulting services to the Company.  Mr. Lindsey has provided corporate communication services at numerous mining companies over the past decade, where he gained extensive experience in the metals and mining industry, with a proven track record of success with exploration, development, and production companies.
Mr. Lindsey, as part of his compensation, will be granted an incentive stock options exercisable to purchase up to 250,000 common shares in the capital of the Company at an exercise price of $0.185 per share.
Benz President, Miloje Vicentijevic states, "We are pleased to add Mr. Lindsey to our team and look forward to utilizing his expertise to help Benz grow."
About Benz Mining and the Mel Deposit: Benz Mining is focused on acquiring and developing mineral base metal assets in safe jurisdictions and is led by a team of experienced mine developers. In March 2017, the Company entered into a purchase agreement to acquire the Mel zinc-lead-barite project located in southeast Yukon (Company news release dated March 13, 2017).
On behalf of the Board of Directors of Benz Mining Corp.
Miloje Vicentijevic, President and Chief Executive Officer
For more information please contact
Benz Mining Corp.
Telephone: 604.617.1239
Email: info@benzmining.com
Gary Lindsey, Corporate Communications
Phone: (720)-273-6224
Email: gary@strata-star.com
Neither the TSX Venture Exchange nor its Regulation Services Provider (as that term is defined in the policies of the TSX Venture Exchange) accepts responsibility for the accuracy or adequacy of this release. 
Click here to connect with Benz Mining Corp. (TSXV:BZ,FSE:1VU) for an Investor Presentation
Source: globenewswire.ca
Investing News Network websites or approved third-party tools use cookies. Please refer to the  cookie policy for collected data, privacy and GDPR compliance. By continuing to browse the site, you agree to our use of cookies.