The Core Shack Dozen: Balmoral Expands Grassroots Nickel Discovery
Jan. 27, 2015 12:40PM PST
Base Metals
Wayne Hewgill, a geologist, gives his take on Balmoral Resources' Grasset project.
The "Drill Tracker" highlights early stage drilling and trenching results, giving a metric to evaluate exploration results and compare them against their peer group. In this report we highlight a dozen exploration companies displaying their projects in the Core Shack at the AME BC Roundup held in Vancouver between January 26 and 29, 2014.
Balmoral Resources (TSX:BAR)
Price: $0.95
Market cap: $109 million
Cash estimate: $17 million (working capital)
Project: Grasset
Country: Quebec, Canada
Ownership: Right to acquire 100 percent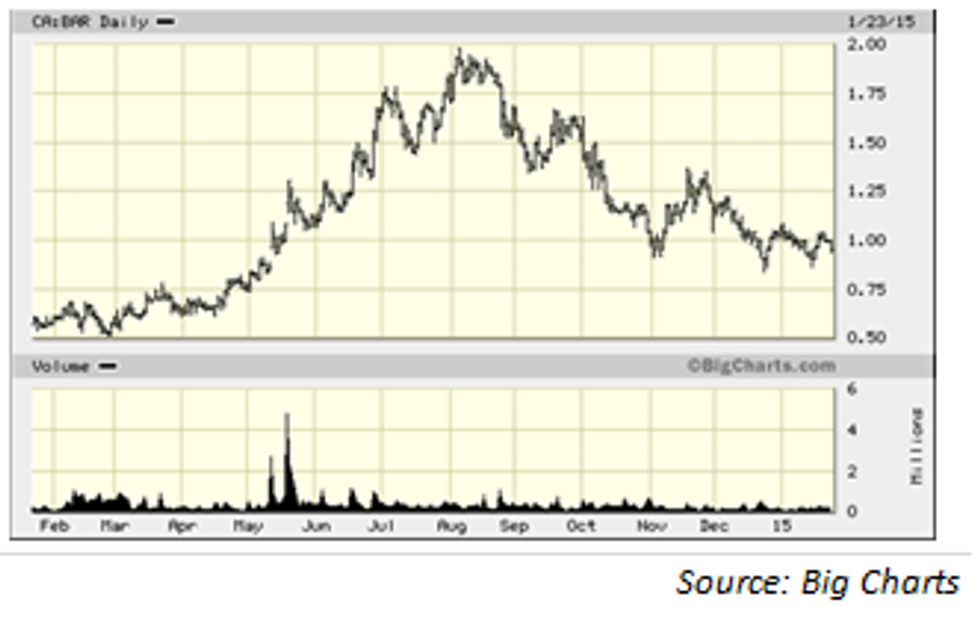 In March 2014, Balmoral Resources announced a new sulfide nickel discovery on its 100-percent-owned Grasset project in Quebec. The Grasset project is located 55 kilometers from the railhead at Matagami, and 25 kilometers from an existing hydro grid.
Highlights from the 68-hole drill program in 2014 include:

Discovery hole: 16.27 meters grading 0.55 percent nickel, 0.06 percent copper, 0.1 g/t platinum, 0.23 g/t palladium
20.62 meters at 3.45 percent nickel, 0.4 percent copper, 0.79 g/t platinum, 1.93 g/t palladium
17.6 meters at 2.45 percent nickel, 0.31 percent copper, 0.62 g/t platinum, 1.57 g/t palladium
16.87 meters at 1.42 percent nickel, 0.21 percent copper, 0.29 g/t platinum, 0.9 g/t palladium
44.87 meters at 1.52 percent nickel, 0.16 percent copper, 0.37 g/t platinum, 0.86 g/t palladium
Based on the cross section provided in the company's corporate presentation, the steeply dipping zone appears to have a true thickness of approximately 35 to 50 meters, with the net textured sulfide zone widening at depth. One of the deepest holes to date (GR-14-57) intersected 57.88 meters of 1.85 percent nickel, 0.21 percent copper, 0.4 g/t platinum and 0.97 g/t palladium, including a high-grade interval of 20.62 meters of 3.45 percent nickel, 0.4 percent copper, 0.79 g/t platinum and 1.93 g/t palladium.
Based on the early stage exploration on the project, the company believes there are at least three sub-parallel mineralized horizons extending over 840 meters of strike and remaining open to the northwest. The ultramafic rocks hosting the nickel-PGE mineralization have a total strike length of 16 kilometers, with only limited historical drilling 8.3 kilometers to the northwest of the new discovery at Grasset. The company has budgeted $4.6 million for 2015 drilling.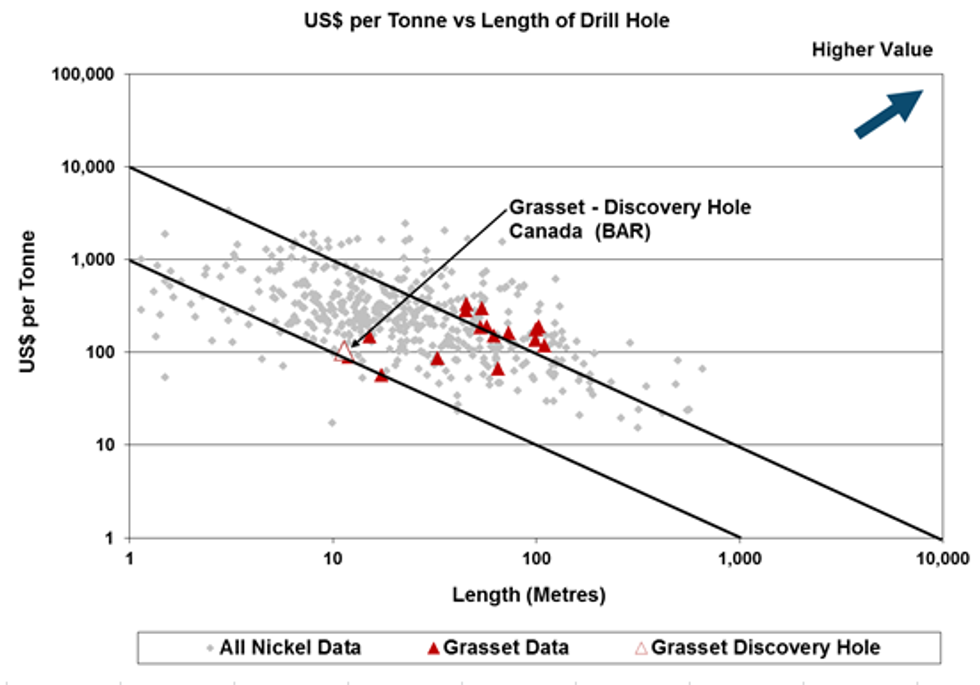 Project status: New nickel discovery March 2014
Resource: N/A
Catalysts: $4.5-million exploration budget for 2015
 Watch Darin Wagner, CEO, president and director of Balmoral, discuss his company at Cambridge House International's recent 2015 Vancouver Resource Investment Conference.
---
Disclosure: I, Wayne Hewgill, certify that the information in this report is sourced through public documents that are believed to be reliable, but accuracy and completeness as represented in this report cannot be guaranteed. The author has not received payment from any of the companies covered in this report.
At the date of this release the author, Wayne Hewgill, owns shares in the following companies:
This report makes not recommendations to buy sell or hold.
Wayne Hewgill is a geologist with extensive knowledge of the global mining industry gained through 30 years of diversified experience in mineral exploration and new business development in Canada, as well as 10 years living in Africa, New Zealand and Australia. He was previously senior research officer at BHP Billiton, an executive with an exploration company working in Argentina and a mining analyst at three Vancouver-based financial groups where he developed the Drill Tracker database in 2006. He holds a B.Sc. in Geology from the University of British Columbia and is registered as a Professional Geoscientist (P.Geo) with APEGBC.
Investing News Network websites or approved third-party tools use cookies. Please refer to the cookie policy for collected data, privacy and GDPR compliance. By continuing to browse the site, you agree to our use of cookies.