10 Largest Iron-producing Countries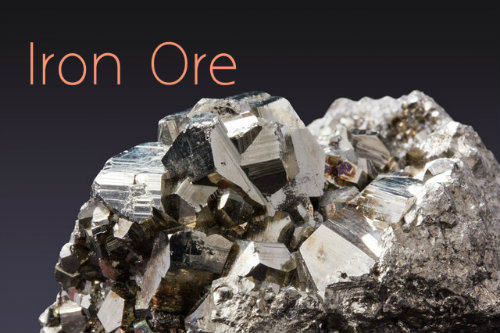 What is the largest iron-producing country? Australia took the top spot in 2017, but many other nations played a major role in production.
Iron ore prices have oscillated this year due to the US/China trade war. But ultimately, despite a mid-year dip, iron ore has resurfaced, showcasing strength in demand for the commodity.
As of mid-November, iron ore prices were sitting securely above US$70 per tonne, well up from just above US$60 seen midway through the year. Unsurprisingly, Chinese demand was instrumental in pushing prices back up once trade war news died down.
Now, as the saying goes, to get where you're going you must know where you've been — as such, it's interesting to look at the 10 top iron-producing countries of 2017. Here's an overview of those countries, with data provided by the US Geological Survey.
1. Australia
Usable ore: 880 million tonnes; iron content: 545 million tonnes
First on the list is Australia, the largest iron-producing country, whose usable iron ore output was 880 million tonnes in 2017. That's a higher number than was seen in 2016, and the increase was no doubt helped by Australia's leading iron ore producer, BHP (NYSE:BHP,ASX:BHP,LSE:BLT).
BHP reported an increase in production of 4 percent to sit at 231 million tonnes for its 2017 fiscal year. Its Jimblebar mine received a new primary crusher and boost in conveying capacity in the period. Fast forward to 2018, and BHP's iron ore production rose by another 3 percent for its 2018 fiscal year.
2. Brazil
Usable ore: 440 million tonnes; iron content: 280 million tonnes
The second-largest iron-producing country is Brazil, where usable iron ore production totaled 440 million tonnes in 2017. Vale (NYSE:VALE) achieved record production again in 2017, with 366.5 million tonnes of iron ore produced. Moving forward, Vale plans to shift its focus from production in Minas Gerais to higher-grade deposits in the north of the country. The shift is an attempt to bring down costs.
In 2018, Vale reported record-breaking quarterly iron ore production in Q2 despite a truck drivers' strike that occurred nationwide in May. Vale is forecasting production of 400 million tonnes in 2019.
3. China
Usable ore: 340 million tonnes; iron content: 210 million tonnes
China is the world's largest consumer of iron ore, despite being only the third-largest iron-producing country last year. Its production decreased slightly, dropping from 348 million tonnes in 2016 to 340 million tonnes in 2017. According to Statista, Chinese production has fallen since March of this year.
In 2017, the country's iron ore imports increased by roughly 5 percent compared with the previous year, reaching 1.08 billion tonnes. According to Market Realist, the increase was the result of capacity cuts. China's imports decreased by 0.7 percent in the first half of 2018, with the drop thought to be the result of the trade war. However, imports began to rebound in July.
4. India
Usable ore: 190 million tonnes; iron content: 120 million tonnes
Vedanta (LSE:VED) is a major iron ore producer in India, and has operations in Goa, Karnataka and Liberia. Its latest production year ended on March 31, 2018, and it reported 646,000 tonnes of pig iron production for the period. That represents a decrease, which the company claims was caused by "lower demand for low grade ore and mine closure pursuant to the Supreme Court judgement."
The judgment being referred to is the court's decision to instruct mines located in Goa to cease production. Affected by the verdict, Vedanta was reportedly considering laying off up to 2,000 people following the closure of its mine in the area.
However, in spite of this, iron ore production in India has fared well in 2018, surpassing 200 million tonnes, and it's estimated that output will increase by 5 percent from 2018 to 2019 on the back of demand from the auto and infrastructure industries.
5. Russia
Usable ore: 100 million tonnes; iron content: 60 million tonnes
Russia comes in as the fifth-largest iron-producing country in the world. Iron ore production in Russia essentially plateaued last year. Its mining and steel group, Metalloinvest, reported slightly lower output of the material compared to 2016. In total, it put out 40.3 million tons of iron ore, a decrease of 1 percent year-over-year. The company says the fall was due to a change in ore mixture.
6. South Africa
Usable ore: 68 million tonnes; iron content: 39 million tonnes
South Africa beat out Ukraine to become the sixth-largest iron-producing country in 2017. Kumba Iron Ore (JSE:KIO) is Africa's largest iron ore producer. The company's flagship mine, Sishen, accounts for approximately 69 percent of Kumba's total iron ore output.
Last year, the company produced 45 million tonnes of iron ore, representing an 8-percent increase, according to the company's 2017 report. Its latest report shows that for the first six months of 2018 production increased 3 percent year-on-year.
7. Ukraine
Usable ore: 63 million tonnes; iron content: 39 million tonnes
In 2017, usable iron ore production in Ukraine was 63 million tonnes, the same as the year prior. Black Iron (TSX:BKI) is a Canadian company exploring and developing its 100-percent-owned Shymanivske project in the country. After having nearly begun operating the mine in 2014, the company had to put the project on hold when Russia invaded Ukraine.
Now that the conflict has cooled, Black Iron has completed a new preliminary economic assessment, and is making advances towards construction. The study predicts 68-percent iron ore concentrate with Phase 1 putting out between 1 and 4 million tonnes each year, and Phase 2 putting out between 2 and 8 million tonnes per year. When the time comes, this will make an impact on the total national output, but for now the company is still securing land rights and financing for construction.
8. Canada
Usable ore: 47 million tonnes; iron content: 29 million tonnes
Coming in as the eighth-largest iron-producing country, Canada's production totaled 47 million tonnes of usable iron ore in 2017, the same as the previous year.
Champion Iron (TSX:CIA) is one company pursuing iron ore production in the country. It is focusing on developing iron ore resources in Quebec, and in 2016 it acquired the Bloom Lake mine. The completion of a feasibility study was announced in February 2017, and in June 2018 commercial production officially began. Bloom Lake produced 1.5 million tonnes of iron ore concentrate during the company's Q1 2019, which ended on June 30, 2018.
9. United States
Usable ore: 46 million tonnes; iron content: 29 million tonnes
Iron ore production in the US increased slightly in 2017. According to the US Geological Survey, the country produced 1.8 percent of the world's output. US production came from seven open-pit mines, including "a concentration and pelletizing plant, and two iron metallic plants, including one direct-reduced iron (DRI) plant and one hot-briquetted iron (HBI) plant, operated during the year to supply steelmaking raw materials."
The US imported mainly from Canada, at 47 percent, and Brazil, at 39 percent. There was no recorded domestic stockpiling of iron ore.
10. Iran
Usable ore: 35 million tonnes; iron content: 23 million tonnes
Finishing as the 10th-largest iron-producing country is Iran. As the Financial Tribune notes, the country is highly dependent on China. In fact, of the 35 million tonnes Iran produced last year, about 90 percent of that was exported to China. Iran is hoping to export between 20 and 25 million tons of steel by 2025.
According to Mehr News, Iran may be surpassing the US' output and taking ninth place on next year's 2018 list, as the country's output reportedly has risen 30 percent so far this year.
Don't forget to follow us @INN_Resource for real-time news updates!
Securities Disclosure: I, Amanda Kay, hold no direct investment interest in any company mentioned in this article.