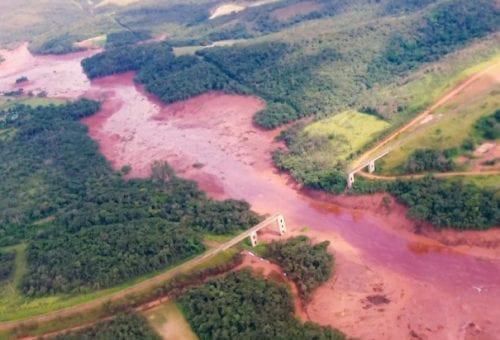 Experts approached by INN said that banning upstream tailings facilities was missing the point when it came to avoiding disasters like Brumadinho and Samarco — with design and oversight the primary concern.
On January 25 2019, over 300 people went missing when an upstream tailings dam near Brumadinho in Brazil collapsed, releasing 12 million cubic metres of iron-ore mining byproduct that buried nearby mining facilities.
Since then, its operator, Vale's (NYSE:VALE) share price on the New York and Sao Paulo stock exchanges has been well down — and rival companies have been going out of their way to declare their own facilities safe, and their oversight robust.
In response, the Agência Nacional de Mineração (ANM) announced that upstream tailings dams — which was the design of the dam that collapsed — are now banned in Brazil.
The new regulation published in the national gazette requires that all upstream dams in Brazil be decommissioned — or transitioned to alternative designs — by August 15, 2021, with technical plans for the decommissioning or alterations ready by August this year.
What are upstream tailings dams?
Gavin Mudd, associate professor of environmental engineering at RMIT University in Melbourne, explained to the Investing News Network (INN) what 'upstream' tailings facilities were.
"Upstream tailings dams basically use tailings to keep expanding the height of the wall — you're putting tailings on top of old tailings and that way you keep moving it inside the dam — upstream of the original starting wall," so the slurry held in the dam is used to support part of the dam itself as it's expanded.
Of tailings dam designs, Mudd said that upstream dams were the cheapest.
"(It is) absolutely the cheapest method — that's why it's used."
He said that despite the price, upstream dams can be perfectly safe.
"Upstream can be done properly, but you've got to be vigorous about the design… and you also then have to decommission it properly and make sure that it's stable."
Alternatives to upstream — 'downstream' and 'centreline', which also refer to the direction the dam wall moves in as it's added to, are "typically considered to be safer," said Mudd.
Mudd added that upstream was not inherently more dangerous,"the question is not just upstream versus downstream — it's how it's being managed."
Is banning upstream tailings the way to go?
On the Brazilian government's move to ban the use of upstream dams, Mudd said it was an "oversimplification" of the issue that doesn't allow for the condition that even downstream dams can still fail if you don't design, build, operate and decommission them properly.
"Another big thing in Brazil — and this isn't unique to Brazil — is that the regulatory infrastructure is not being resourced properly."
Speaking to INN, Lobo Tiggre of Louis James LLC said that the ban was an "entirely predictable — and predictably stupid — government response."
His focus on regulators was one of corruption, rather than resources available though.
"Banning a type of dam won't help if the problem is corruption. Inspectors of different types of waste disposal facilities can be bribed or pressured as well. Contractors can cut corners, building inspectors can take bribes."
A result of the disaster, said Tiggre, was that mining in Brazil and around the world would become more expensive.
"In time, this won't just make mining more expensive in Brazil, it will do so everywhere. Just as regulators and operators of nuclear power plants all around the world reviewed their practices in the wake of the Fukushima disaster, we should expect the same here.
"If miners are smart, they'll get in front of that and raise standards (and hence costs) in a rational and useful way," which he noted was already happening, with the International Council of Mining and Metals announcing on Tuesday (February 26) that it would be pushing to create an "international standard" for tailings dams, which Tiggre called "a good start."
"At the end of the day, any publicly traded company that doesn't take this very seriously is a huge risk for shareholders — and if such a company has a disaster that kills people, I would expect bankruptcy to be only the beginning of management's problems."
Mudd had mixed feelings on the Brazilian government's reaction to the disaster, saying that moves to crack down on the industry was expected.
"That's all politics – we get that. But by that same token, why wasn't this done years ago with Samarco? There is a risk that they're overreacting now to try and compensate for the fact that they failed to react promptly last time.
"It shouldn't just be about punitive damages and compensation and all that — it should be about making sure the engineering is done well, the regulatory oversight is there and well resourced and have the right expertise."
What are miners doing to avoid this happening again?
Since the disaster — and before the ban on upstream tailings was announced by the government — Vale said it would be decommissioning its 10 remaining upstream dams by 2022 at a cost of 5 billion real.
Rival company Freeport McMoRan's (NYSE:FCX) CEO Richard Adkerson was quoted by Reuters saying that his company has "invested significantly" in its own tailings facilities, and that Freeport's inspection system in place was robust enough to "mitigate the risk of catastrophic tailings failures."
BHP (ASX:BHP,NYSE:BHP,LSE:BLT) — which was Vale's joint-venture partner in the Samarco disaster — has also said this month that it has an "extreme focus on the safe management of tailings facilities."
CEO Andrew Mackenzie said that "[the company] will review all the lessons of this failure as they emerge and apply them to further upgrade the construction and operation of our dams."
Rio Tinto (ASX:RIO,LSE:RIO,NYSE:RIO) sought to get out ahead of questions, opening its books on its own tailings facilities — which include 21 upstream dams — to highlight its management programs.
The company's CEO, J-S Jacques, said that while it had already implemented a global standard for 'management of tailings and water storage facilities', it was again reviewing its processes and "assessing how we can further strengthen the existing external audit of facilities."
Mudd said that companies talking up their own management programs was well and good, but repeated that strong regulatory oversight was needed.
"There's a whole bunch of areas where we have large sectors with regulators that are well resourced and have lots of expertise…we just haven't done that for mining, we've largely let it be self-regulated.
What will happen to iron ore in 2019?
To start with, analysts predict that the banning of upstream facilities, the new regulations and the halting of mining operations at various Vale assets across Brazil in response to the disaster will be an immediate hit of 50 million tonnes of iron ore that's taken off the markets in 2019.
Analysts at Wood Mackenzie said that the new regulations in Brazil banning upstream facilities will affect more than just Vale — and more than just Vale's output.
"Our analysis indicates that, excluding Vale, close to 8 million tonnes of seaborne supply is at risk in 2019 with the new regulation."
For prices, iron ore would be staying at around US$85 a tonne — with room to go higher.
"Vale's losses of 50 million tonnes indicates an incentive price of US$85/tonne. A further 8 million tonnes of losses shifts the cost curve further to the left and suggests an incentive price of US$90 per tonne."
Don't forget to follow us @INN_Resource for real-time updates!
Securities Disclosure: I, Scott Tibballs, hold no direct investment interest in any company mentioned in this article.
Editorial Disclosure: The Investing News Network does not guarantee the accuracy or thoroughness of the information reported in the interviews it conducts. The opinions expressed in these interviews do not reflect the opinions of the Investing News Network and do not constitute investment advice. All readers are encouraged to perform their own due diligence.