Canada's Biggest Iron Mine Moves Closer to Reality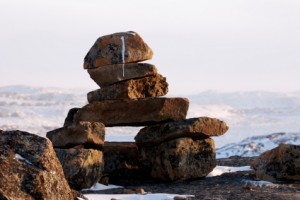 On December 3, Baffinland Iron Mines received approval from the Canadian federal government for its massive Mary River iron ore project in the Arctic.

The recommendation came after the Nunavut Impact Review Board (NIRB) gave Mary River a positive recommendation in September. The NIRB's report contains 182 terms and conditions aimed at reducing any negative environmental and socioeconomic effects the mine may have on the surrounding area. Baffinland had been working toward approval from the agency for about four years.
Mary River, located on Baffin Island, is 160 kilometers south of the community of Pond Inlet and 1,000 kilometers northwest of Iqaluit, the capital of the territory of Nunavut. If it goes ahead, it will become the country's largest iron mine, with 18 million metric tons of annual output over its 21-year life. In all, the necessary mining and transportation infrastructure is expected to cost about $4 billion.
Baffinland Iron Mines was a publicly traded company until early 2011, when it was acquired for $1.50 a share by ArcelorMittal (NYSE:MT), the world's leading steelmaker, and Nunavut Iron Ore Acquisition. Arcelor holds a 70 percent stake, while Nunavut Iron Ore owns the remaining 30 percent.
The company estimates that the deposit at Mary River contains 365 million metric tons of reserves, with plenty of potential to expand that through further exploration. The resource is a high-grade (greater than 64 percent iron) direct-shipping ore that requires only crushing and screening before being shipped.
The project's economic impact could be enormous. According to a recent article in The Globe and Mail, the mine could triple Nunavut's annual economic growth rate and provide some $5 billion in taxes and royalties to the sparsely populated territory over its lifetime.
Moving Mary River ahead a "big effort" for Baffinland
The nod from the federal government helps clear the way for the mine to move from environmental assessment to the regulatory stage.
"The next stage is the project certification workshops, which will conclude the approvals and put everything into a document," said Gregory Missal, Baffinland's vice president of corporate affairs, in a December 11 phone interview. "We expect that to happen in a few weeks."
The company is also working on a water license and two necessary land leases. In addition, it is negotiating an impact/benefit agreement with the Qikitani Inuit Association, which represents the Inuit in the area where the mine will be built.
"The permitting process is a big effort for our people," said Missal. "But we think we will have the necessary permits in place by the late second or early third quarter of next year."
A large part of the project's success hinges on getting the infrastructure right. Ore will be shipped out via a 150-kilometer railway that the company will build and operate between the mine and a yet-to-be-built deep-water port at Steensby Inlet. Once there, it will be processed and loaded onto freighters that will carry it to markets around the world.
Baffinland is still working out the details of the shipping, but it has determined that it will employ ice-breaking vessels that will be specifically designed for the purpose and will be capable of operating 12 months a year.
Of paramount importance to all stakeholders is making sure the mine makes maximum use of the skills of the local population. "We don't have specific numbers in mind, but we aim to employ as many local people as we can," said Missal. "There are skills that need to be developed. There are people in the area who have suitable experience, but this is not a 'papered' type of training. We plan to put a lot of effort into bringing that expertise up to date."
Volatile iron ore prices have weighed on other Canadian projects
Looming in the background are volatile iron ore prices, which plunged to a three-year low of $86.70 per metric ton in September on weaker demand from China. Iron ore has since recovered to around $124.
That has prompted some producers to delay and scale back projects. For example, Cliffs Natural Resources (NYSE:CLF), the largest producer of iron ore pellets in the US, has delayed an expansion at its Bloom Lake mine in Canada's Labrador Trough and has cut output at two US mines.
"That's more of a question for Arcelor, but prices do affect projects," said Missal. "Right now, we're mainly focused on getting everything done. Then it's up to the shareholders." If Baffinland gets the green light, construction could start in mid-2013, and the mine could produce its first ore in 2017.
Mary River's development would send a "strong signal"
Missal sees the Mary River project as going far beyond just one company; he feels it has the potential to attract more investment to Canada's growing iron ore sector.
"This is an important project," he said. "We're building in a part of Canada that has never seen this type of development before. The fact that the federal and territorial governments have signed off on it sends a pretty strong signal to other developers that this kind of project is possible here."
Securities Disclosure: I, Chad Fraser, hold no positions in any of the companies mentioned in this article.