Weekly Round-Up: Gold Price Takes a Dip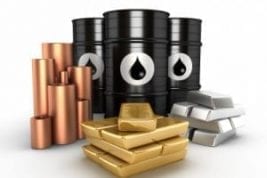 Gold prices started the week high at $1,368, but gradually dipped back down throughout the week in the lead up to the Bank of England's rate decision.
Gold prices started the week high at $1,368, but gradually dipped back down throughout the week in the lead up to the Bank of England's rate decision. Overall, gold was down 2.86 percent to $1,330.03 per ounce as of 12:25 p.m. EST.
Yet, prices for the yellow metal are still impressive in the wake of Britain's vote to leave the European Union back on June 23. Although the gold price has fallen back down since then, the metal is worth at least a quarter more an ounce than it was at the end of 2015.
With the Bank of England's surprising decision on Thursday not to raise the rates, analysts remain bullish for the yellow metal.
Market Watch reported that Christopher LaFemin and other analysts on Jefferies metals-and-mining research team predict gold could hit $1,400 an ounce this year, which is up from a previous prediction of $1,200 an ounce.
"We expect demand for gold as an uncorrelated asset in a diversified portfolio to remain at high levels for the foreseeable future," LaFemina told the publication.
On the silver price side of things, the white metal dropped 2.33 percent to trade at $20.87 per ounce as of 12:34 p.m. EST on Friday. That being said, silver has outperformed gold, rising more than 9 percent following Brexit.
According to Market Watch, analyst Chintan Karnani at Insignia Consultants said that, "silver is highly vulnerable to big short-term crash," adding that silver will need to trade above $20.90 or else fatigue will come in to play.
Still, Karnani said to Market Watch that they are advising silver traders to remain invested in silver, but not to invest any further at current prices.
"Silver will continue to outperform gold," he said in the publication.

Comex
copper prices
rose sharply, reaching its
highest level since early May
fueled by strong import data from China and a softer dollar.
As of 1:20 p.m. EST on July 15, the copper price rose 3.17 percent to $2.22 per pound. On the London Metal Exchange,
the metal briefly hit $5,000 per tonne
on Wednesday before dropping back down to $4,938.
Despite a dim fundamental outlook for the copper price,
new mine supply is on the way
.
Reuters
reported strong import data to top consumer China and investors expecting Beijing to bring the economy to new heights as additional reasons for the price surging. That being said, the
first six months of 2016 were strong
due to China's boost in imports.
"Overall, the June import data point to solid Chinese commodity demand," analysts at Capital Economics said in a note to clients,
as written by Nasdaq
.
Lastly, spot
oil
prices rose 2.78 percent for the week to reach $45.49 per barrel as of 1:40 p.m. EST on Friday. As per the
Wall Street Journal
, oil prices rose on Friday as Chinese economic data surged expectations for oil demand.
The Journal also reports that oil demand has been strong this year due to overall low prices globally.
However,
some analysts predict
the price will dip back down $40 a barrel as consumption falters.
Don't forget to follow us @INN_Resource for real-time news updates.
Securities Disclosure: I, Jocelyn Aspa, hold no direct investment interest in any company mentioned in this article. Related reading:
Weekly Round-Up: Gold Price Hits 2-Year High
Weekly Round-Up: Gold Boom
Weekly Round-Up: Gold Price Briefly Tops $1,300
Weekly Round-Up: Gold Boom
Weekly Round-Up: Gold Price Leaps on US Jobs Data
Weekly Round-Up: Gold Prices Dip on Increased Rate Hike Speculation
Weekly Round-Up: Gold Price Falls on Dollar Strength
Weekly Round-Up: Gold and Silver Keep Rising
Weekly Round-Up: Gold Rises on US Jobs Data