Copper Scrap Demand Bodes Well for Economy and Refined Copper
In the last couple of years, the combination of declining ore grades, labor disruptions and delayed or cancelled mine expansions has led to increased copper scrap consumption. Now, amid tightening supply, the price gap between scrap and refined copper is closing.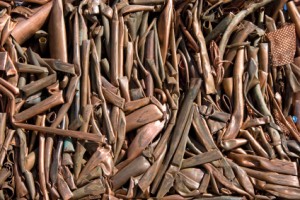 Earlier this month, New Jersey became the latest US state to attempt to stem the theft of metals by proposing legislation that would require scrap metal businesses to keep meticulous records of their purchases. Metal theft in the US increased 81 percent from 2008 to 2011, according to the National Insurance Crime Bureau.

"Theft of valuable scrap metals, particularly copper, has been a pervasive problem in our communities," Senator Shirley Turner, who sponsored the legislation, told the New Jersey Newsroom. The news agency notes that 20 US states passed legislation last year to crack down on metal theft.
This development is a reflection of the overall market. While data on copper scrap supply and demand is incomplete due to the lack of transparency in the market, it is clear that declining ore grades, labor disruptions and delays in expanding or bringing mines online have created a shortage of refined copper that has driven up copper scrap demand and prices. Because copper has a near-infinite life and can be used over and over again, scrap copper is important in that it helps meet demand that newly mined copper cannot keep up with.
Illustrating this importance is the fact that in 2010 and 2011, refined copper from scrap grew faster than refined copper from mining, according to a presentation given by Carlos Risopatron, head of environment and economics at the International Copper Study Group, at the Metal Bulletin Copper Recycling Conference in Brussels in June 2012.
Globally, the International Copper Study Group (ICGS) estimates that copper scrap — secondary refined production — was stable at about 18 percent of total refined copper production in 2011 and in the first 11 months of 2012, higher than the 17.1-percent share it held in 2009 and the 15.6-percent share it had in 2008.
The main driver of global scrap consumption is China. The country, which accounts for 40 percent of global copper consumption, imported a record 470,000 tons of copper scrap in November last year. Recent imports have been more lackluster, at 300,000 tons in February, according to Bloomberg. This decrease may reflect the shrinking price difference between scrap copper and refined copper from mining.
In February, the highest-quality copper scrap, called "bare bright," traded at as little as a 6-cent discount to COMEX copper for May delivery, according to Platts. That is down from a 14-cent discount in November. Similarly, the discount for birch/cliff scrap, lower-quality copper scrap that is favored by Chinese buyers, was "in the mid-30s range" in February, down from 42 cents in November.
Delays in copper mine production should also help demand for copper scrap. The ICSG estimates that production of refined copper from scrap should grow 11 percent this year compared to 6.5 percent growth in refined mine production.
Meanwhile, scrap metal dealers in the US have said demand appears to be improving and that orders from domestic and offshore consumers are enough to keep the flow of material steady, Recycling Today reported. Last month the publication reported that the improving US economy and growth in China could drive a "modest resurgence in price and demand through most of 2013," for copper and other non-ferrous scrap metals.
But what does that mean for the copper market and fundamental demand going forward? Developments in the scrap market may be a better indicator of the state of the economy than copper futures, according to financial advisors Brown Brothers Harriman.
"To the extent demand from financial investors contributes to a 'premium' in the price of copper futures, a positive feedback loop may ensue," Lewis Hart, vice president of Brown Brothers Harriman, said in an October commodity markets update. "That is, investment demand fuels a price rise, causing prices to diverge from supply and demand fundamentals. This generates attractive returns to early investors, in turn drawing more investment demand. Meanwhile, as scrap is a physical-only market, pure financial investors are unable to participate in the price discovery and formation, reducing the probability of reflexivity (or feedback loops) gripping the market."
In conclusion, Hart said that "if [scrap] discounts remain at current levels or begin to narrow, perhaps the scrap seer is divining a period of rising prices, and in turn robust global economic activity."
Moreover, if the price difference between scrap and refined copper from mines becomes negligible, consumers may choose the latter because of its higher quality, helping to drive refined copper prices higher.
Securities Disclosure: I, Ragnhild Kjetland, hold no investment interest in any company mentioned in this article.
Related reading: