Copper Investors Capitalize on Metal's Rally
Copper dropped on Tuesday, marking the first time in five days that the metal treaded into negative territory. Copper for delivery in three months fell $91, or 1.2 percent, to $7,419 a metric tonne at 10:07 a.m. on the LME.
By Leia Michele Toovey- Exclusive to Copper Investing News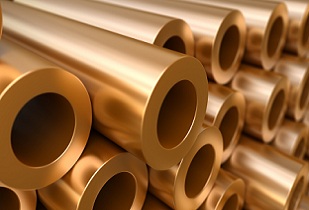 Copper dropped on Tuesday, marking the first time in five days that the metal treaded into negative territory. Copper for delivery in three months fell $91, or 1.2 percent, to $7,419 a metric tonne at 10:07 a.m. on the LME. The contract gained 3.8 percent last week and yesterday climbed as high as $7,510. Futures for September delivery dropped 0.9 percent to $3.3605 a pound on the Comex in New York.
The reason behind the red metal's retreat had nothing to do with underlying market fundamentals, instead, the metal was subject to a sell off as investors cashed in, hoping to make money on the metals recent winning streak. On Monday, the metal remained in positive territory, with U.S. copper futures settling at their highest level since late April. Copper ignored reports that Chinese manufacturing shrank in July for the first time since the global downturn in March 2009; and instead focused on better than expected strength in western economies. A report released early on Monday showed better than anticipated manufacturing data out of the United States. Dollar-denominated copper was given extra impetus as the greenback fell to a three-month low.
The metal's 14-day relative strength index, a gauge of whether a commodity is overbought or oversold, yesterday rose above 71. Some analysts and investors who study technical charts view an RSI above 70 as a signal that prices may be poised to retreat.
As evidence of Monday's global economic sentiment, safe haven gold saw some midday losses as investors chose risky assets over the flight to safety. Gold for October delivery settled up $1.50 to $1,185.40 an ounce on the Comex division of the New York Mercantile Exchange. The gold price Monday has traded as high as $1,193.90 and as low as $1,176.70.
Copper may rise to $7,615 a metric tonne within two weeks after breaking through its 200-day moving average, according to technical analysis by Commerzbank AG. London Metal Exchange copper stocks fell by 425 tonnes to 413,075 tonnes on Monday. COMEX copper inventories lost 102 short tons to touch 100, 727 short tonnes as of Friday.
Company News
On Tuesday, Swiss miner Xstrata (NYSE: XTA) reported a more than threefold increase in first half net profit- as rising prices and increased sales volumes across many of its commodities such as copper, ferrochrome, zinc and nickel. Net profit was $2.29 billion for the six months to June 30, compared with $690 million a year earlier, when results were impacted by a $219 million exceptional charge. Revenue rose 43percent to $13.61 billion from $9.54 billion. The company announced on Tuesday that it has approved the development of the $4.2 billion Las Bambas copper project in southern Peru and the $1.1 billion development of the Ulan West underground thermal coal mine in New South Wales, Australia.
Vale (NYSE:VALE) is moving closer towards its goal of becoming one of the world's largest copper producers. The company announced this week, its plans to buy Brazilian copper producer Paranapanema for $1.1 billion. The offer is subject to the purchase of at least 50 percent plus one of the company's voting shares, according to Vale. Vale said this month it plans to invest $400 million with African Rainbow Minerals Ltd. to develop a new copper mine at Konkola North, northern Zambia. Paranapanema produces about 220,000 tonnes of copper cathodes per year at its Camacari smelter, in Brazil's northeastern Bahia state, with an expansion project expected to take that to 277,000 tonnes. The company also produces 78,000 tonnes of semi- processed products such as sheet, tubes and bars at plants in Sao Paulo and Espirito Santo states.
Freeport McMoRan Copper & Gold Inc. (NYSE: FCX), the world's second-largest copper producer, may expand process capacity at its El Abra mine in northern Chile. Freeport may build a copper mill in partnership with Codelco, Chile's state-owned copper company, Chief Executive Officer Richard Adkerson said yesterday on an earnings conference call. Codelco, the world's largest copper miner, holds 49 percent of the project and Freeport owns the rest. Freeport is in the midst of planning its strategy to increase copper output and operations. The company is reportedly looking at projects in South America, North America, Africa and Asia to boost copper production.
With help from Assistant Editor Vivien Diniz