The Future of Phosphate is in Morocco
New investments and evolving trade agreements are helping Morocco become a global leader in phosphate ore and fertilizer production. The implications for industry players internationally could be game changing.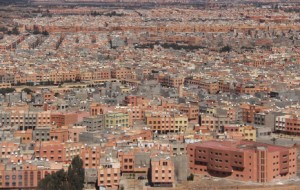 The dusty, sun-parched deserts of Central and Southwestern Morocco do not bring agricultural development to mind, but Morocco's Office Chérifien des Phosphates (OCP) is playing a growing role in that sector.

Already the world's largest exporter of phosphate rock ore, Morocco is a growing player in the global phosphate industry. Its phosphate production is currently around 30 million metric tons, but is set to rise to about 55 million metric tons by 2020 following government investment.
OCP, which is 94-percent owned by the Moroccan government, holds a disproportionate share of global phosphate reserves (85 percent, or 50 billion metric tons) and has committed to investing upwards of $5 billion over the next decade to develop the infrastructure for new mines and wash plants.
Beyond expanding its phosphate rock output, the Moroccan government is making significant investments to shift the industry toward beneficiation and fertilizer production.
With demand for phosphate rising globally by 2.3 percent a year, OCP is looking to boost its 30-percent share in global exports while also capturing new demand as it comes online. To do so, it is investing in infrastructure, making legal reforms and attempting to secure international investment and trade.
Focus shifts to fertilizer production
OCP is aiming to become a world leader in phosphate fertilizer production, and is beefing up infrastructure investments with the intent of beneficiating and pelleting its phosphate reserves locally.
In 2011, Denmark-based construction firm FLSmidth signed a contract worth 90 million euros to help develop OCP's Jorf Lasfar phosphate terminal, which is located 20 kilometers south of Casablanca. At that port, OCP will develop the world's largest phosphate flash drying system.
In support of the port development program, Morocco also secured an African Development Bank loan worth $250 million in May of this year. The loan will further support the beneficiation process, which will include "combustion systems, pelletizing, an air pollution control system including a limestone based flue gas desulphurisation system and a complete control package," according to FLSmidth.
Alongside the infrastructural development, the Moroccan government has been engaged with European, Middle Eastern and North American governments in bilateral and multilateral trade agreement negotiations aimed at ensuring market access for its evolving range of mineral and agricultural products.
Several trade agreements, including the Agadir Agreement with Tunisia, Egypt and Jordan; a Free Trade Agreement with the US; and the Euro-Mediterranean Agreement, are setting the groundwork for greater trade and investment within the country's mining industry, which was worth US$3.1 billion from 2006 to 2010.
Canada is also currently in engaged in negotiations with Morocco to boost trade between the countries. The two countries recently concluded a third round of negotiations on a free-trade agreement aimed at allowing Canadian businesses to enter Africa's fifth-largest market.
Additional reforms are also taking root through upcoming revisions to Morocco's 60-year-old mining laws; the changes are intended to bolster international investment and increase transparency. However, in June Reuters reported that the phosphates sector will not be included in the legal reforms.
Industry implications of Moroccan rise
The global impacts of Morocco's evolving phosphate beneficiation capacity are not yet clear.
PotashCorp of Saskatchewan (TSX:POT) believes access to raw materials is likely to decline because of these developments.
"As OCP brings on additional granulation capacity, allowing increased conversion of raw materials into DAP and MAP, its exports of phosphate raw materials are expected to decline," Agrimoney quoted the company as saying last year.
That could cause problems for companies with existing phosphate beneficiation infrastructure and diminishing access to raw phosphate rock ore.
In September 2011, Canada-based Agrium (TSX:AGU) revealed plans to begin importing phosphate rock from OCP in 2013 after more than a decade of relying on its own mine.
While continued development of the 300 to 400 years of phosphate rock resources currently available to OCP will likely lead to a gross supply of material for export to companies like Agrium, phosphate prices will increasingly take their cue from Moroccan supply.
That could be a significant concern from a political stability point of view. While the Moroccan king has granted greater levels of authority to political parties in recent years, inequality and calls for autonomy continue to drive discontent and instability in the country.
Last year, thousands of OCP workers walked off the job and blockaded railway lines used to transport phosphate from the town of Youssoufia to chemical plants in the city of Safi over recent layoffs and wage complaints.
While the OCP rolled out massive youth employment campaign following the protests, unemployment and calls for autonomy will be factors to watch in the coming years.
Securities Disclosure: I, James Wellstead, hold no direct investment interest in any company mentioned in this article.