A Look at Phosphate in Brazil
Here is a look at several phosphate projects in Brazil.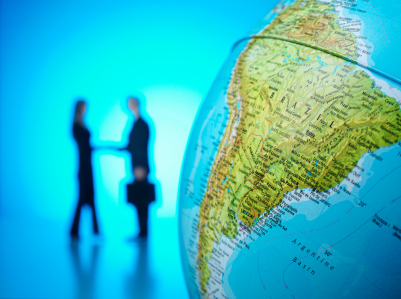 As Chris Berry wrote in a January note, "The phosphate story is the story of security of supply because much of global phosphate supply originates from geopolitically unstable regions in the world." Added to that that is the fact that only a handful of fertilizer companies actually produce phosphate, making the lack of supply also a concern for a growing global population.
Brazil, one of the fastest growing agricultural sectors, has the unfortunate burden of having to import the bulk of its fertilizer. Over the last five months, Brazilian fertilizer imports have climbed to a record levels, according to Bloomberg, who explained that the country is scrambling to take advantage of the current low pricing environment.
The Latin American country imports roughly two-thirds of its fertilizer needs from the US, Morocco and Russia. More specifically, Brazil imports about 90% of its potash and 50% of its phosphate.
As its agriculture sector continued to expand, so is Brazil's demand for fertilizers. However, with such a significant portion of its fertilizers coming from imports, farmers are having to pay more and more to get the nutrients they need for their crops.
Luckily, exploration and development within the country's borders has indicated that the Brazil does in fact have a fair amount of both potash and phosphate reserves. With a government interested in sourcing domestic fertilizers, it is no wonder that alongside the developing potash projects in Brazil, there are a number of resource companies also working on developing phosphate projects.
Here is a look at several phosphate projects in Brazil.
The largest integrated phosphate producer in Brazil is AngloAmerican (LSE:ALL). The company has operations that range from mining to beneficiation to the production of P2O5 concentrate, and finally to processing into intermediate and final products.
Another company operating in Brazil, MbAC Fertilizer (TSX:MBC), is looking to be a significant "integrated producer of phosphate fertilizers and related products by leveraging a high-quality asset base." The company's assets include several Brazil-based phosphate project and a single super phosphate production facility. MbAC is continuing to look for new opportunities in Brazil and Latin America, but its main projects are the Itafós Arraias SSP Operations, which are located in the state of Tocantins, in Brazil. Currently, production facility includes a mill, a beneficiation plant and a sulphuric acid plant as well as an SSP plant and a granulation plant. The facility has a rough production capacity of 500,000 tonnes of SSP per year.
MbAC's primary exploration and development property is the Santana phosphate project seated in the south eastern part of the Para State in Northern Brazil. Santana has a defined resource that indicated it is among the highest grade phosphate in Brazil. The project has a proven and probable mineral reserve of 45,481 thousand tonnes at a grading of 12.86 percent P2O5.
Working on a project located in the Cerrado region of Brazil, DuSolo Fertilizers (TSXV:DSF) is also looking to develop a fully integrated process to produce phosphate. The company has several projects, the flagship of which is the Bomfim Agro-mineral project, in which it owns a 75 percent interest. DuSolo also has the option to increase its interest in Bomfim to 100 percent by meeting certain conditions. The project is located near MbAC's Itafós Arraias project.
In mid-May, DuSolo announced results from a recent pit opening campaign on the Tataco target at Bomfim. The new discovery intersected, from surface, 4.00 meters at 10.43% P2O5 including 2 meters at 14.92% P2O5 and remains open at depth. PIT-TT-04 intersected from surface, 6.00 meters at 15.08% P2O5 including 4.00 meters at 20.05% P2O5 which also remains open at depth.
Other projects held by DuSolo include the Samba and Ruth projects in the state of Piauí.
Focused in the southern region of Brazil, ASX-listed Aguia Resources (ASX:AGR) holds three phosphate projects and one potash project in the area. The company is, however, focused on its Rio Grande projects, Tres Estradas and Joca Tavares, in the southern state of Rio Grande du Sol. Aguia recently reported results of the third stage of beneficiation test work at Tres Estradas. The work was commissioned in order to optimize the crushing and grinding process with the intention of minimizing fines and slimes, as well as to increase global recoveries. Oxidized carbonatite returned concentrates grading up to 38.4% P2O5, with the best test returning 58.4% global recovery with a concentrate grading at 30.8% P2O5.
The encouraging results provided Aguia with a solid dataset that will support further pilot scale testing.
Have we missed you?
With so many companies operating in Brazil, we are not able to list them all. Please let us know if there are any phosphate companies in Brazil that we have missed.
Securities Disclosure: I, Vivien Diniz, hold no investment interest in any of the companies mentioned.