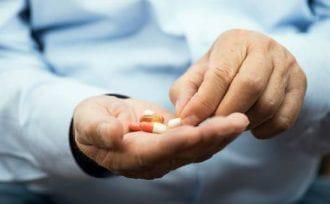 Express Scripts released the name of drugs excluded from its formulary drug list the National Preferred Formulary.
One of the top pharmacy benefit managers in the US will cut 64 drugs from their list of preferred drugs by 2018, causing disruption in the marketplace for companies who are seeing their products included or excluded in the list.
The National Preferred Formulary (NPF) list was released on Monday (July 31) by Express Scripts (NASDAQ:ESRX), a holding company in the pharmaceutical space that provides integrated pharmacy benefit management services and distributes a wide spectrum of biopharmaceutical products.
Express Scripts detailed this formulary managements can bring down drug prices down by increasing generic utilization. Now, the company said that trend has been backed up with the formulary wave in which "pharmacy management can deliver greater value to employers, health plans and other plan sponsors who pay the bulk of the pharmacy bill in the United States."

Formulary drug lists set to take on drug pricing
NPF is created with the goal to encourage competition between drug markers and potentially fomenting lower drug prices for patients. According to Express Scripts, employees who use the NPF in 2018 will save an additional $2.5 billion.
"For the first time ever, in 2018, brand drug manufacturers must provide significant savings to be included on the NPF if there are clinically equivalent, lower cost options available," Express Scripts said in the announcement. "For the 2018 NPF, we focused on high-spend multi-source brand drugs and excluded 46."
Despite these changes, Express Scripts pointed out the majority–roughly 99.22 percent–of their patients would experience changes to their drug coverage and even offers options for patients who may require drugs outside this list.
With next year's additions, the total of drug exclusions on the NPF will go up to 159. The complete list of all excluded products will be published in September.
Companies facing consequences following the reveal from Express Scripts
According to BioPharmaDIVE, among some of the companies with the biggest implications in their stock due to the announcement include: Novartis (NYSE:NVS), Amgen (NASDAQ:AMGN), Eli Lilly (NYSE:LLY), Radius Health (NASDAQ:RDUS), Valeant Pharmaceuticals (NYSE:VRX; TSX:VRX) and Allergant (NYSE:AGN)
Radius Health's osteoporosis Tymlos drug benefited because its most direct rival, Lilly's Forteo, was excluded from the list. Radius' stock price opened on Monday at $43.99 and closed the day at $44.03–a 4.51 percent increase over the day. Lilly's share price, on the other hand, decreased 0.52 percent to close at $82.66 on Monday.
Despite a US Food and Drug Administration (FDA) approval for Synergy's constipation drug Trulance, it didn't make the cut. Instead, Allergan's Linzess received the nod.
Don't forget to follow @INN_LifeScience for real-time updates!
Securities Disclosure: I, Bryan Mc Govern, hold no direct investment interest in any company mentioned in this article.