Top 5 Genetics News Stories of 2017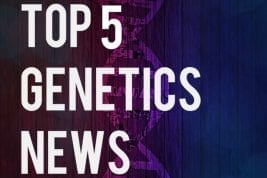 Who made the headlines this year? INN has compiled a list of the top genetics news of 2017.
Genetics stocks have had their ups and downs in the last decade. After a series of industry challenges, there seems to be an injection in excitement with the arrival of CRISPR-Cas9 technology. The gene editing innovation had a lot of investors taking a second look at the sector.
As genetics companies get a boost, we take a look back at the top genetics news of the year. What were the latest developments? Who were the key players?
Here at the Investing News Network (INN), we've compiled a list of our top five most read genetics news stories of 2017.

The most popular genetics news story this year was about the new trials ahead of Mesoblast's Mesenchymal Precursor Cell (MPC) therapy. The trials were set to determine whether the cell therapy could strengthen heart muscles after being weaned from medical heart devices such as pacemakers or artificial hearts. Many patients facing heart failure are not implanted with these devices due to risk of complications or fatality. So, Mesoblast is aiming to provide patients with an alternative.
How does this trial stack up against the last, and what are its prospects looking ahead? Continue reading to find out.
Earlier in 2017, Canadian lawmakers passed the Genetic Non-Discrimination Act. With so much development in the genetics space, many see this bill as a long time coming. There can be many medical benefits of genetic screening, including identifying gene markers related to illnesses. However, it can also make patients vulnerable to discrimination by insurance providers or even employers. Under the new law, mandatory genetic testing will be made illegal.
No surprise here, insurance companies oppose the bill and have suggested that premiums will raise. What may have come as a surprise is that Prime Minister Justin Trudeau opposed the bill, citing that elements of it were unconstitutional. How come? Read on to find out why.
Third on our most read genetics news story is the acquisition of vivoPharm by Cancer Genetics (CGI). VivoPharm specializes in development, discovery and immuno-oncology models. The acquisition cost CGI $12 million and will position them to expand their biopharma strategy. Immuno-oncology therapies are not just a trend in genetics, they are an extremely innovative and exciting sector in cancer treatment.
How has the market reacted to CGI's new asset? Continue reading to see how VivoPharm has done for CGI's share price.
The US Food and Drug Administration (FDA) cracked down on US Stem Cell in August this year, accusing them of exploiting patients. The company was issued a warning because they allegedly went ahead using their biological products despite lacking a full review from the agency. The FDA inspected one of the company's facilities and found evidence that US Stem Cell had been treating patients. The FDA warned that the company had been misleading "vulnerable patients into believing they are being given safe, effective treatments that are in full compliance with the law".
What will this mean for US Stem Cell and its respective shareholders? Continue reading to find our investor takeaway.
Last but not least in our top genetics news is the story of JLABS, the Johnson & Johnson Inspiration Labs. These laboratories provide a space where companies have the ability to investigate their genetic research on their own. JLABS has provided the infrastructure for startups to incubate with offices and lab space. In the Toronto location, there are 40 companies, of which two are genetics research firms: Ranomics, and ZOETICS Pharmaceuticals.
Ranomics is developing rapid and cost effective genetic alteration. They are working on a database of genetic variants in order to help doctors diagnose hereditary cancers related to genes markers.
ZOETICS Pharmaceuticals on the other hand is working on improving the success of gene therapy, specifically with immune responses.
What were your top genetics news stories of 2017? Which genetics companies are you excited about? Let us know in the comments below.
Don't forget to follow us @INN_Technology for real-time news updates!
Securities Disclosure: I, Amanda Kay, currently hold no investment in any of the companies mentioned in this article.