– Lexaria recently announced favorable data on its first animal study, as well as the commencement of its first human clinical study, under its 2021 hypertension R&D program
Kelowna, British Columbia TheNewswire – May 7, 2021 Lexaria Bioscience Corp. (Nasdaq:LEXX) (Nasdaq:LEXXW) (CSE:LXX) (CNSX:LXX.CN) (the "Company" or "Lexaria"), a global innovator in drug delivery platforms, today announced that CEO Chris Bunka is presenting at the Benzinga Global Small Cap Conference to be held on May 13-14, 2021. Complimentary investor registration can be accessed through the conference link below.
Presentation date: Thursday, May 13, 2021
Presentation time: 3:50 p.m. ET / 12:50 p.m. PT
Event registration link: Benzinga Global Small Cap Conference
YouTube link:
Mr. Bunka will provide an overview of the Company, including its DehydraTECH™ drug delivery technology that improves the way active pharmaceutical ingredients enter the bloodstream. He will also discuss Lexaria's applied R&D programs that are evaluating the delivery effectiveness of DehydraTECH-processed cannabidiol (CBD) for hypertension, antiviral applications for SARS diseases and other infectious diseases, and multiple new markets, as well as provide updates on the progress of these studies.
The Benzinga Global Small Cap Conference, a showcase for small-cap investing, will be held in an entirely virtual setting. Designed to bridge the gap between small-cap companies, investors and traders, the Conference will enable executive leadership of companies to network and communicate with a broad and diverse global investor audience.
About Lexaria Bioscience Corp.
Lexaria Bioscience Corp.'s proprietary drug delivery technology, DehydraTECH™, improves the way active pharmaceutical ingredients (APIs) enter the bloodstream by promoting healthier oral ingestion methods and increasing the effectiveness of fat-soluble active molecules, thereby lowering overall dosing. The Company's technology can be applied to many different ingestible product formats, including foods, beverages, oral suspensions, tablets, and capsules. DehydraTECH has repeatedly demonstrated since 2016 with cannabinoids and nicotine the ability to increase bio-absorption by up to 5-10x, reduce time of onset from 1 – 2 hours to minutes, and mask unwanted tastes; and is planned to be further evaluated for orally administered bioactive molecules, including anti-virals, cannabinoids, vitamins, non-steroidal anti-inflammatory drugs (NSAIDs), and nicotine. Lexaria has licensed DehydraTECH to multiple companies including a world-leading tobacco producer for the development of smokeless, oral-based nicotine products and for use in industries that produce cannabinoid beverages, edibles, and oral products. Lexaria operates a licensed in-house research laboratory and holds a robust intellectual property portfolio with 18 patents granted and approximately 60 patents pending worldwide. For more information, please visit www.lexariabioscience.com .
CAUTION REGARDING FORWARD-LOOKING STATEMENTS
This press release includes forward-looking statements. Statements as such term is defined under applicable securities laws. These statements may be identified by words such as "anticipate," "if," "believe," "plan," "estimate," "expect," "intend," "may," "could," "should," "will," and other similar expressions. Such forward-looking statements in this press release include, but are not limited to, statements by the company relating the Company's ability to carry out research initiatives, receive regulatory approvals or grants or experience positive effects or results from any research or study. Such forward-looking statements are estimates reflecting the Company's best judgment based upon current information and involve a number of risks and uncertainties, and there can be no assurance that the Company will actually achieve the plans, intentions, or expectations disclosed in these forward-looking statements.  As such, you should not place undue reliance on these forward-looking statements. Factors which could cause actual results to differ materially from those estimated by the Company include, but are not limited to, government regulation and regulatory approvals, managing and maintaining growth, the effect of adverse publicity, litigation, competition, scientific discovery, the patent application and approval process, potential adverse effects arising from the testing or use of products utilizing the DehydraTECH technology, the Company's ability to maintain existing collaborations and realize the benefits thereof, delays or cancellations of planned R&D that could occur related to pandemics, and other factors which may be identified from time to time in the Company's public announcements and periodic filings with the US Securities and Exchange Commission on EDGAR. There is no assurance that any of Lexaria's postulated uses, benefits, or advantages for the patented and patent-pending technology will in fact be realized in any manner or in any part. No statement herein has been evaluated by the Food and Drug Administration (FDA).  Lexaria-associated products are not intended to diagnose, treat, cure or prevent any disease. Any forward-looking statements contained in this release speak only as of the date hereof, and the Company expressly disclaims any obligation to update any forward-looking statements contained herein, whether as a result of any new information, future events, changed circumstances or otherwise, except as otherwise required by law.
The CSE has not reviewed and does not accept responsibility for the adequacy or accuracy of this release.
INVESTOR CONTACT:
Copyright (c) 2021 TheNewswire – All rights reserved.
News Provided by TheNewsWire via QuoteMedia
Request an Investor Kit:
Lexaria Bioscience
Keep reading...
Show less
Harvest Health & Recreation Inc. ("Harvest") ( CSE: HARV OTCQX: HRVSF ), a vertically integrated cannabis company and multi-state operator in the U.S., today announced a settlement agreement has been reached for Agrimed Industries of PA, LLC ("AGRiMED"). The membership interests of AGRiMED are owned by Harvest Health and Recreation Inc.
On May 6, 2021 , the Pennsylvania Department of Health, Office of Medical Marijuana and AGRiMED reached a settlement agreement concerning the operation of AGRiMED, a medical marijuana grower processor facility in Southwestern Pennsylvania.  The settlement agreement allows for the conditional renewal of AGRiMED's permit and will allow for the increased production of medical marijuana in Southwestern Pennsylvania , which will help serve patients across the Commonwealth.
About Harvest Health & Recreation Inc.
Headquartered in Tempe, Arizona , Harvest Health & Recreation Inc. is a vertically integrated cannabis company and multi-state operator. Since 2011, Harvest has been committed to expanding its retail and wholesale presence throughout the U.S., acquiring, manufacturing, and selling cannabis products for patients and consumers in addition to providing services to retail dispensaries. Through organic license wins, service agreements, and targeted acquisitions, Harvest has assembled an operational footprint spanning multiple states in the U.S. Harvest's mission is to improve lives through the goodness of cannabis. We hope you'll join us on our journey: https://harvesthoc.com
Facebook: @HarvestHOC
Instagram: @HarvestHOC
Twitter: @HarvestHOC
Forward-looking Statements
This press release may contain "forward-looking statements" regarding Harvest's business strategies or prospects, which may be identified by the use of words such as, "may", "would", "could", "will", "likely", "expect", "anticipate", "believe, "intend", "plan", "forecast", "project", "estimate", "outlook" and other similar expressions. Such statements include, but are not limited to, the following: our ability to resolve existing and future litigation, regulatory actions and arbitrations on acceptable terms; our growth potential in our core  cannabis markets and the sustainability of such growth; our ability to successfully and timely execute our business and operational plans; the development of favorable federal and state cannabis regulatory frameworks in the United States applicable to multi-state cannabis operators; and adverse changes in the public perception of cannabis.  Forward-looking statements are not a guarantee of future performance and are based upon a number of estimates and assumptions of management in light of management's experience and perception of trends, current conditions and expected developments, as well as other factors that management believes to be relevant and reasonable in the circumstances, including assumptions in respect of current and future market conditions. Actual results, performance or achievement could differ materially from that expressed in, or implied­.
View original content to download multimedia: http://www.prnewswire.com/news-releases/harvest-announces-settlement-with-pennsylvania-department-of-health-regarding-grower-processor-permittee-agrimed-industries-llc-301286364.html
SOURCE Harvest Health & Recreation Inc.
View original content to download multimedia: http://www.newswire.ca/en/releases/archive/May2021/07/c1095.html
News Provided by Canada Newswire via QuoteMedia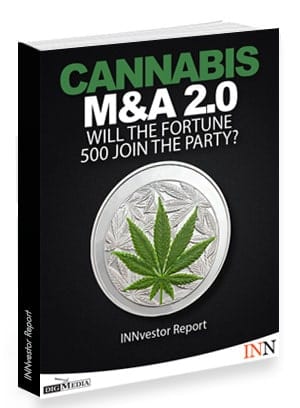 Cannabis - Will The Fortune 500 Join The Party?
Our Exclusive FREE Report Contains Information You NEED To Know About Cannabis Stock Investing!
Keep reading...
Show less