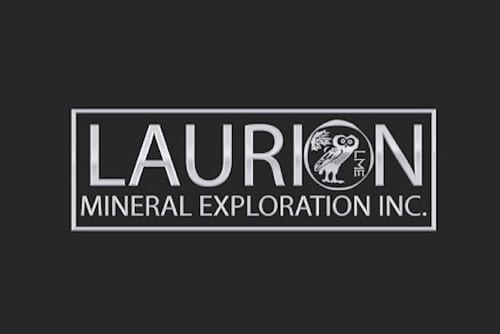 Laurion Mineral Exploration
Developing Ontario's Ishkoday Gold Project
Overview
Laurion Mineral Exploration (TSXV:LME, OTCPINK: LMEFF) is an exploration and development company solely focused on the Ishkoday gold project located in Ontario. The company's flagship 'brownfield' Ishkoday gold-polymetallic project is located 220 kilometers northeast of Thunder Bay, Ontario. The 47-square kilometer Ishkoday project is wholly-owned by Laurion Mineral Exploration, which acquired the property in 2007.
Laurion Mineral Exploration' Ishkoday project is the home of two past-producing shafts, Sturgeon River and Brenbar, which returned grades of 17.0 g/t gold and 20.0 g/t gold respectively. The Quebec Sturgeon River gold mine has produced 73,322 ounces of gold and 15,929 ounces of silver to date. Acquired in December of 2019, the Brenbar project encompasses 2.55 square kilometers of land contiguous with the Ishkoday project. The property hosts the past-producing Brenbar mine which generated 135 tonnes between 1941 and 1949.
The Ishkoday property also contains a considerable stockpile of surface material. According to a 2013 NI 43-101 Technical Report, the stockpile is estimated to contain a total of 281,571 tonnes grading at 1.14 g/t gold for a total of 10,327 contained ounces of gold. Moving forward, Laurion Mineral Exploration intends to monetize the stockpile as it continues to explore the property.
Laurion Mineral Exploration is tightly-held by its shareholders, with over 50 percent of investors represented by friends and family. The company believes this shareholder base reflects the shareholder confidence in the project, which enables the company to focus on the development of the project while optimizing the financial value of the company. "We have had steady support and investment from family and friends, who now hold 58.4 percent of Laurion. Obviously that means there's a relatively small float out there, which gives us great stability. I feel that that this enables me to focus on exactly what I'm supposed to do and develop the project," said Laurion CEO Cynthia Le Sueur-Aquin during an interview with the Investing News Network at PDAC.
Laurion Mineral Exploration's Company Highlights
Developing the high-grade Ishkoday gold polymetallic project north east of Thunder Bay, Ontario
Expanding on the past-producing high-grade Quebec Sturgeon River gold mine and Brenbar project
Project-wide exploration database at Ishkoday includes over 21,800 surface samples, 7 geophysics databases and 307 diamond drill holes totaling 48,879 meters
Developing an open-pit model based on near-surface mineralization of gold-silver and gold-zinc-rich polymetallic components
Ishkoday property includes two past-producing shafts with long-term mine life potential: Sturgeon River at 17.0 g/t gold and Brenbar at 20 g/t gold.
Working to monetize high-grade ore-rich stockpiles in addition to the 85,000 ounces reportedly remaining in existing mine drifts
Stockpile includes approximately 10,327 contained ounces of gold
Approximately 58.4 percent of shareholders are friends and family members
Laurion Mineral Exploration's Ishkoday Project
Laurion Mineral Exploration's flagship polymetallic Ishkoday project is located outside of Thunder Bay, Ontario in the mining-friendly region of Greenstone. The 47-square kilometer property is home to structurally-hosted precious metals and base metals mineralization systems that extend for thousands of meters in length across a northeast-southwest trend defined over the property's target area.
Laurion Mineral Exploration's project-wide exploration database includes 21,800 surface samples, 307 diamond drill holes totaling 48,879 meters, geological mapping, assays, geochemical analysis and ground geophysics. The Ishkoday property hosts the former Quebec Sturgeon River Gold Mine, which produced 73,322 ounces of gold and 15,929 ounces of silver between 1936 and 1942. The Brenbar project encompasses 2.55 square kilometers of land contiguous with the Ishkoday project. The property hosts the past-producing Brenbar Mine which generated 135 tonnes between 1941 and 1949.
Laurion Mineral Exploration first acquired the Ishkoday project from St. Andrew Goldfields Ltd. in 2007 and soon after completed an environmental due diligence report. In 2010, Laurion retained GeoVector in order to design the Ishkoday exploration program. Surface showings at the former site of the Quebec Sturgeon River Gold Mine returned 95 g/t gold and 51.6 g/t gold over a 30cm vein width, confirming the historically reported higher gold grade nature of this vein at the surface.
As part of the 2010 exploration program, GeoVector also completed a project-wide mapping and sampling program which resulted in the discovery of two new high-grade gold mineralization zones, Tala and Asha. In 2011, Laurion acquired a 100 percent interest in an additional 13 mining claims totaling 179 units known as the Ishkoday north claim block.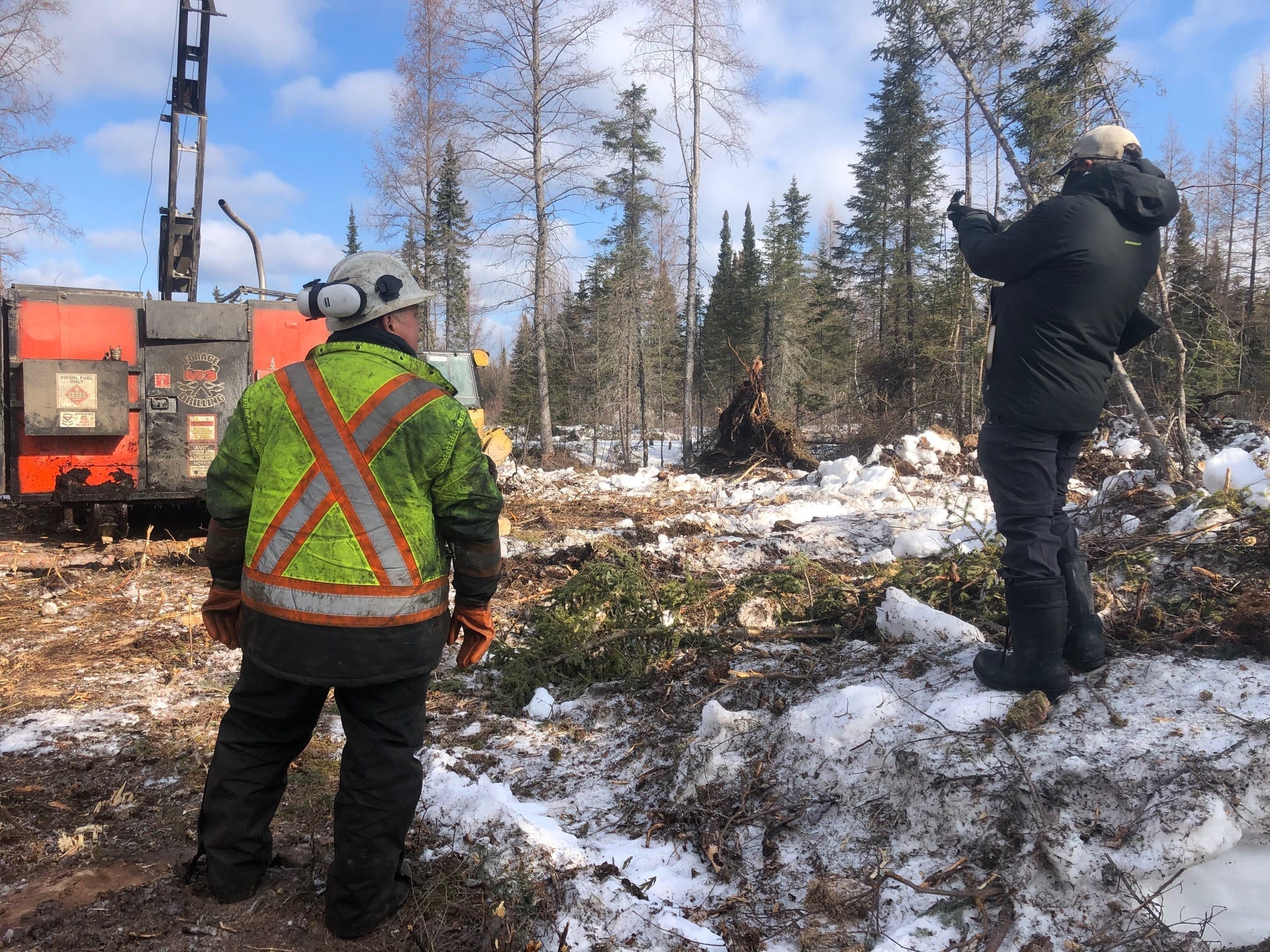 Surface Stockpile
In 2013 GeoVector completed a NI 43-101 mineral resource estimate on the stockpile and tailings area associated with the Quebec Sturgeon River gold mine. The estimate for the stockpile returned 144,070 tonnes grading 1.59 g/t gold for 7,383 contained ounces of gold in the indicated category. The resource estimate for the tailings returned 137,501 tonnes grading 1.67 g/t gold for 2,944 contained ounces of gold in the indicated category. The total indicated mineral resource for both the stockpile and tailings totaled 281,571 tonnes grading 1.14 g/t gold for 10,327 contained ounces of gold.
Metallurgical tests have indicated an 87 percent gold recovery rate in gravity test work from the mine waste pile and a 96 percent recovery rate of gold in cyanide leach test work from the tailings. Moving forward, Laurion Mineral Exploration intends to complete the necessary economic studies to enable the optimal processing of the surface stockpile.
Ishkoday Field Exploration Program
Laurion Mineral Exploration launched a field campaign in May of 2019 consisting of mechanized outcrop stripping, power washing, geological mapping, channel sampling and assaying of an additional 3,000 meters of the Ishkoday property. Grab samples taken by Laurion's geologists at the conclusion of the company's stage two field campaign confirmed the potential of quartz, oxide-sulfide and sulfide veins at Ishkoday with high-grade gold, silver and zinc values.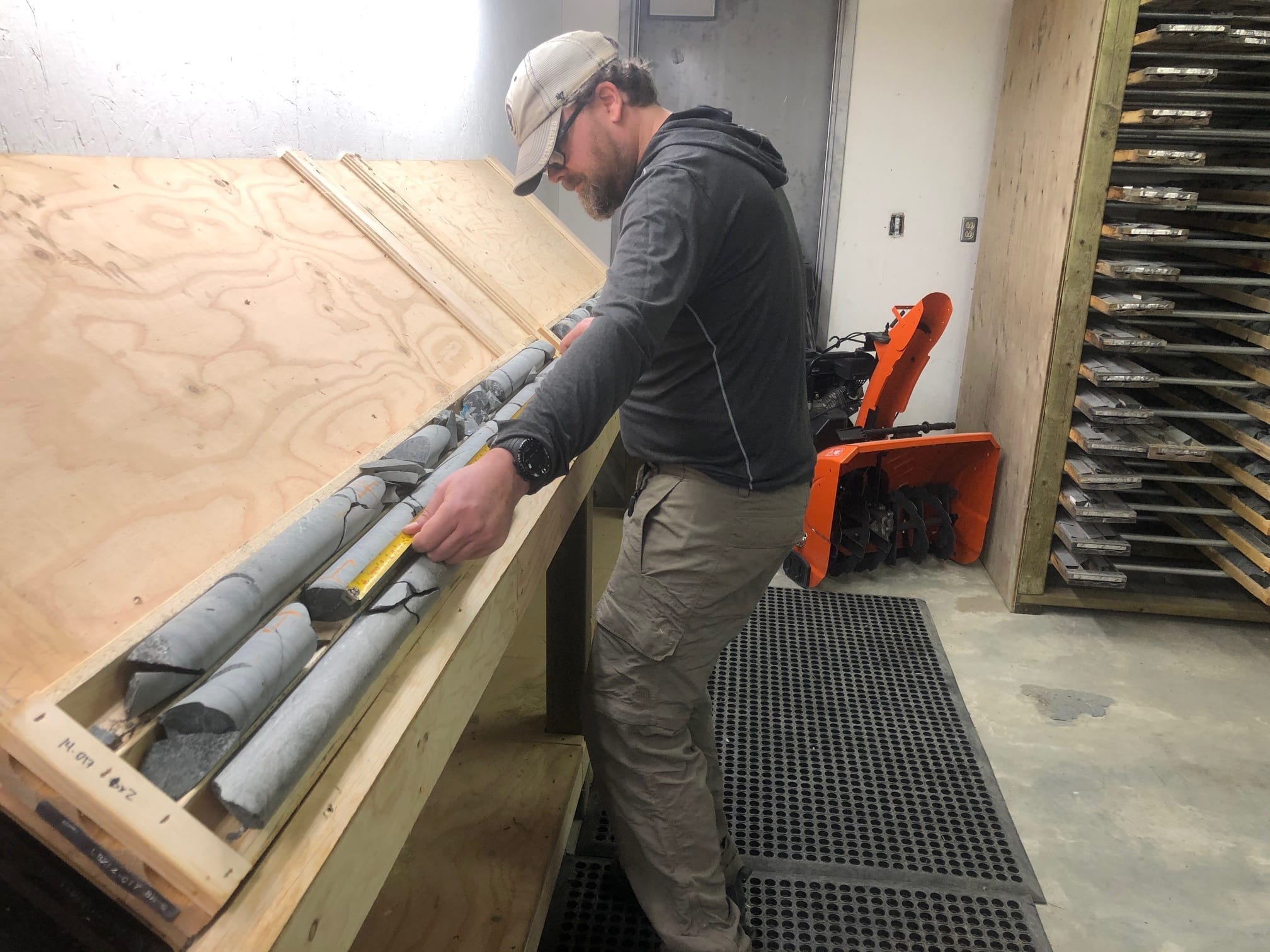 Assay results include:
58 g/t gold and 140 g/t silver from the M25 quartz vein; and 71 g/t gold and 97 g/t silver from the Marge quartz vein
Sulfide veins in the CRK zone segment graded up to 29.70 g/t gold, 564 g/t silver, 9.84 percent zinc and 1.69 percent copper
2020 Exploration Program
Moving forward, Laurion Mineral Exploration's 2020 exploration program is designed to target the bulk gold potential of three major mineralized trends on the property. The Sturgeon River Mine, M25/Marge and Loki targets all occur in the five-kilometer by one-kilometer target area.
Based on the historical data on the property, Laurion believes that high-grade gold-bearing shoots could exist at the Sturgeon River Mine.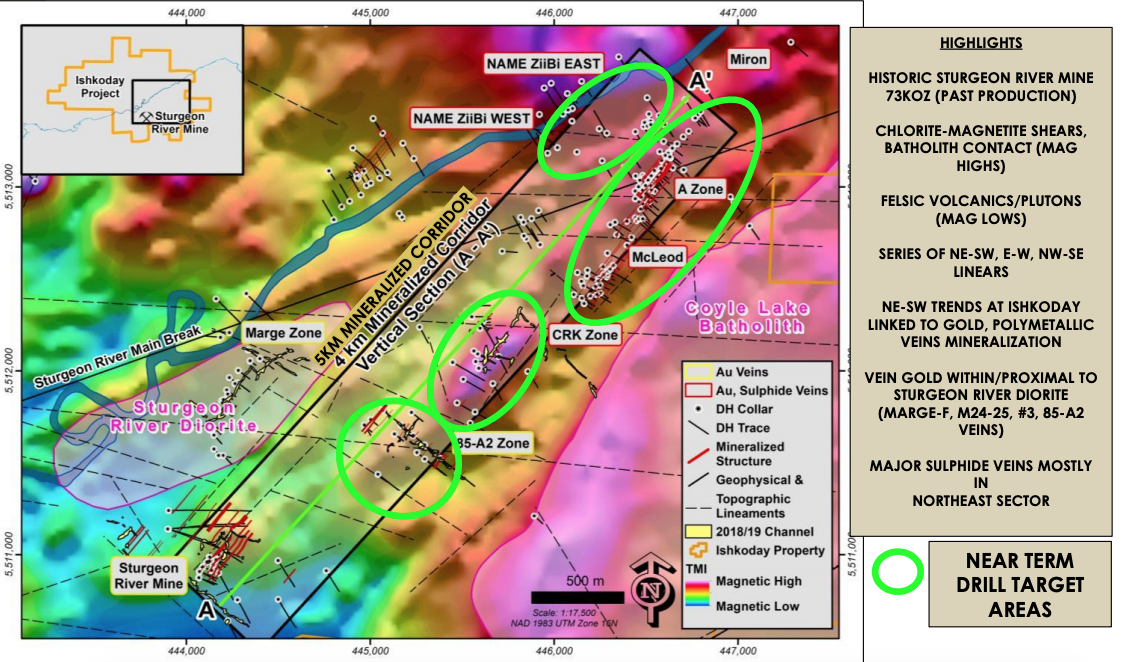 The most significant gold grade from selected interval in-vein channel sampling at the Sturgeon River Mine includes:
92.58 g/t gold over a 12.98-meter strike length from continuous in-vein sampling
The most significant historical and recent gold-silver grade from the M25/Marge Corridor includes:
314m grading 17.62 g/t gold over an average 36cm true width at the Marge Quartz Vein
58.10 g/t gold and 140 g/t silver from selected grab samples of the M25 Quartz Vein
The Loki trend is characterized by oxide-sulfur veins that extend for a minimum three-kilometer length over an 800-meter average width, covering more than half the target area. Typical grades and true widths from selected interval channel sampling in 2019 of oxide-sulfur veins and sulfide veins include:
3.25 meters yielding 1.44 g/t gold, 6.37 g/t silver, 2.42 percent zinc and 0.08 percent copper
1.06 meters grading 0.18 g/t gold, 45.69 g/t silver, 25.00 percent zinc, 0.03 percent copper and 6.21 percent lead
0.69m yielding 5.59 g/t gold, 46.80 g/t silver, 5.09 percent zinc and 0.34 percent copper
The priority target in the Loki Trend Corridor is a 2.8-kilometer by two to 20-meter wide "A" zone. In 2012 Laurion selectively grab sampled surface outcrops of sulfide veins at the "A" zone including:
0.70 g/t gold, 28.40 g/t silver, 27.50% zinc and 0.12 percent copper, and 4.58 g/t gold, 13.60 g/t silver and 18.90 percent zinc
Previous diamond drilling by Laurion intersected:
A 4.04 meter core length (or true widths between 2.00 to 3.60m) grading 5.26 g/t gold, 40.10 g/t silver, 8.38 percent zinc and 0.29 percent copper at a vertical depth of approximately 40 meters
In March 2020 Laurion Mineral Exploration announced it had commenced an induced potential survey as a strategic part of its 2020 exploration program at Ishkoday. Field crews began cutting the grid for 40 kilometers of lines for an upcoming survey over the Surgeon Mine and "A" zone target areas in addition to the newly-acquired Brenbar project. The survey is expected to assist in reconstructing the primary geological elements and help predict the surface strike and depth of extensions of the gold and gold-zinc mineralized vein corridors past the known dimensions.
Laurion Mineral Exploration's Management Team
Cynthia Le Sueur-Aquin – President and CEO
Ms. Le Sueur-Aquin has 40 years of mine management experience in the precious metal mining industry. She has been involved in global exploration and production operations including the development and project management of many mines, sand and slimes recovery sites, and gold recovery plants throughout the world. Her postings have provided her with direct exposure to cultural, political and regulatory issues in Indonesia, South Africa, Zimbabwe, Canada, Mexico, Mozambique, Zambia, Botswana and other North African States.
Michael Burmi – Director
Michael Burmi is an entrepreneur with 25 years' experience building and managing high-end technology manufacturing organizations, coupled with extensive expertise in running a high-revenue, high-growth engineering/manufacturing business. Over the course of his career, he has worked with several global organizations leading to acquisitions and mergers, allowing these companies to redefine business strategies to capture market share.
Johnathan Covello – Director
Johnathan Covello has been the Chief Executive Officer and the President of Covello Financial Group Inc. since March 2012. He is also affiliated with Tipi Financial for First Nations Pensions and benefits as well as the Director of Canadian Business Development for Metals House Inc. for the procurement of precious metals. Mr. Covello has experience in raising strategic capital in many industries, including the mining industry, using global connections.
Nick Ierifino – Director
Mr. Ierfino is a chartered accountant and the founding partner of I&A Professional Corp. since 1990, with over 37 years of experience in public accounting. Nick specializes in business advisory and restructuring and has held previous positions at Arthur Andersen and was a director for Olivetti Canada.
Miles Nagamatsu – CFO
Mr. Nagamatsu is a Chartered Professional Accountant, Chartered Accountant with over 35 years of experience who serves as Chief Financial Officer and director of public and private companies primarily in the mineral exploration and investment management sectors. His experience is in financial, accounting and management services, stock exchange listing applications, reverse takeovers, equity financings, prospectuses, governance, compliance, strategic business plans, acquisitions, turnarounds, restructurings, and operating companies in receivership.
Note regarding on-site best practices
The health and safety of Laurion workers and contractors are the company's top concern amid the global COVID-19 pandemic.
During this time an increased focus on health and safety are being followed in order to keep Laurion job sites open.
All measures are taken to prevent the spread of COVID-19 and is being done in compliance with requirements under the Ontario Occupational Health and Safety Act and associated regulations and public health directives issued by the Chief Medical Officer of Health.
Laurion confirms the personnel at the Ishkoday Gold Project have been isolated for some time now, with little to no outside contact.
---
This profile is sponsored by Laurion Mineral Exploration (TSXV:LME OTCPINK: LMEFF). This profile provides information which was sourced by the Investing News Network (INN) and approved by Laurion Mineral Exploration, in order to help investors learn more about the company. Laurion Mineral Exploration is a client of INN. The company's campaign fees pay for INN to create and update this profile.
INN does not provide investment advice and the information on this profile should not be considered a recommendation to buy or sell any security. INN does not endorse or recommend the business, products, services or securities of any company profiled.
The information contained here is for information purposes only and is not to be construed as an offer or solicitation for the sale or purchase of securities. Readers should conduct their own research for all information publicly available concerning the company. Prior to making any investment decision, it is recommended that readers consult directly with Laurion Mineral Exploration and seek advice from a qualified investment advisor.