Overview
Finding the right funding is challenging, even for companies with consistent cash flow and an existing client base. Businesses often have to decide between retaining control over the company and securing funding to help them reach new heights. Additionally, as interest rates increase worldwide, so does the cost of capital. Can the business leverage new capital to make a meaningful impact on its revenue?
Fortunately, advances in technology have given rise to new financial technologies (fintech) that can help open up new funding sources for businesses of all sizes. Most fintech companies aim to disrupt an established financial system by leveraging advanced technologies. For example, some lending institutions are looking beyond traditional criteria to determine the risk levels of borrowers by leveraging more data points and advanced algorithms. As a result, lenders that embrace new technology can make more accurate decisions that significantly increase profitability.
Montfort Capital's (TSXV:MONT,OTCMKTS:MONTF) mission is to create value for investors by leveraging a tech-enabled lending platform to provide private debt capital to growing businesses through its group of investment companies, including specialty finance companies TIMIA Capital, Pivot Financial and the pending acquisition of Brightpath Capital Corporation and an additional, yet unnamed, organization. Montfort's brands span multiple lending sectors and are therefore resilient in its diversification.
Private credit is a lucrative asset class of privately negotiated debt financing from non-bank lenders like Montfort's group of companies. Montfort is committed to building a family of private credit brands that delivers private credit to diversified market segments. It offers equity investors access to an early stage private credit manager, a growth opportunity that was not easily accessible in the past.
Company Highlights
Montfort uses technology to transform the business of lending to find better loans.
Utilizing their proprietary technology, Montfort's lending divisions can work closely with the management teams of their portfolio companies using real time performance data allowing them to monitor the performance of their underlying investments.
Each business segment under the Montfort brand has its own specialized management team with deep experience in their own unique subsector of the private credit market.
Private credit offers investors an opportunity to invest in an alternative asset class which is not correlated with the performance of the stock market.
Key Business Segments
TIMIA Capital Corporation
TIMIA is a fintech company that has developed a proprietary loan origination platform that services private technology companies in the North American private market. The company focuses on selective high-yield loan opportunities that generate revenue through recurring fees and profit-sharing. TIMIA Capital is presently focused on global business-to-business, Software-as-a-Service (SaaS) organizations. However, its technology can be applied to other industry sectors.
TIMIA Capital is a fintech company that has developed a proprietary platform to originate loans for SaaS technology companies. The company focuses on growing shareholder value by identifying high-yield lending opportunities.
The company's platform, SaaScore, evaluates multiple aspects of an organization to determine risk levels and potential profitability that go beyond the criteria used in traditional loan services.
An experienced management team leads the company with financing, technology, and marketing backgrounds.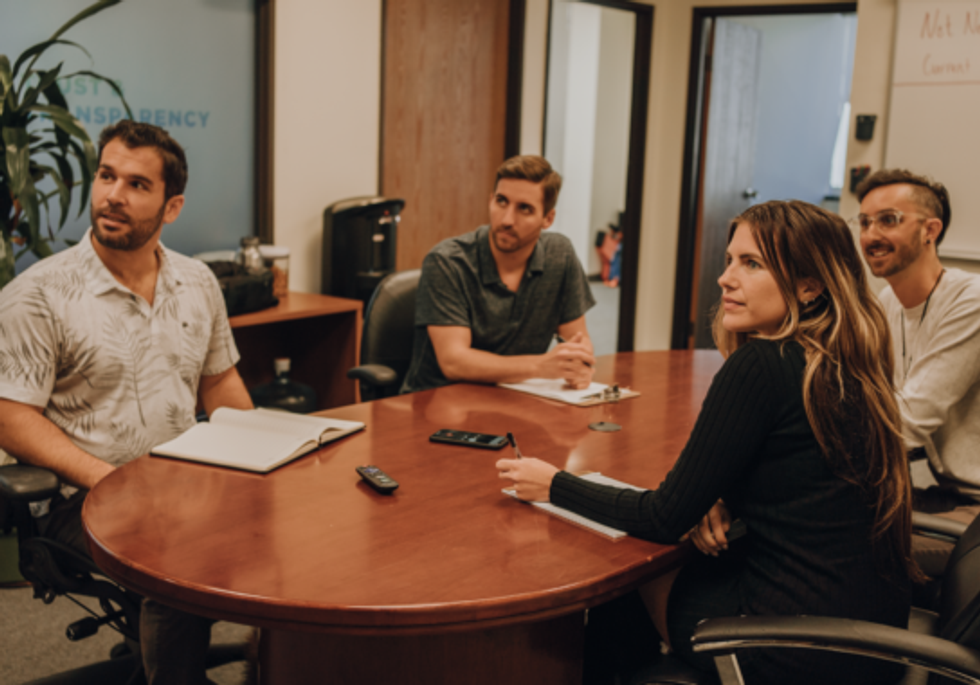 Pivot Financial
Pivot has successfully grown to profitability over the past 6 years and looks to accelerate its growth under the Montfort umbrella. Ken Thomson, CEO of Pivot, has been appointed to the position of Montfort's Chief Strategy Officer and has joined the Board of Directors of Montfort. Dan Flaro, President of Pivot, will continue in his role with respect to the Pivot business.
"Our fintech-based loan origination and underwriting platform has proven to efficiently and effectively originate and manage loans and we look forward to applying our platform to those loan facilities sourced and managed by Pivot," said Mike Walkinshaw, CEO of Montfort.
Pivot is a private lender established in 2015. They strive to address the borrowing needs of small to mid sized enterprises with 1 -100 employees and $1 - $100 million in revenue in Canada. The addressable market for Pivot in Canada is approximately 1.2 million companies according to Industry Canada Statistics.
Pivot is an asset manager that deploys funds on behalf of institutions, retail investors, high net worth individuals, its management team and shareholders. Management seeks out favourable risk return lending opportunities through prudent credit assessment and diversification targeting lower mid market borrowers in Canada. The company manages all aspects of borrower relationships including origination, underwriting and ongoing portfolio management.
Brightpath Capital Corporation
Montfort's acquisition of Brightpath has been approved by shareholders and is expected to complete shortly. Brightpath is a leading private provider of residential mortgages in Canada, specializing in arranging mortgages for those who are seeking alternatives to traditional banking institutions.
Over the past 10 years Brightpath has grown significantly by offering private credit to individuals who are self-employed, experiencing credit issues, requiring short-term loans or looking at real estate renovations or development projects. To date, Brightpath has underwritten and managed over 2,500 mortgages with an aggregate value in excess of $500 million.
Brightpath expects to accelerate its growth by leveraging Montfort's technology and operational infrastructure. Brightpath's real-estate-focused management team will continue to operate the mortgage lending company. As a matter of historical financial performance, Brightpath generated $2.4 million in normalized net income for fiscal 2021.
"Brightpath Capital significantly increases our size and profitability and opens our private credit business model to the lucrative real-estate mortgage markets in Canada," said Mike Walkinshaw, CEO of Montfort. "Our technology driven loan origination and underwriting platform allows us to offer scalability and transparency to other vertical segments of the private credit industry, opening up a traditionally restricted asset class to a broader range of investors."
Management Team
Mike Walkinshaw - Chief Executive Officer & Director
Mike Walkinshaw joined the company as the CEO in August 2015. He is experienced in revenue financing, venture debt, and venture capital investing. Previous to TIMIA, he was the co-founder and managing partner of Fronterra Capital, as well as managing partner, CFO at Chrysalix Energy. Before working on the finance side, Walkinshaw worked in the technology manufacturing sector in product and program management, strategy and planning. He has a bachelor's of commerce degree from University of British Columbia and a formal CPA designation.
Andrew Abouchar - CFO & Chief Credit Officer
Andrew Abouchar has 20-plus years of experience in Canada's venture capital and private equity industry. He is a cofounder and partner in Tech Capital Partners, a Waterloo-based venture capital management company and founder of TCP Property, a private real estate fund. Earlier in his career, Abouchar worked as an accountant at PricewaterhouseCoopers and as an investment manager at Working Ventures. He is also an advisor to the Government of Canada and Province of Ontario, and currently serves on the board of Ontario Centers of Excellence.
Ken Thomson - Chief Strategy Officer
Ken Thomson is CEO and founder of Pivot Financial. Mr. Thomson has over 20 years of experience in the investment industry and in managing and growing businesses. He serves on the board of several private companies including two other private lenders, Chairs the board of a North American manufacturing business, and was a member of the Board of Directors, Audit Committee and Independent Review Committee of a family of TSX-listed investment funds. Mr. Thomson is a member of the Independent Review Committees of Timbercreek Asset Management and Algonquin Capital and is Chair of the Independent Review Committee of Educators Financial Group. He holds an Honours Business Administration degree from the Richard Ivey School of Business and has completed the Partners', Directors' and Officers' Course offered by the Investment Funds Institute of Canada.
Request an Investor Kit
EXCITING upcoming projects!
IN-DEPTH reliable insights!
SUCCESSFUL growth strategies!
VALUE-BASED content!
Montfort Capital