Clean Lithium Production for the Clean Energy Revolution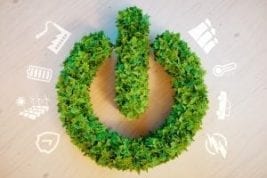 The fate of new clean energy technologies will depend on whether companies can scale to serve consumers while being cognizant of their carbon footprint.
The success of the electric car and the clean energy revolution is tied to sustainability.
The fate of new technologies that provide clean energy will depend on whether companies can scale to serve their consumers while at the same time being cognizant of their carbon footprint, especially in the blistering hot lithium market.
Modern technology is revolutionizing the way lithium is sourced and the way mining companies can be progressive in protecting the environment in which they work.
Clean energy requires environmentally friendly materials
Since the turn of the century, the use of technology in day-to-day products has accelerated like no period before it. Electric vehicles (EVs), smartphones and laptops have brought on demand for lithium, the most efficient and powerful energy source in electronics. Concurrently, public sentiment on green energy has also shifted, resulting in the necessary collision between technology and green energy.
New technology that produces cleaner results, that's also more efficient and cost effective, can bridge the gap between where advocates of "tech" and "green" currently stand.
Some of the world's largest oil companies (considered one of the greatest catalysts of global warming) have recognized that a change in philosophy is needed. In the last decade, Exxon Mobil (NYSE:XOM), BP (NYSE:BP), Chevron (NYSE:CVX) and Shell (NYSE:RDS.A) have all made strides in going green. And while oil and gas is still a large industry, the EV market, powered by lithium, is a fast riser.
The lithium market is expected to hit $93 billion by 2025 and see a CAGR of 17 percent, according to Grandview Research. For comparison, lithium sales were $22.8 billion in 2017. UBS Group (NYSE:UBS) estimates that electric cars will account for 9.2 percent of global light vehicle sales by 2025, up from only 1 percent today. While it's no surprise that leading EV manufacturers like Tesla (NASDAQ:TSLA) and BYD (HKEX:1211) are planning to increase their fleet in the coming years, traditional car companies have jumped in the driver's seat by recognizing the demand for EVs.
General Motors (NYSE:GM) recently announced that it will be mass producing fully autonomous electric cars by the end of 2019. Nissan (TSE:7201), Audi (ETR:NSU), Jaguar, Mercedes-Benz and BMW (ETR:BMW) have also announced future EV models.
Extracting and refining lithium on a mass scale will be needed to meet growing demand, while environmentally friendly practices will need to meet consumer sentiment.
"Modern technology is revolutionizing ways and providing a better way to mine and protect our environment," said Enertopia (CSE:TOP,OTCQB:ENRT) CEO Robert McAllister, who has partnered with Genesis Water Technologies to develop scalable lithium extraction technology aimed at reducing magnesium levels and groundwater usage. "We are enthusiastic in becoming leaders in this evolution."
Why is Clayton Valley Nevada the site of green technology?
Most of the world's lithium is currently produced in Australia, Chile and Argentina. But recently, Clayton Valley, Nevada has turned heads. Nevada's arid environment and lithium-rich brine deposits make it a prime location for lithium extraction by way of environmentally friendly methods. Tesla's plans to build a massive lithium-ion battery gigafactory not far from the area further emphasizes the need for environmentally friendly extraction methods to supply clean materials for clean cars.
Clayton Valley brines have a lower lithium/magnesium ratio compared to other sites, minimizing this need, and creating an opportunity for potential lithium producers like Enertopia to reduce their environmental footprint.
"Our early testing in Clayton Valley has shown good results on the potential to create a very low-impurity synthetic lithium brine using enriched lithium surface materials at the company's Clayton Valley project," said McAllister. "Key findings from testing completed in January 2018 by an independent third-party lab concluded that 99.99 percent of magnesium can be removed from a created synthetic lithium brine before it goes through the Genesis Water Technologies process."
Clean energy leading the industry
Genesis Water Technologies is a US-based water purification company that minimizes the use of groundwater in lithium extraction. It has partnered with Enertopia to develop technology that bypasses the need to build a large stationary lithium carbonate extraction plant or use solar evaporation ponds in less-than-ideal climates. The technology also generates a quicker path to production at potential lower capital and operating costs.
Named ENERLET, the new technology is a modular brine recovery system for the recovery of lithium from various brine solutions. It has a minimal carbon footprint because of its modular design and fits into a few semitrailers so there is no need for the water and thousands of acres of land that are required during traditional lithium brine extraction processes. Enertopia has shown it could create a very low-impurity synthetic brine in far less time than conventional evaporative ponds. The Phase 2 bench testing currently underway will now test these very low-impurity synthetic lithium brines through the ENERLET process, likely in a matter of hours.
"The quicker the material is processed, the more volume you can put through a smaller process flow that doesn't require large storage vat tanks," said McAllister. "It is very exciting that we could be recovering battery-grade lithium in a few hours or days that would otherwise take 12 to 18 months to process by the conventional evaporation process."
If positive results from testing continue and ENERLET is proven economically viable, it could offer a fast track to production that could be executed much quicker, for far less money, and void the larger carbon footprint that often comes with traditional mining projects.
A crucial time for investors
The European Commission on Science for Environmental Policy says that lithium's "continued use needs to be monitored, especially as lithium mining's toxicity and location in places of natural beauty can cause significant environmental, health, and social impacts."
Comments like these, as well as issues surrounding the environmental impact of Tesla's batteries, and environmental concerns about EVs, make it a crucial time for green technology in the lithium market.
Investors who align themselves with companies that are successful at extracting lithium using green technology, like Enertopia's ENERLET system could be, are positioned to benefit if pressure continues to mount on traditional lithium extraction carrying a large carbon footprint.
This article was written according to INN editorial standards to educate investors.