The Growing Role of Biopesticides in Organic Agriculture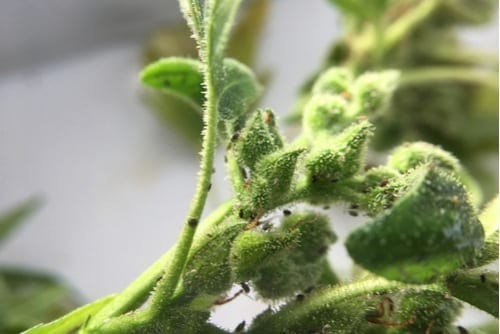 Biopesticides are helping farmers return the largest yields by improving pest control through the use of organic materials.
The role of biopesticides in organic agriculture and pest control is growing, mitigating damage from pests, disease and other seed security threats.
Over the past couple of decades, people have become more conscious than ever of how the food we produce impacts our bodies and the world around us. More than ever, consumers are demanding that food and other products are produced in an ecologically-responsible way, but they're also not willing to compromise on quality. This shift in awareness and attitudes has been the driving force behind the organic farming revolution.
Some farmers all over the world have begun embracing new techniques for growing crops without toxic or otherwise hazardous substances. However, the problems faced by mass crop production that caused food producers to adopt non-organic practices in the first place still remain. If more farmers are going to make the switch while maintaining the size of their yields and the health of their crops, then the agriculture industry is going to need innovative organic solutions.
This INNspired Article is brought to you by:
MustGrow Biologics Corp. (CSE:MGRO) is an innovative natural fertilizer and pesticide solution for multiple crop types.
Send me an Investor Kit
These innovations have come in a number of forms, but one of the key needs of the organic agriculture industry is options for non-toxic biopesticides to protect crops from disease and organisms that could destroy them.
Pest control, biopesticides and the organic foods market
The rising demand for organic foods has been more than enough for some food producers to make the switch. A 2018 report by Hexa Research projects the United States Organic Food Market to reach an incredible $70.4 billion in value by 2025 while the global organic food market will hit $323 billion by 2024 according to a 2018 report by Zion Market Research. As of now, more and more consumers are choosing organic and the result is supply vastly outpacing demand. Many producers remain wary of the risks of organic production, worrying about smaller yields and the chance of losing crops to pests and disease. Organic production capacity in the US increased by 20 percent from 2011 to 2018, but still accounts for less than one percent of total US farmland. As a result, US organic food companies have been looking to foreign suppliers for raw product.
Organic disease and pest control have come a long way in recent decades, but concern from farmers about the efficacy of these products agricultural hazards is understandable. Making the switch to organic farming can be risky and complicated. Government and private funding and support for conventional farming still vastly outweighs that of organic farming, which requires very different practices in order to keep plants healthy. Transboundary plant pests and diseases have become more common in recent years and these crop-destroying factors can be potentially catastrophic for farmers' livelihoods. In order for organic food production to finally meet the ample consumer demand, farmers require reasonable assurance that going organic will be a smart investment.
This is why further development of non-toxic organic bio-pesticides will be crucial to the success of organic foods. Defined as naturally-occurring substances that control pests, common biopesticides include various plant extracts, botanical oils, potassium bicarbonate, hydrogen dioxide and phosphorous acids. Biopesticides that are recognized by the US National Organic Program (NOP) have advantages like leaving little to no toxic residue, carry little risk of pests and disease developing resistances and more. Downsides to today's common biopesticides include lower effectiveness and shorter persistence compared to conventional pesticides. Common biopesticides may also be more complicated to use effectively than conventional pesticides, requiring a greater degree of expertise by the user.
Despite current limitations, biopesticides are primed to see huge growth in the coming years as organic farming continues to make headway. A 2017 report by Markets and Markets projects the global biopesticides market to grow from $2.83 billion in 2016 to $6.60 billion in 2022 with a compound annual growth rate of 15.43 percent. There's a number of factors driving that growth including the threat of pest resistance to conventional pesticides, faster regulatory approval for non-toxic substances, low costs for raw materials and, most importantly, the surging growth of the organic foods industry.
Agri-food isn't the only agricultural industry that will be a factor in the growth of the organic biopesticides market. The emerging legal cannabis industry is also driving demand for organic, non-toxic agricultural innovation. Like food, cannabis crops require robust pest control systems to prevent pests and disease. Like food, cannabis in legal jurisdictions like Canada is heavily regulated for consumer health.
Brassica as a pest control
The demand for reliable, inexpensive non-toxic biopesticides is spurring plenty of innovation in the space. Brassica, a genus within the mustard family, is one promising biopesticide that is now being seriously considered for the organic foods and cannabis spaces. Organic compounds contained within the brassica plant have been found to benefit agricultural production. Brassica has yet to be commercialized in the biopesticide space, but Canadian agricultural biotech company MustGrow Biologics (CSE:MGRO) has been exploring how the plant's natural mechanisms function against nematodes, fusarium, botrytis, powdery mildew, verticillium, pythium, and other fungal diseases and pests and whether it can be applied to mass agricultural production. The company has developed a proprietary method for isolating the plant's glucosinolate and enzymes for trials and for commercial production in the near future. So far, the over-110 independent field trials that have been conducted on brassica MustGrow's technology and have shown strong potential for superior crop performance and enhancement of grower return on investment.
One of the main upsides for brassica as a commercial biopesticide is its affordability and availability, particularly in Canada, where 28 percent of the global mustard crop is produced. This means that with brassica the Canadian North Amercian agriculture industries have easy access to an abundant, inexpensive and most importantly effective organic biopesticide.
Takeaway
The organic food market is already massive, but supply is lagging far behind demand. One of the primary factors holding back organic agricultural production has been the reluctance of farmers to make the lucrative but potentially risky switch. The introduction of inexpensive and effective biopesticides from plant-based sources like brassica has the potential to make this transition less daunting, allowing the agri-food industry to produce healthier, more ecologically responsible crops with less risk.
---
Disclaimer* This INNSpired article is sponsored by MustGrow Biologics (CSE:MGRO). This INNSpired article provides information which was sourced by the Investing News Network (INN) and approved by MustGrow Biologics in order to help investors learn more about the company. MustGrow Biologics is a client of INN. The company's campaign fees pay for INN to create and update this INNSpired article.
This INNSpired article was written according to INN editorial standards to educate investors.
INN does not provide investment advice and the information on this profile should not be considered a recommendation to buy or sell any security. INN does not endorse or recommend the business, products, services or securities of any company profiled.
The information contained here is for information purposes only and is not to be construed as an offer or solicitation for the sale or purchase of securities. Readers should conduct their own research for all information publicly available concerning the company. Prior to making any investment decision, it is recommended that readers consult directly with MustGrow Biologics and seek advice from a qualified investment advisor.