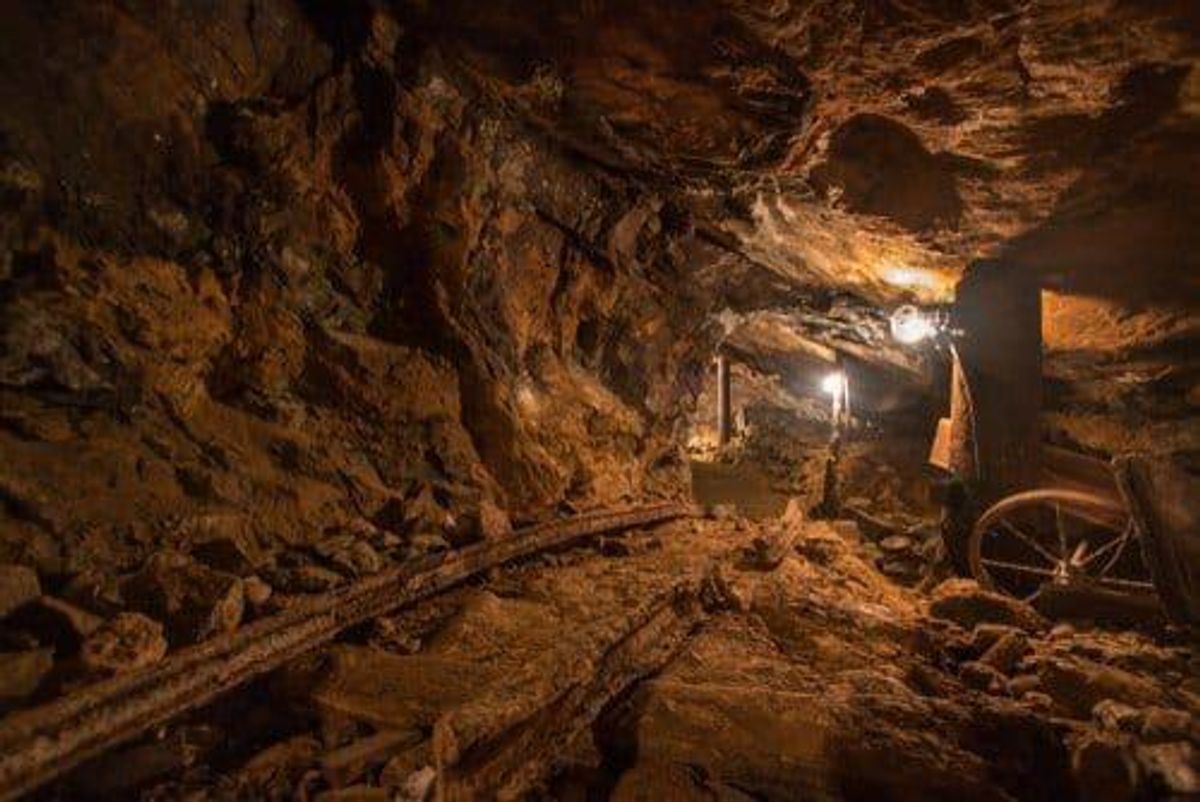 Global gold production may be entering its fifth "peak gold" period in modern history, and gold mining in Quebec provides opportunity.
A key source for gold mining in Quebec, the province's Cadillac Break is still significant to Quebec's mining industry.
The formation covers a massive area that stretches 160 kilometers from Val D'or, Quebec to Kirkland, Ontario. Since its discovery in the early 20th century, the Cadillac Break has become a magnet for gold, copper, zinc, nickel and even lithium mining and exploration activities. Major activities began in towns like Malartic in 1934 due to a dramatic increase in the price of gold. The following decade, new Canadians from around the world found a place working in the mines.
Like the rest of Quebec and Canada, the region suffered during recession in the 1980s. However, the last twenty years has seen a mining revival along the Cadillac Break with new production and exploration activities. In May 2017, there were 10 producing mines in the region alone.
Why Quebec should be taken seriously
To start, an abundant supply of hydro-electricity and the cheapest electricity rates in North America means that investors should take Quebec seriously. Compared to Canada's two other large mining jurisdictions, Ontario and BC, electricity cost is a significant advantage.
Ontario's cost of electricity, among the highest in the region, and its impact on electricity intensive industries like mining and manufacturing became a significant election issue that saw Doug Ford's Progressive Conservatives elected to provincial office, and the dissolution of green energy contracts and the Green Energy Act set up by the previous government. Quebec's electricity market is quite stable by comparison. To note, Quebec's electricity advantage doesn't just exist in Canada. In 2017, Australian mine operators saw price of electricity skyrocket one-hundred percent in just three years. With the recent Quebec election, nothing appears to change this key competitive advantage.
With the Coalition Avenir Québec (CAQ) winning a majority government in La Belle Provence, change is on the horizon for the province's mining industry. With every incoming provincial government, businesses try to understand how changes to policies and regulations will impact their operations. Explorers and producers in Quebec's mining industry are no different. Fortunately, CAQ has offered some additional incentives in their election platform that may perk the ears of investors.
Firstly, their platform states that a streamlined approval process is needed to reduce application timeframes. Secondly, CAQ wants to rejig the remediation contingency calculation to reduce initial costs for mines. We shall see how CAQ implements their platform and if they will tinker with "Plan du Nord" implemented by the previous Liberal government. However, it appears that CAQ is supportive of a competitive Quebec mining industry in general.
In recent years, "Plan du Nord" acted as a policy for development of new mining projects seeking "to facilitate access to the territory by road, rail, sea or air…. enhancement of telecommunications infrastructure and the supplying of clean energy in the northern territory, as well as supporting scientific knowledge development in the vast territory." Keep in mind that although the Cadillac Break lies outside of territory for Plan du Nord, much of the region is already well serviced in necessary infrastructure.
Key action items in Plan du Nord include spending $15 million per year in acquisition, processing, and dissemination of geological data; ensuring the province retains a skilled mining workforce (currently at 30,000 people) and promotion of processing of raw minerals within its territory. We shall see if any of this changes under the new CAQ government.
Gold mining in Quebec
Gold is a booming business in Quebec and the Cadillac Break. Provincial gold shipments are expected to increase over 11 percent from nearly 52 million grams in 2016 to nearly 60 million grams in 2018. Nine gold-specific projects are expected to be in operation well in to the next decade, with measured and indicated resources of 55 million metric tons. This does not include seven additional projects currently in development.
After proceeding with a 10-month drilling program, Renforth Resources (CSE:RFR) recently announced a 28 percent inferred and 11 percent indicated increase at its Parbec gold property on the Cadillac Break. Renforth Resources has an additional resource property in the area, New Alger, and several gold exploration projects in the region, Malartic West and Denain-Pershing, joint ventured to SOQUEM and Chalice Gold Mines, respectively.
Chalice Gold Mines (ASX:CHN) continues to make progress on its East Cadillac gold project which includes Renforth's Denain-Pershing Property. Earlier this year, the company logged two new discoveries 35 kilometers east of Val D'Or. The North Contact and Lac Rapides targets show encouraging results as well.
In the Town of Malartic, just 25 kilometers west of Val D'Or, sits Canada's largest operating gold mine. The Canadian Malartic mine (formerly the Osisko mine) is owned by Agnico Eagle (NYSE:AEM,TSX:AEM) and Yamana Gold (TSX:YRI) in a 50/50 joint venture arrangement. In 2017, the mine and plant produced just over 633,400 ounces of gold. The scale of production is huge and represents a sizeable portion of total production from gold mining in Quebec in 2017.
Takeaway
The Cadillac Break is far from being depleted. The region is very active and is one of the largest gold producing regions in Canada. Well-built infrastructure, access to North America's cheapest electricity and mining-oriented workforce are all positive attributes to Quebec. In addition, if "Peak Gold" is underway, the region will be well positioned to benefit from rising gold prices in the coming decade. The reward could be substantial for companies that are active at exploring new potential of the legendary Cadillac Break.
This INNspired article is sponsored by Renforth Resources (CSE:RFR). This article was written according to INN editorial standards to educate investors. 
Investing News Network websites or approved third-party tools use cookies. Please refer to the  cookie policy for collected data, privacy and GDPR compliance. By continuing to browse the site, you agree to our use of cookies.