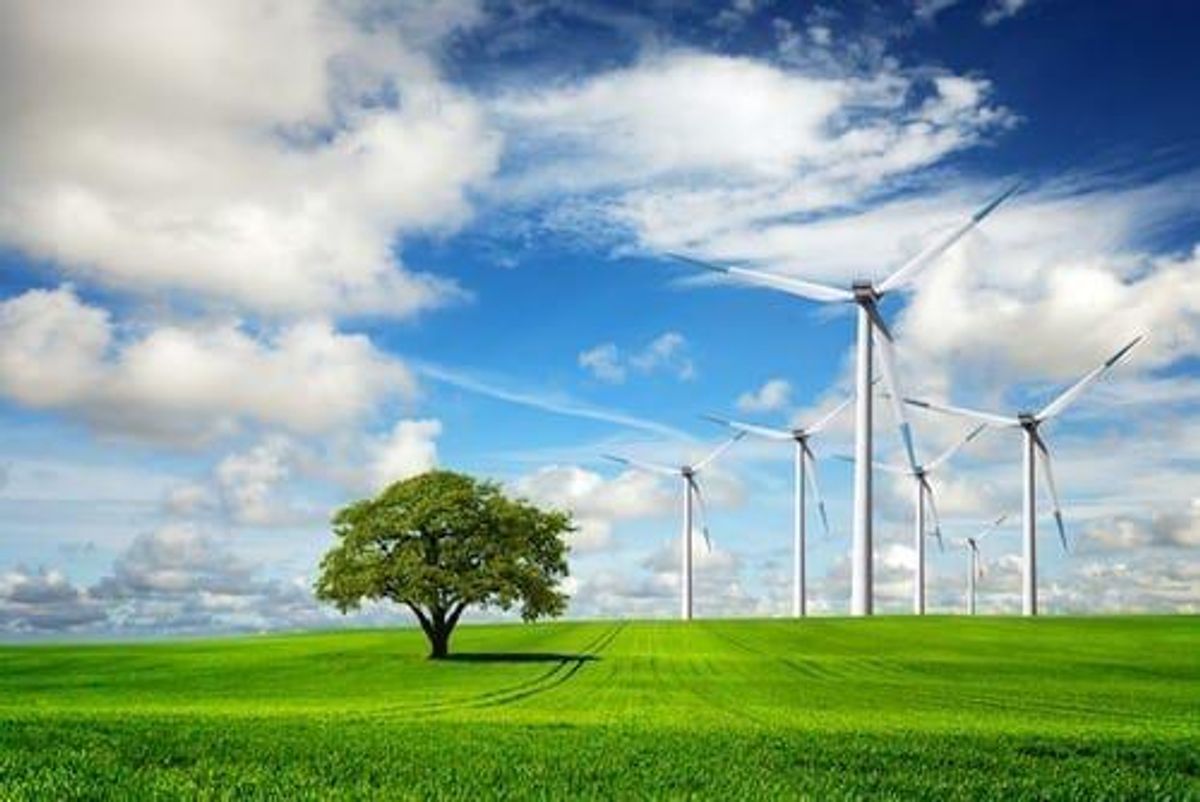 The growth of clean technology is driving market demand for rare earth metals as part of a major industrial shift.
The market demand for rare earth metals is seeing a huge boost.
By most accounts, the green technology revolution is imminent and will be massive. We're already seeing the early days of a shift away from fossil fuels and towards renewables with the rise of electric and hybrid vehicles and wind turbines increasingly popping up across the landscape. While still relatively novel sights in North America, these technologies are poised to take over quickly.
At the center of this revolution are the raw materials needed to make these technologies function and this means incredible opportunity for companies producing the rare earth metals neodymium and praseodymium (NdPr).
The cleantech revolution
At the 2017 International Renewable Energy Agency assembly, the organization's Director-General Adnan Z. Amin highlighted the "phenomenal" pace at which renewable energies are gaining ground, highlighting the falling costs and rising capacity for renewable energy generation. The number of electric vehicles (EVs) on the road is steadily rising from 3.7 million in 2017 to a projected 13 million by 2020 according the International Energy Agency. Vehicle manufacturers are scrambling to prepare for this shift, with most major manufacturers now offering at least one electric model with plans underway for more expansive offerings.
Leading the way for this transition is China. Under intense pressure to address the massive pollution problem causing the ubiquitous smog problem that has plagued the nation's largest cities, the Chinese government has put significant focus on investment into renewables. Today, more than half of the EVs on the road are driving the streets of the most populous nation on Earth and China is home to the vast majority of electric automakers. China also has a wind power capacity of 2,380 gigawatts, the largest of any nation on the planet.
Rare earths and high power magnets
The technology behind the renewable energy revolution would not be possible without neodymium, the rare earth element used to make the most powerful industrial magnets available. Within just about any electric motor a neodymium magnet can be found, made from an alloy of neodymium, iron and boron. The very specific tetragonal crystalline structure of these magnets ensures that they magnetize exclusively along a particular crystal axis and will not magnetize in any other direction. This makes neodymium magnets highly resistant to demagnetization. There's a range of magnetic material that can be used in electric motors and other technologies like wind turbines, but due to its resistance to demagnetization, neodymium is greatly preferred.
Electricity generated by turbines using NdPr magnets transform the energy that will drive the future. And that future will be driven by NdPr-powered electric motors. At this point, there's very little doubt about that. Market momentum is quickly shifting towards these renewable technologies, a phenomenon that is being helped along by tightening global emission standards and government policies around the world designed to encourage investment in renewables. The bottom line: we're going to need a lot of NdPr.
Supply and market demand for rare earth metals
The momentum of the renewable energy sector has led to concerns of a supply deficit, as automakers and other manufacturers scramble to get ahold of the materials needed to build green technologies. Don Lay, President and CEO of Medallion Resources (TSXV:MDL,OTCQX:MLLOF,FWB:MRDN) told INN that automakers are now currently looking to ensure that they have long term supply agreements for the rare earth magnet metals.
"Even if they are not producing EVs today, they are now designing their models three or four years in advance of actual assembly and these long lead times mean they need to ensure they have all the component parts locked down well in advance," Lay said.
China is the world's largest producer of rare earth resources, as well as the global leader in renewable technologies. As the producer of 85 percent of global rare earth production, one might assume that China would take this opportunity to further establish itself as the primary global rare earth supplier. However, going forward, China may have little interest in exporting its rare earths. Rather, the populous country is focusing its rare earth dominance on aiding the domestic EV market, keeping their own product within its borders as well as encouraging foreign firms to move production to China. This is in hopes of cementing the country's global dominance in the EV market as EVs become the standard worldwide. This further exacerbates rare earth supply concerns outside of China.
The resulting deficit for China's insatiable market demand for rare earth metals could create an extremely favorable environment for rare earth producers in China as well as those serving the market beyond its borders.
A few rare earths players
Medallion Resources is one of the companies looking to help fill the rare earth supply void in North America. The company is focused on acquiring discarded or stockpiled monazite via long-term supply agreements with mineral sands mines and shipping these materials to a North American processing plant to extract a rare earth chemical concentrate product. Medallion has developed a unique method for turning that waste product into useful rare earth material at low cost. The company hopes this will put them on the path to becoming a major player in the nascent rare earths market.
In China, the industry is dominated by a mix of private firms, local state owned firms and national state firms. Major Chinese rare earth companies include Inner Mongolia Baotou Steel Rare-Earth Hi-Tech Company, China Minmetals Corporation, Aluminum Corporation of China Limited and China Non-Ferrous Metal Mining.
Coming in at a very distant second, the largest rare earth producing nation after China is Australia. Production in the land down under has been rising steadily over the past few years, reaching 20,000 MT in 2017. Australian company Lynas (ASX:LYC) operates Australia's Mount Weld mine, one of the largest rare earth producers on the planet. Australian company Northern Minerals (ASX:NTU) added to the country's production in 2017 when they opened Australia's first heavy rare earths mine.
Takeaway
The world-wide shift to renewable technology is well underway and the effects will be seen more and more across global commerce as the revolution gains steam. In the global resource industry this means a huge boom for the market demand for rare earth metals that are absolutely vital to the adoption of these technologies. As the world's largest rare earth producing country keeps a tight grasp on its own production, the rest of the world will provide a rare and massive opportunity for non-Chinese rare earth companies.
This article was originally published by the Investing News Network in October 2018.
This INNSpired article was written as part of an advertising campaign for a company that is no longer a client of INN. This INNSpired article provides information which was sourced by INN, written according to INN's editorial standards, in order to help investors learn more about the company. The company's campaign fees paid for INN to create and update this INNSpired article. INN does not provide investment advice and the information on this profile should not be considered a recommendation to buy or sell any security. INN does not endorse or recommend the business, products, services or securities of any company profiled. If your company would benefit from being associated with INN's trusted news and education for investors, please contact us.
Investing News Network websites or approved third-party tools use cookies. Please refer to the cookie policy for collected data, privacy and GDPR compliance. By continuing to browse the site, you agree to our use of cookies.