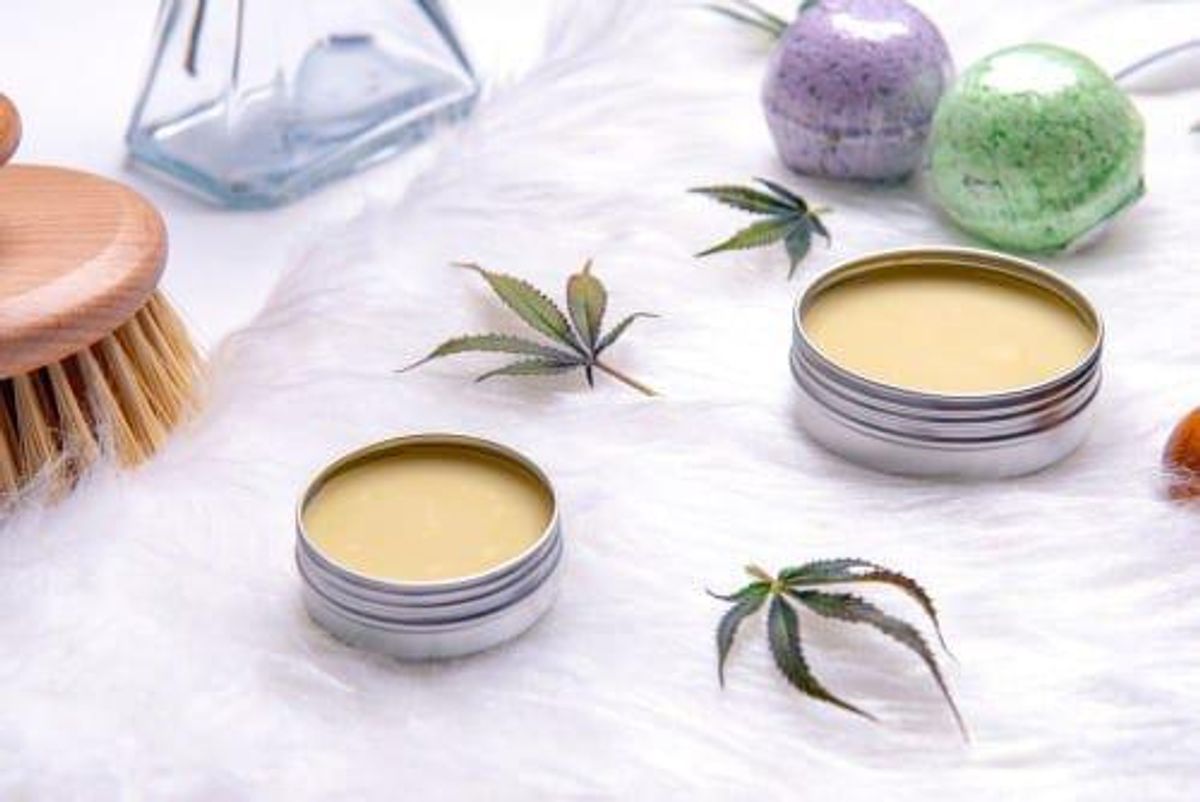 Major brands are looking towards CBD topicals as a less risky entry point to the North American cannabis market.
Topicals and CBD-based skincare products are opening new doors for the cannabis industry.
As CBD products begin to enter mainstream retail outlets, they could create a whole generation of consumers whose first experience with cannabinoids will have nothing to do with getting high. Some of the world's largest brands have been searching for a way to get in on the CBD boom while avoiding complications as the regulatory landscape for cannabis products solidifies. A number of American cannabis companies have discovered the opportunity presented by topical products, offering CBD-infused selections that improve the look, feel and health of the consumer's skin.
Non-psychoactive CBD is the fastest-growing segment of the cannabis industry. Grand View Research projects that the global CBD market could experience a compound annual growth rate of 32.6 percent to reach US$9.69 billion by 2025. The research firm projects that the global CBD skincare segment of the market may grow at a compound annual growth rate of 32.9 percent to reach US$1.7 billion by 2025.
Topicals go mainstream
The full extent of CBD's effectiveness is still a matter of study, but the evidence supporting its remedial effects to date has been enough for CBD to be used in a wide range of skincare applications. CBD binds with CB2 receptors found in immune cells throughout the body and encourages increased production of endocannabinoids, which help reduce inflammation. When used topically, CBD binds specifically with the CB2 receptors in the skin. CBD-based acne treatments leverage CBD's anti-inflammatory properties to reduce redness and decrease the production of sebum oil that triggers breakouts. Those same properties can also soothe the skin, making CBD useful for reducing sensitive skin and itchiness. CBD is thought to have antioxidant properties, which could help reduce wrinkles and skin dullness.
At US$123.81 billion in 2018, skincare is already an extremely large market, and CBD can be added to the plethora of existing product categories. Just about any product that can be found at a Body Shop outlet can be infused with CBD oils. Lotions, salves, soaps, bath balms, face masks, eye serums and much more are already massively popular products. The introduction of CBD is the latest trend that has the potential to create new growth in the space. Furthermore, the skincare market offers unique opportunities to design products that stand out with unique scents, colors and eye-catching packaging.
CBD skincare topicals are able to clear legal hurdles that other cannabis products cannot. The passing of the US farm bill and hemp farming act in 2018 removed hemp, which contains less than 0.3 percent THC, from the list of schedule one banned substances, enabling the legal production and distribution of hemp-derived CBD products throughout the country. The FDA is still in the process of developing regulations and guidelines for CBD-based medicines and supplements, creating a legal grey area for the sale of such products. CBD skincare topicals, on the other hand, are subject to far less regulatory scrutiny, making these products much less of a liability for retailers. As a result, major retailers like Whole Foods, Walgreens (NASDAQ:WBA), Urban Outfitters (NASDAQ:URBN) and American Eagle Outfitters (NYSE:AEO) are now stocking CBD topicals. Because CBD is not psychoactive, CBD skincare products can be attractively branded and marketed towards consumers of all ages.
"The personal care and beauty industry have been growing rapidly and top-performing segments for millennial and generation Z spend. CBD products that are quality formulations at attractive price points are positioned to win in these growing categories," said a Green Growth Brands (CSE:GGB,OTCQB:GGBXF) spokesperson.
CBD's acceptance from mainstream retail outlets has the potential to significantly widen the consumer base for cannabis products. The skincare industry is already very adept at creating targeted products that appeal to the specific health and beauty goals of broad swaths of consumers. CBD provides a useful tool for product formulation, but it also allows the cannabis industry to tap into the massive and diverse skincare consumer base. Huge segments of skincare consumers are people who would not otherwise have tried cannabis products.
Topicals embraced by major retailers
Green Growth Brands is one of the first companies to bring CBD topicals into malls across North America. The company has partnered with retail brands like Abercrombie & Fitch (NYSE:ANF) and American Eagle to offer CBD infused skincare products in their stores. Green Growth has also partnered with Brookfield Properties, which owns 160 shopping centers throughout the United States. Through this partnership, Green Growth plans to open 70 of its own The+Source retail locations in Brookfield malls across the country, leveraging its own extensive experience in the American retail landscape. Members of the company's leadership have previously helped run major retail brands including Victoria's Secret, DSW, Bath & Body Works, Calvin Klein and others.
Major consumer goods manufacturers are getting in on the CBD trend as well. L'oreal (EPA:OR) has released CBD-infused products like Kiehl's Cannabis Serum, and Unilever (LSE:ULVR) is selling Murad's Hemp Serum. Urban Outfitters has similarly partnered with cannabis company iAnthus Capital Holdings to conduct a trial that will see products from iAnthus' CBD For Life brand sold in two California and four New York Urban Outfitters locations.
Takeaway
CBD skincare topicals could be the most accessible cannabis products for the mainstream retail landscape, which makes them the least risky proposition for manufacturers and retail outlets. Full regulatory acceptance and mainstream retail adoption might be an ongoing process for some cannabis companies, but CBD topicals are already beginning to hit the mainstream.
This article was written according to INN editorial standards to educate investors.
Investing News Network websites or approved third-party tools use cookies. Please refer to the cookie policy for collected data, privacy and GDPR compliance. By continuing to browse the site, you agree to our use of cookies.