Cannabis-infused Beverage Market to Include Alcohol-free Beers and Wines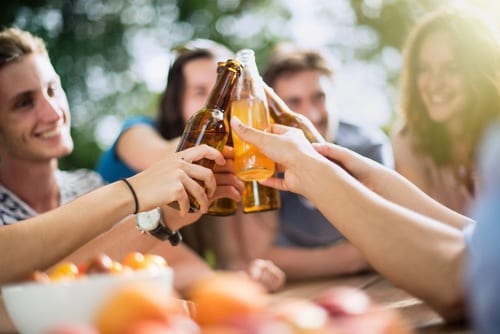 Cannabis companies are developing infused beer, wine and cocktails to appeal to alcohol-free drinkers.
Infused beers and wines are offering consumers a new alternative to alcoholic beverages.
Cannabis legalization is taking hold at a time when some consumers are beginning to seek out beverage options with fewer calories and less — or even no — alcohol. As a result, recreational cannabis companies have an opportunity to encroach on this massive space. Alcohol might be losing its appeal among some consumers, but even those that leave it behind may not want to lose the social habits associated with alcohol, or even that relaxing Friday night buzz. To capture this group, cannabis companies are attempting to replicate the social experience of alcoholic beverages in the emerging category of cannabis-infused beer, wine and cocktails.
According to a February 2019 report by Zion Market Research, the global market for cannabis beverages is projected to grow at a compound annual growth rate of 15.6 percent to reach US$4.46 billion by 2025. The cannabis beverage market is already beginning to gain steam in US legal cannabis states, with the US cannabis drinks market expected to hit US$1.4 billion by 2024. In Canada, cannabis edibles, including beverages, are expected to be legalized for adult use on October 17, 2019 with sales expected to begin in December. According to Deloitte, the Canadian beverages market is projected to generate C$529 million in revenue in the first year of legal sales.
This INNspired Article is brought to you by:
Hill Street Beverage Company Inc. (TSXV:BEER) is creating a vertically-integrated cannabis-infused beverage company, using its established portfolio of award-winning alcohol-free beverages as a foundation for its cannabis-infused beverages line.
Send me an Investor Kit
Infused beer and wine
The alcohol market has begun to stagnate in recent years. Beer consumption in the US has been declining for the past five years, with volumes falling by 1.5 percent in 2018 and 1.1 percent in 2017, according to the International Wines and Spirits Record (IWSR). Growth for wine and spirits has continued, but the pace has slowed. The beverage market could be in need of a shakeup, and several major beverage producers, including Constellation Brands (NYSE:STZ), AB InBev (NYSE:BUD), Molson Coors (NYSE:TAP) and Heineken (OTCQX:HEINY), are already looking at cannabis to inject new life into the space and their product offerings. Meanwhile, smaller companies have an opportunity to jump into a brand new market segment as the cannabis beverage space establishes itself.
Cannabis companies and beverage companies alike are betting on cannabis as an alternative to alcohol that fits neatly into pre-existing social rituals. In markets where legal cannabis is available, younger adults are already beginning to leave alcohol behind in favor of cannabis. Cannabis beverages are the best way to replicate the experience of cracking open a cold one upon returning from work or sitting down and having a few drinks with friends.
One of the reasons that the alcohol market has been stagnating could be that the increasingly health-conscious consumer is now more aware of the damaging effects of excessive alcohol use on the body. In one IWSR survey, more than half of all respondents claimed that they were trying to reduce their overall alcohol consumption. The other major appeal of cannabis beers and wines over their traditional counterparts is more short-term. THC lacks the dehydrating effects of alcohol, meaning that cannabis drinkers won't have to worry about the dreaded Sunday morning hangover.
Outside of beers and wines, a number of cannabis companies are rolling out soft drink-style cannabis beverages. Cannabis-infused iced teas, lemonades, sodas, etc. will likely have their place in the market as well. However, just as the existence of sweet wine coolers and hard lemonades has not impeded the traditional beer market, cannabis beer and wines could appeal to cannabis drinkers who prefer more "adult" and sophisticated flavors of cannabis beer and wine over sweeter options.
The cannabis beer and wine markets are brand new and ripe with opportunities for innovation. Cannabis companies and beverage makers are still developing and discovering the methods to add cannabinoids to these beverages to achieve the best effect and taste. There's the possibility to develop whole new beer and wine varieties developed specifically to work with the unique flavor profile of cannabis.
"We believe the shortest journey for the consumer to take to enter the new world of cannabis-infused beverages is to give them products that match the flavor profile and intoxication level of the most common intoxicants on the planet, which are beer and wine," said Terry Donnelly, chairman and CEO of Hill Street Beverage Company (TSXV:BEER).
Companies entering the cannabis beverage space
Hill Street Beverage Company is one of the pioneers in the Canadian cannabis beer and wine markets. Hill Street is one of the few companies to approach Health Canada about producing alcohol-free cannabis-infused wines in the country, giving the company a potential advantage over the many others that will be producing cocktails and beer in this market segment.
The company has developed a portfolio of cannabis-infused beers and wines using proprietary technology from Lexaria Bioscience (CSE:LXX,OTCQB:LXRP) that allows Hill Street to infuse products without affecting the taste, smell and quality of the beverage. The technology also gives the psychoactive effect of the infused cannabis onset and duration times that mirror those of traditional alcoholic beers and wines. Hill Street recently announced the acquisition of OneLeaf Cannabis, a premium craft cannabis producer capable of producing exceptionally high-quality dried flower and oils.
"We've primarily focused on the taste of our products to ensure that they appeal to consumers. Our alcohol-free products have already sold millions of units in grocery and drug chains, so we know we have winning tastes already. The technology platform that we've licensed from Lexaria allows us to create products that have no impact on the taste of the award-winning beverages we already produce. And no matter what we're producing, we won't have to fight with the taste of cannabis to ensure it will be a delicious-tasting beverage," Donnelly told INN. "The experience we're able to create with OneLeaf's cannabis and Lexaria's full-spectrum infusion capabilities will ensure that all the terpene content and major and minor cannabinoids are there."
Like Hill Street, Province Brands is taking a novel approach to cannabis beer with a unique method for brewing beer directly from cannabis stocks, stems and roots, rather than taking traditionally brewed beer and infusing it with THC. The result is a non-alcoholic and yet intoxicating brew with a flavor that is drier and less sweet than most traditional beers.
In 2018, Molson Coors (NYSE:TAP) acquired a controlling stake in a joint venture with licensed producer HEXO (TSX:HEXO) with plans to create non-alcoholic cannabis-infused beverages for the Canadian market. Similarly, AB InBev has invested US$50 million in a joint venture with licensed producer Tilray (NASDAQ:TLRY). Constellation Brands (NYSE:STZ) acquired a 38 percent stake for C$5 billion in Canadian licensed producer Canopy Growth (TSX:WEED,NYSE:CGC) in 2018.
Takeaway
Canada is about to legalize further cannabis products, including cannabis-infused beverages. Additional US states are expected to legalize recreational cannabis in the next few years as well, creating ample opportunity for growth and innovation in the still-nascent cannabis drinks space. As more consumers look to reduce their alcohol consumption, cannabis-infused beer and wine options will allow beer enthusiasts and wine connoisseurs to enjoy their beverage of choice while dispensing with many of the issues associated with alcohol consumption. The promise of fewer calories, no hangover and no toxicity is expected to appeal to a broad range of consumers.
---
This INNSpired article is sponsored by Hill Street Beverage Company (TSXV:BEER). This INNSpired article provides information which was sourced by the Investing News Network (INN) and approved by Hill Street Beverage Company in order to help investors learn more about the company. Hill Street Beverage Company is a client of INN. The company's campaign fees pay for INN to create and update this INNSpired article.
This INNSpired article was written according to INN editorial standards to educate investors.
INN does not provide investment advice and the information on this profile should not be considered a recommendation to buy or sell any security. INN does not endorse or recommend the business, products, services or securities of any company profiled.
The information contained here is for information purposes only and is not to be construed as an offer or solicitation for the sale or purchase of securities. Readers should conduct their own research for all information publicly available concerning the company. Prior to making any investment decision, it is recommended that readers consult directly with Hill Street Beverage Company and seek advice from a qualified investment advisor.