Why Cannabis Health Products are Gaining Momentum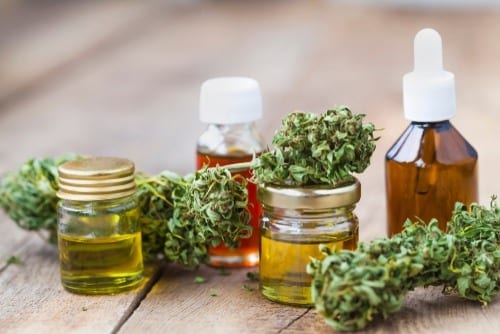 Thanks to the health benefits of cannabinoids like CBD and THC, consumers are beginning to see cannabis health and wellness products as part of a healthy lifestyle.
Cannabinoids are increasingly being used as a means of supporting good health through cannabis health and wellness products.
By a number of metrics, we are becoming an increasingly health-conscious society. More and more people in western countries are exercising regularly and spending more on healthy organic food, while consciously avoiding foods that are detrimental to good health. This is all happening at a time when legal barriers preventing access to cannabis products are coming down and the cannabis-based product market is growing exponentially. As these two markets continue to grow, there is potential for cannabinoids to become an integral aspect of a healthy diet and lifestyle.
The global health and wellness market is projected to grow at a compound annual growth rate of 5.9 percent up to 2026, according to an August 2018 report by Research and Markets. As this market continues to grow, cannabis companies have an opportunity to capitalize on the trend by creating brands and products that appeal to consumers who want to use cannabis as part of their healthy lifestyles.
"There is a shift in the mindset of consumers. People don't look forward to retirement anymore. Consumers want to enjoy life today and are always investing in longer and healthier lives," Aurelio Useche, CEO of health and wellness-focused cannabis company Relevium Technologies (TSXV:RLV,OTCQB:RLLVF,FWB:6BX), told the Investing News Network (INN). Relevium has acquired several brands in the global cannabinoid health and wellness space, including Biocannabix, which produces nutraceutical and pharmaceutical cannabis products for the US and European markets, and Sleipnir Nutrition, which serves the superfood and skincare markets.
The cannabis health and wellness industry
Concurrently, the legal cannabis market continues to expand. According to data from Grand View Research, the global legal cannabis market is expected to reach US$66.3 billion by the end of 2025 at a compound annual growth rate of 23.9 percent. This growth is occurring as new markets continue to open up to the cannabis business.
The number of recreationally legal US states has grown to 11 and counting. Canada legalized recreational cannabis nationwide in 2018, and some of Europe's largest economies, including Germany and Spain, have opened up medical cannabis markets. Legalization is spreading, and, as it spreads, there is more opportunity for all facets of the cannabis market, including cannabis-based health and wellness products.
As cannabis products become increasingly accessible, the perception of cannabis as an unhealthy smokable — often used in conjunction with junk food and long stretches of sitting around — has begun to fade. Smoking dried cannabis bud has been the default for decades, but this consumption method is quickly declining in popularity, while less harmful methods like vaporization and oral ingestion are on the rise. Furthermore, the effects of cannabinoids on the endocannabinoid system are becoming more widely understood.
"Cannabis has opened so many possibilities by introducing a new previously unknown set of receptors in our bodies as a source of stability in our health. There are many 'unknowns' about the endocannabinoid system and there is much to be discovered about the individual and combined roles of the 100 plus cannabinoids on our health," Useche told INN.
Cannabis is now increasingly being seen as compatible with a healthy lifestyle. CBD products have become popular with athletes and regular gym goers as a means of alleviating post-workout joint pain and muscle stiffness, and companies like Phivida Holdings (CSE:VIDA) have designed CBD-infused sports drinks to serve this niche. CBD is also being utilized in topical skincare products to improve the look, health and feel of skin. The functional food and beverage industry is utilizing cannabinoids in products designed to improve cognition, state of mind and the immune system.
Companies like Koios Beverage (CSE:KBEV,OTC Pink:KBEVF) and Harvest One (TSXV:HVT,OTCQX:HRVOF) have released cannabinoid-infused beverages for the nootropic market. As the market develops and innovates, we are seeing an ever-widening range of cannabinoid products aimed at the health-conscious market.
Cannabis health and wellness products
North America leads the way in both the cannabis and health and wellness markets. The cannabis industry is poised for even further growth in the United States as Illinois, New Jersey and New York are expected to join the list of recreationally legal cannabis states and the 2018 US Farm Bill allows for hemp-derived CBD products to be distributed nationwide. Canada, meanwhile, is expanding its range of legalized cannabis products to include edible products by the end of 2019. These regulatory reforms are expected to ensure that cannabis health and wellness products have greater market reach in North America than anywhere else in the world. The market value of the overall health and wellness market in the United States is projected to hit over US$179 billion by 2020, according to data by Statista.
Europe is the second-largest market in the world for health and wellness products, and while no European nation has moved to fully legalize recreational cannabis, European medical cannabis markets present ample opportunity for cannabis-infused health and wellness products. Even with heavy restrictions on cannabis products, the European CBD market was estimated at US$318 million in 2018, and is expected to grow over 400 percent through 2023, according to data by the Brightfield Group.
The Asia Pacific health and wellness market trails North America and Europe in terms of current revenue, but it is also the fastest growing of the three. A growing middle class and rising rates of education are allowing more consumers to make informed decisions about their lifestyles and health. Thailand became the first Asian nation to legalize medical cannabis in late 2018, while recent headway has been made in surrounding countries. Australia is home to a thriving medical cannabis market that could be worth US$1.3 billion by 2028, while New Zealand legalized medical cannabis in 2018 and could legalize recreational use via referendum in 2020.
Takeaway
The health and wellness and legal cannabis markets are two of the fastest-growing spaces today. They also seem to be increasingly made for each other as we continue to discover new ways in which cannabinoids can be used to support a healthy lifestyle. As these two industries continue to grow, there is potential for cannabis-based health and wellness products to establish significant market share.
---
This INNSpired article was written according to INN editorial standards to educate investors.
INN does not provide investment advice and the information on this profile should not be considered a recommendation to buy or sell any security. INN does not endorse or recommend the business, products, services or securities of any company profiled.