Consumer Devices Ready to Revolutionize the Optics Industry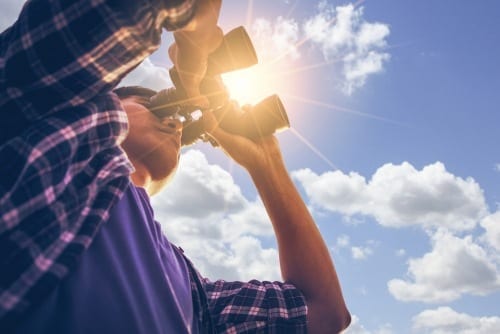 Improvements in artificial intelligence, chip hardware and camera technology are coming together to offer new optical devices with impressive capabilities.
Improvements in camera technology are pushing the optics industry forward, creating new devices with impressive visual capabilities.
Increasingly sophisticated camera hardware is becoming more affordable at the consumer level, offering new possibilities to those without technical expertise. This tech is now being married with state-of-the-art artificial intelligence and machine learning software to create new consumer-grade optical products while giving established devices new capabilities.
The average western consumer has had a camera device in their pocket for well over a decade now, and the evolution of that camera over just 10 years shows just how far consumer optical technology has come. The iPhone 3GS was released in 2009 and came with a 3-megapixel camera capable of shooting 480p video at 30 frames per second (fps). Fast forward a decade and the iPhone 11 now boasts a 12-megapixel camera with optical image stabilization capable of shooting 4k video at up to 60 fps. Today's consumer-level smartphone cameras are now even capable of rivaling some of the professional-grade equipment from a decade ago. Small-sized high-quality camera components can now be mass-produced at a low enough cost to put a high-quality camera in the average consumer's hand.
Improvements in camera technology have not been confined to smartphones. The development of low-cost, high-quality camera hardware has enabled the proliferation of dedicated special-purpose camera devices like the GoPro, 360-degree cameras like the Orbi and a variety of camera-mounted drones. Outside of the photography realm, increasingly sophisticated digital optical devices are being integrated into gaming devices, automobiles and more.
The evolution of consumer-grade camera hardware is only half of the story for digital optic innovation. Manufacturers can outfit their devices with increasingly high-quality lenses and sensors; however, these upgrades inevitably hit a point of diminishing returns. A traditional camera simply captures an image and leaves it up to a human viewer to interpret what the image shows, but an AI-driven device is able to analyze and interpret visual data from that photograph. Artificial intelligence is now capable of processing and re-organizing the visual data it receives, presenting a quality photo that was previously technologically impossible.
Camera technology incorporating AI
Google (NASDAQ:GOOGL), unsurprisingly, has been at the forefront of artificial intelligence and digital optics development. In 2018, with the launch of the company's Pixel 3 phone, Google debuted "Night Sight," a camera mode that allows users to take perfectly lit photos in almost complete darkness. Google achieved this with a machine learning algorithm that has learned to artificially "complete" images using the available information. The Pixel 4 took this same concept in another direction, using the shaking of the user's hand when taking photos from long distances to capture multiple angles of a subject. The AI then uses that information to construct a clearer image than the lens and sensor alone would have been able to create.
Canadian technology company NexOptic Technology (TSXV:NXO,OTCQB:NXOPF,FWB:E3O1) has developed its own artificial intelligence platform called ALLIS (Advanced Low Light Imaging System) for shooting high-visibility photos in low-light situations. To shoot a digital photo in low light, the camera's sensor needs to be adjusted to be more sensitive to light, which reduces the sensor's accuracy and results in a grainy or noisy image. The level of sensitivity is referred to as ISO. ALLIS is able to "repair" high-ISO images based on how the AI algorithm interprets what the image should look like. ALLIS can work on small imaging devices like tablets and smartphones. In addition to consumer and professional photography applications, ALLIS could be useful for low-light facial recognition or object classification applications.
NexOptic intends to integrate ALLIS into future versions of its own unique consumer-grade optical device, DoubleTake. The company's DoubleTake device combines the long-range video and photography capability of a DSLR camera outfitted with a telephoto lens with the usability of a smartphone camera. The device features an array of lenses (not unlike those within a telescope, but much smaller) to create a focal length equivalent to 423 millimeters, which is combined with AI image correction to capture 4K video from a long distance. Rather than using a viewfinder, DoubleTake features a smartphone-like touch screen interface and its video can also be cast in real-time to smartphones and other mobile devices. NexOptic plans to launch the DoubleTake in 2020 for a price in the neighborhood of US$1,500, making the device competitive in price with traditional telephoto lenses for DSLR cameras.
"One of our core objectives is to become a major fixture in the growing sports optics and sports camera markets," said NexOptic Technology Chairman Rich Geruson. "The interest in DoubleTake continues to grow even before consumers have had a chance to experience it for themselves. I'm excited to get DoubleTake to them in the nearest timeline possible."
The greater quality and lower cost of high-quality optical components are allowing for the invention of new and unique optical products. Currently, 360-degree cameras are already widely available, and product developers are searching for new and unique applications for the technology for niche markets. Consumer technology company Orbi Prime, for example, has developed 360 camera tech into a pair of sunglasses that acts as a hands-free camera. Orbi has also taken the same concept and put it into a football helmet capable of giving fans a 360-degree view of on-field action.
Beyond photography, one of the clearer applications for AI smart cameras is in the world of home and business security. A security camera equipped with AI software could be used to apply facial recognition to identify when someone other than the occupant enters the premises, or it could warn a shop owner when a person previously identified as a shoplifter enters a store. Beyond facial recognition, smart camera AI systems can be taught to identify signs of suspicious behavior and alert home or business owners accordingly. This type of functionality is already being integrated into consumer-grade security systems. Security technology companies like Axis Communications see AI functionality as a big part of the future of security and are working to develop surveillance systems that utilize this technology.
Takeaway
Consumer optical devices can now do more than ever before. Artificial intelligence, in particular, is allowing product developers to get more out of camera sensors so that these devices become more than the sum of their parts. As high-quality optical devices become more accessible for the average consumer, there's more room for innovative technology companies to develop unique and groundbreaking products.
This article was originally published by the Investing News Network in December 2019.
---
This INNSpired article was written according to INN editorial standards to educate investors.