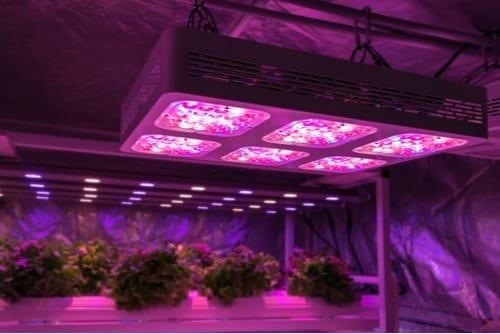 Across the cannabis industry, AI technology is being used to optimize growing operations and business strategy.
Companies are beginning to use artificial intelligence (AI) technology to solve inefficiencies in the cannabis industry.
The cannabis industry is in the midst of a period of unprecedented innovation. Cannabis is becoming a legal consumer product in a growing number of jurisdictions at the same time as innovators are making major breakthroughs in business and agricultural technology. As a result, we're seeing the development of cutting edge tech to make cannabis production more efficient, more affordable and more productive. A prime example of technological innovation disrupting the cannabis industry is the emergence of AI for smart cultivation and production.
AI applications in the cannabis industry are the product of two rapidly developing industries. In Canada, consumers spent C$569 million on cannabis in 2018. Canadian sales are projected to rise at a compound annual growth rate of 44 percent to hit C$5.2 billion by 2024, according to an April 2019 report by Arcview Market Research and BDS Analytics. Globally, as new markets open up and provide new opportunities around the world, legal cannabis sales are expected to reach US$57 billion by 2025. Meanwhile, AI is increasingly disrupting industries around the world and could contribute up to US$15.7 trillion to the global economy by 2030, as per PWC.
As the cannabis industry expands and the field becomes increasingly crowded, hundreds of new players could be looking to establish their place in the legal cannabis landscape, and they are expected to embrace new techniques to create an edge. Cannabis production is a complex science with hundreds of variables that can be adjusted to influence the quality, consistency and size of product yields.
Factors relating to lighting, water, CO2, soil nutrition and other inputs can all have an impact on the success or failure of a grow. Moreover, there's no "one size fits all" solution for these variables, meaning a strategy that works for one crop won't necessarily work for the next. Determining the exact balance for a particular cannabis grow is an enormously complicated and time-consuming task, even for master growers. This is where AI could be incorporated to make significant improvements.
Artificial intelligence technology in the cannabis industry
Artificial intelligence is the ability of a system to perform tasks that would previously have required input from a human. This usually involves the AI making decisions based on patterns and associations found in analyzed data, not necessarily based on predetermined "scripted" logic. This means AI systems can make decisions in the same way humans can. In fact, in many cases AI can do the job of a human. Unlike a human, however, AI can continue to work 24 hours a day, seven days a week, creating a unique opportunity for optimization in cannabis cultivation.
When it comes to the production of cannabis and other crops, AI can incorporate data from internet-of-things sensors to optimize the growing conditions for that particular plant. If a plant is showing signs of poor health, an AI system can analyze various indicators and diagnose exactly what's wrong in real time while adjusting the grow parameters accordingly. AI can also use the data from these combined metrics to provide accurate projections on things like yield size, allowing producers to know well in advance how much product they can expect to have at the end of the harvest. This information could help cannabis companies plan for their financial future, making optimal decisions for product distribution and more.
Outside of cultivation, AI has numerous applications for the business side of the cannabis industry. AI applications are being used in ecommerce platforms to speed up processes, allowing cannabis consumers to receive their purchases faster and saving retailers money in the process. AI is also being used to forecast demand and sales figures, giving cannabis companies valuable insights when planning for the future. On the consumer side of the marketplace, AI technologies are increasingly being used to answer questions and provide customer service solutions for common customer issues.
Companies developing artificial intelligence technology
Technology company Datametrex AI (TSXV:DM) revealed its Canntop subsidiary in September 2018, which will focus on developing AI solutions specifically for the cannabis industry. Through the company's other subsidiary Nexalogy, Datametrex has developed a comprehensive suite of AI tools that help social media companies monitor their networks to combat against fake news and other threats.
Canntop is taking that technology and applying it to the cannabis industry to help government agencies, cannabis producers and retailers better understand the needs of cannabis consumers and overall market trends. Datametrex has also developed AI-driven tools that can help producers and regulators manage quality assurance.
"Taking our proven solutions and focusing them on this sector will add tremendous value to growers, dispensaries, pharma and government agencies. The large amount of data that will result from the legalization of marijuana creates an opportunity for Canntop AI to provide the industry the most effective social intelligence," Datametrex CEO Andrew Ryu told the Investing News Network.
The emerging cannabis industry is fertile ground for AI companies to bring in intelligence tools, and a number of AI companies are developing platforms to disrupt the space. This is one of the reasons Canadian cannabis company Namaste Technologies (TSX:N) acquired artificial intelligence technology and ecommerce company Findify in 2018. Similarly, startups like Motorleaf and Deep Green are developing tools that use sensors to predict yield size. Plant Vision is also working on a platform that uses a similar array of sensors to collect and analyze data to make suggestions to improve yield quality.
Takeaway
The cannabis industry is being legally legitimized at an auspicious time. As new markets open up to legal cannabis sales and production, the companies that step in to serve cannabis consumers have greater tools for optimizing production and sales operations than they could have dreamed of a decade ago. Conversely, technology companies are finding valuable opportunities in the needs of a fast-growing and evolving cannabis sector.
---
This INNSpired article is sponsored by Datametrex AI (TSXV:DM). This INNSpired article provides information that was sourced by the Investing News Network (INN) and approved by Datametrex AI in order to help investors learn more about the company. Datametrex AI is a client of INN. The company's campaign fees pay for INN to create and update this INNSpired article.
This INNSpired article was written according to INN editorial standards to educate investors.
INN does not provide investment advice and the information on this profile should not be considered a recommendation to buy or sell any security. INN does not endorse or recommend the business, products, services or securities of any company profiled.
The information contained here is for information purposes only and is not to be construed as an offer or solicitation for the sale or purchase of securities. Readers should conduct their own research for all information publicly available concerning the company. Prior to making any investment decision, it is recommended that readers consult directly with Datametrex AI and seek advice from a qualified investment advisor.