5 Top Fintech News Stories of 2017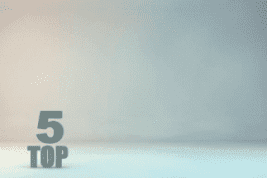 Much has happened in the financial technology sector this year. What were the top headlines? INN has compiled a list of the top 5 fintech news stories of 2017.
Fintech has been on fire in 2017. On the cryptocurrency side, Bitcoin, Ethereum, Litecoin and many more have skyrocketed in price. Gains have been so impressive that even gold mining companies have been switching over to blockchain, in an effort to hop aboard the money-train.

Fintech companies have become leaders and revolutionizers with online and mobile payment apps.
So, with such an exciting year coming to an end, what were the top headlines in fintech in 2017? At INN we've compiled a list of the top five most popular fintech news stories that sparked the imaginations of our investor audiences.
Kicking off the top fintech news stories list is a story covering the price dip of Ethereum in July of this year. While Ethereum started the year off strong, reaching $400 in June, it dropped dramatically to $179 on July 10. Fear and speculation began to spread and rumours of a bubble were on people's' lips.
What would happen to Ethereum, and why did it drop so dramatically? Could this help us understand potential dips in the future? Read on to find out.
First Global Data is a license money service company in Canada. CEO Andre Itwaru spoke with us about their breakout into the US market, and where they plan to expand next. The mobile payment technology company has partnered with China Smartpay to facilitate payments across borders.
Since then, the company has received a huge response from the Chinese market. With cryptocurrencies making a big splash this year, how will First Global compete in the fintech marketplace? Itwaru explains that they will work with cryptocurrencies and add to the transactions a measure of compliance features which will assist in the regulation process.
How does Itwaru foresee the future of the Canadian fintech market? How will First Global move forward into 2018? Click on the link to read the interview to find out.
Many people have heard about blockchain, but some are still wondering what it is and how it will make its mark in the financial services industry. Our third most read fintech news story delves into just that. How did it all start, and where is it heading? Blockchain technology is cheaper, faster and more secure than other currencies when it comes to online payments.
Therefore, third-party verification is eliminated, so it could be bye-bye PayPal. It could also mean saving $40 billion annually for financial institutions according to Shazlie Khan, an analyst at BIS Research. What other ripples will blockchain technology have in financial services and beyond? Continue reading to find out.
With all the 'mania' around blockchain and cryptocurrencies this year, how are banks to react? How are they to compete or stay relevant? The International Monetary Fund stepped in to make their recommendations for banking institutions. Put simply, they told banks to either invest in or make their own cryptocurrency.
Read on to get the full report highlights, including what China and Vietnam are doing in response to the blockchain and crypto-boom.
Last on our top fintech news story is an interview with Kraken CEO, Jesse Powell. Kraken is the second largest Bitcoin exchange in the world. Jesse delved into Kraken's acquisition of Cryptowatch and gave his insights on whether it's better to invest in cryptocurrencies or blockchain companies. What does the future of cryptocurrencies look like? Powell has a bright outlook, and accurately forecasted the boom of cryptocurrencies in 2017.
What are his thoughts on safe haven assets? Gold or Bitcoin? Read on to find out.

What were your top fintech news stories of 2017? Did anything surprise you? How do you think the fintech sector is going to play out? Let us know in the comments below.

Don't forget to follow us @INN_Technology for real-time news updates!

Securities Disclosure: I, Amanda Kay, currently own Bitcoin and Ethereum, both mentioned in this article.