US Government Turns Attention to Cybersecurity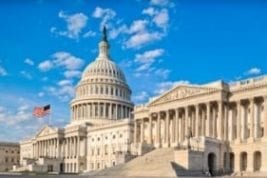 The US Senate has passed a bill that will deepen the relationship between corporations and the government in order to enhance national cybersecurity measures.
With over 2,000 cyberattacks occurring every day at a cost of $460 billion a year, cybersecurity is a growing concern for companies, institutions and governments across the world.
Governments in particular need to step up to the plate and take measures to mitigate these attacks, and on Tuesday evening, the US Senate did just that. It passed a new cybersecurity bill that will shift how private companies and the government work to ward off cybercrime. The controversial bill passed easily, The New York Times states, and is Congress' first serious attempt to actively combat computer hacks.

Cybersecurity legislation: Pros and cons
Like most significant legislative changes, the cybersecurity bill, formally known as the Cybersecurity Information Sharing Act (CISA), has supporters and detractors. Senator Mitch McConnell of Kentucky is one vocal backer of the bill. He believes that "the legislation's voluntary information-sharing provisions are key to protecting the personal information of the people we represent."
Put more simply, he and other supporters view the legislation as an important step towards securing the nation's digital infrastructure by opening a deeper relationship between private companies and the government. It will allow private companies to share information and attacks with the government, and let them to work together against threats.
That said, the bill has its detractors. CISA did not progress out of the Senate for several years due to privacy concerns over the type of information it will allow the government to access. In an era where personal data is a hot commodity, activists fear that the increased relationship between corporations and the government will come at the expense of privacy.

Investor implications
Only time will tell if the bill's benefits ultimately outweigh its drawbacks and make it an effective measure for warding off cyberattacks. In the interim, however, investors can feel secure that the cybersecurity industry is being taken seriously on a national scale. Businesses, which have historically been slow to embrace preventive cybersecurity measures, will be sure to note the US government's move.
All in all, Tuesday's vote illustrates that the cybersecurity industry is hot, growing and may finally have broken into the mainstream.

Securities Disclosure: I, Morag McGreevey, hold no direct investment interest in any company mentioned in this article.