Jan. 23, 2018 04:00PM PST
Cyber Security Investing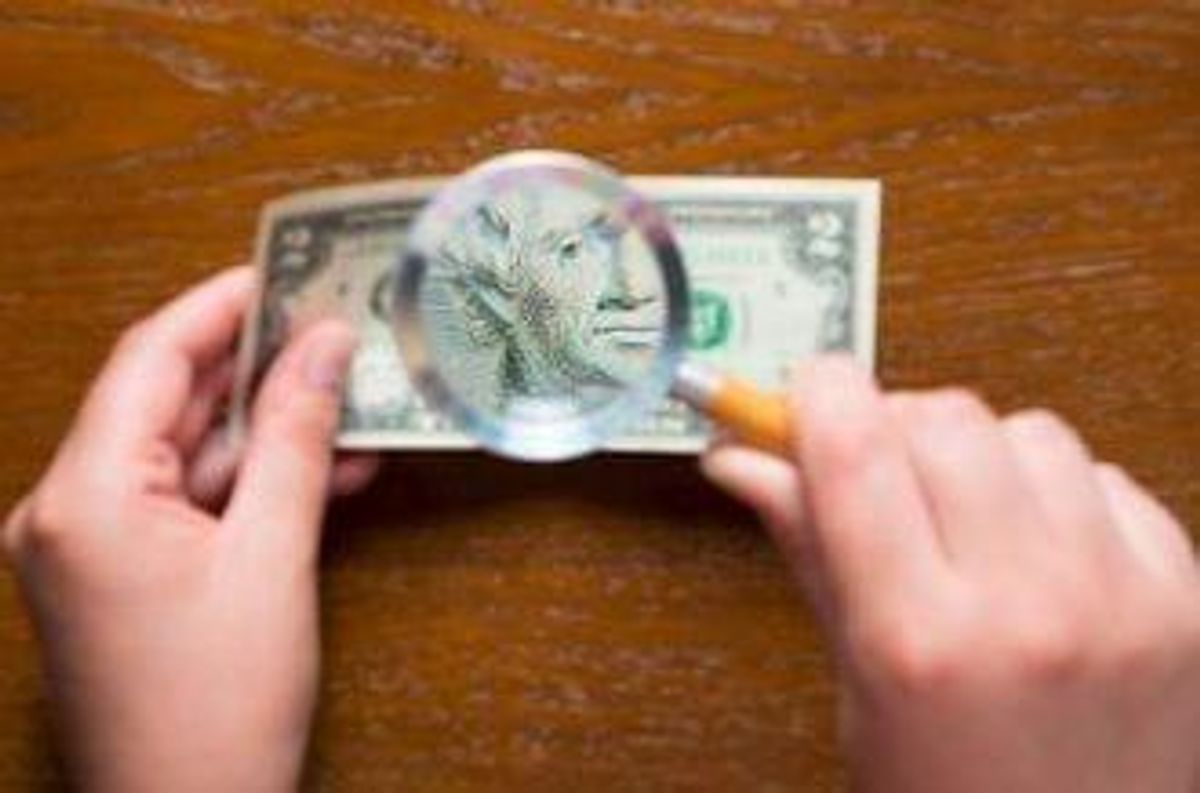 A number of companies are making big strides at fighting counterfeit currency. Here's an overview of how to invest in the anti-counterfeiting market.
It wasn't that long ago–2015, to be exact–that the global anti-counterfeiting package market was worth roughly $80.14 billion. It goes without saying that the growth of the industry has been unsustainable since then, and is expected grow at a compound annual growth rate (CAGR) of 13.8 percent to $299.80 billion by 2025, according to Research and Markets.
Case in point, Grand View Research notes that demand for anti-counterfeit technology will be attributed to strict laws and regulations put in place by government.
The report also states that:
 Governments and related agencies across the world are taking measures to counter counterfeiting operations as they negatively impact the economy. Increasing consumer awareness regarding bogus packaging is projected to positively impact the market in the near future.
What's more, Grand View Research also highlights the overall anti-counterfeiting market will experience "brisk growth" resulting from awareness about counterfeit products. Historically, those products have been attributed to health, textiles, food and consumer products, and  even financial losses.

Since its inception in 1865, the
Secret Service
was created to investigate and prevent counterfeiting. This year alone, they have been kept busy. In just one example in January, an American man was charged with making counterfeit bills. According to the
press release
, the "maximum penalty for both making counterfeit U.S. currency and dealing in counterfeit currency is 20 years in prison and a $250,000 fine."
With that in mind, here the Investing News Network (INN) breaks down the basics of how to invest in the anti-counterfeiting market and key factors everyone should know about.
Invest anti-counterfeiting market: why is it important?
Before investing in the anti-counterfeiting market, it's incredibly vital to first understand the important role it plays.  Its penalties and prevalence means that companies in a wide range of industries have a vested interest in cutting down counterfeits, and tech companies are responding to this demand. Some of the biggest players in the anti-counterfeiting space are Illinois Tool Works (NYSE:ITW), a manufacturer of polymer-based securities materials and optically variable security laminations, and NXP Semiconductors (NASDAQ:NXPI), a company involved in radio frequency identification..
However, the nature of the anti-counterfeiting market also lends itself to small-cap companies that excel in specific areas. In particular, companies in the counterfeit currency subsector are doing well. Although it's a relatively minor section of the broader market, governments are willing to do almost anything to ensure that their fiat currencies remain uncompromised. That sort of demand ensures that only the highest-quality and most competitive companies are operating in this sector. Here's a look at a couple of these notable niche players.

Key innovators in the anti-counterfeit currency space
Nanotech Security (TSXV:NTS) is one interesting company operating in the anti-counterfeit security space. The company is engaged in creating light-based recognition nanotechnology and Optical Thin Film for use in anti-counterfeiting and authentication processes. Although these technologies can be used for authenticating legal documents and commercial products, the company's main area of focus is currency.
The company is broken down into two segments: security features and surveillance. Therefore, despite its relatively niche focus on combating counterfeit currency, the company also looks outwards into the broader cybersecurity market. In the past six months, Nanotech Security's share price has increased 22.48 percent, while year-to-date it has moved up 4.64 percent.
London-listed De La Rue (LSE:DLAR) is another key player in the anti-counterfeit currency space. With a bigger market cap than Nanotech Security, De La Rue is one of the longtime heavy hitters in the market. The company is a commercial banknote printer, security paper maker and provider of security products and software solutions. The company operates in four segments: currency, identity systems, security products and cash processing solutions. De La Rue has seen a year-to-date share price increase of 10.65 percent. 
Applied DNA Sciences (NASDAQ:APDN) is dedicated to security solutions combating the challenges of modern commerce. Its flagship products includes SigNature DNA, SigNature T DNA, fiberTping, DNAnet, digitalDNA, SigNify and Beacon. Shares of Applied DNA Sciences have risen 22.7 percent year-to-date.

Latest banknote security features
So what are companies actually doing when they claim to be improving the security of currency against counterfeiters? A lot of resources in this sector are directed at creating the best holograms. For instance, Sophic Capital states that Giesecke & Devrient subsidiary Louisenthal offers banknote security features as diverse as clear windows embedded with holograms, color-changing features and 3D effects. Meanwhile, the US Department of the Treasury and the Bank of England use Crane Currency's MOTION Switch technology on their bills. This technology works as an animation that switches between images when a note is moved.
All in all, anti-counterfeiting companies have been very effective in the case of currency. According the to Federal Reserve, 39.8 billion US banknotes were in circulation, with those numbers and figures current as of December 31, 2016. And yet only an estimated $2.5 billion, or one-quarter of a percent, were reported as fakes. However, that isn't to say that the anti-counterfeit currency market has solved the problem — in fact, the opposite is true. As anti-counterfeit technologies become more and more sophisticated, so too do the criminals attempting to undermine governments' fiat currencies. That means anti-counterfeit companies have to remain at the cutting edge of technology in this space.
As governments continue to invest heavily in this sector, individual investors should also consider the area. While it doesn't look like the problem of counterfeiting is going to go away anytime soon, the silver lining is that there is money to be made from companies combating the issue. 
Don't forget to follow us @INN_Technology for real-time news updates!
This article was originally published on the Investing News Network in 2016.
Securities Disclosure: I, Jocelyn Aspa, hold no direct investment interest in any company mentioned in this article.

Investing News Network websites or approved third-party tools use cookies. Please refer to the  cookie policy for collected data, privacy and GDPR compliance. By continuing to browse the site, you agree to our use of cookies.