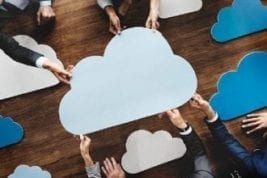 With the cloud computing market projected to reach $246.8 billion in 2017, investing opportunities in cloud are sky-high.
In simple terms, cloud computing is a network of servers on the internet that allows users to manage and process data rather than over the data of a computer. Unsurprisingly, this technology has taken the internet by storm– with some reports suggesting the industry will increase by roughly $100 billion between 2016-2020.
Like Forbes reported, spending in cloud computing has grown nearly five times the rate of IT spending since 2009, and is positioned to grow more than six times the rate from now until 2020. As mentioned, this will result in an increase of nearly $100 billion in cloud computing spending–from $67 billion in 2015 to $162 billion in 2020–making it an attractive space for those looking to invest in cloud.
In other words, there's plenty of investing opportunities to be had in cloud computing–now more than ever. With that in mind, here the Investing News Network (INN) has compiled a list of ways to invest in cloud–from companies, to ETFs.

Invest in cloud: overview of top cloud companies
Indeed, it's difficult to think about cloud computing companies for investing opportunities without first considering the the top names in the industry. As INN has previously reported, those big names include:
Invest in cloud: smaller market cap companies
Of course, the top cloud computing companies aren't the only options available when it comes to those looking to invest in cloud. There are plenty of companies offering a wide-range of cloud services that have a market cap of less than $500 million with plenty of room to grow for investor consideration, such as:
Invest in cloud: ETFs
For many investors–particularly first timers–investing in ETFs is always an attractive option. ETFs target specific commodities and give investors the options of picking companies out within the sector. In other words, for those looking for other options when it comes to invest in cloud opportunities, ETFs are also available.
With that in mind, however, according to the ETF database website, there is only one cloud computing ETF–the First Trust ISE Cloud Computing Index Fund (BMV:SKYY). The ETF was incepted on July 6, 2011, and is the first to "offer exposure" to the cloud computing industry. According to the analyst report, this particular ETF can be attractive in short-term tactical plays, but may also serve as a minor complementary holding in a longer-term buy-and-hold-portfolio.
The First Trust ISE Cloud Computing Index Fund tracks 31 holdings–the top one being Amazon–along with other large market cap cloud companies such as: Zynga (NASDAQ:ZNGA); salesforce (NYSE:CRM); and Oracle (NYSE:ORCL).
Invest in cloud: summary
As any investor can see, there is no shortage of opportunities to be had in the cloud sector. Like a Global Cloud Enterprise Content Market research report suggests, it's expected that North America will hold the largest market share in the cloud enterprise market–which is no doubt exciting news for those looking to invest in cloud.
Don't forget to follow us @INN_Technology for real-time news updates!
This is an update to the article originally published in 2017.
Securities Disclosure: I, Jocelyn Aspa, hold no direct investment interest in any company mentioned in this article.